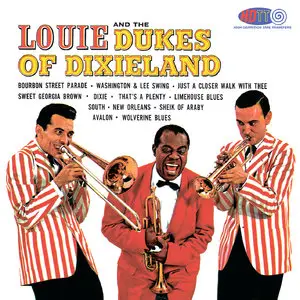 Louie Armstrong and The Dukes of Dixieland (1960/2014)
DSD128 (.dsf) 1 bit/5,6 MHz | Time - 48:32 minutes | 2,64 GB
FLAC (tracks) 24-bit/96 kHz | Time - 48:32 minutes | 1,04 GB
Studio Master, Official Digital Download | Artwork: Digital booklet
The albums featuring Louis Armstrong's collaborations with the Dukes of Dixieland were among the first stereo recordings to fully capture Louis' magic sound. He played wonderful trumpet and vocal solos on classic songs that weren't part of his usual repertoire, such as 'Dixie', 'New Orleans' and 'Sweet Georgia Brown', which he had never previously recorded.
A customer review:
As a big fan of DSD music, Jazz, and music played by Rich Matteson (my great uncle), I had wished to find this album in this format. I bought the lp version and the three cd complete louis armstrong and the dukes of dixieland. Both have their good points but when I purchased this release in DSD128, it was a revelation. It has the depth of sound of vinyl and the lack of surface noise of the cd version. I can finally hear great uncle Rich play his helicon with complete detail. This is a dream come true.
Tracklist:
01 - Bourbon Street Parade
02 - South
03 - Washington And Lee Swing
04 - Avalon
05 - New Orleans
06 - That's A' Plenty
07 - Just A Closer Walk With Thee
08 - Dixie
09 - Sheik Of Araby
10 - Wolverine Blues
11 - Sweet Georgia Brown
12 - Limehouse Blue
Recorded on May 24-25, 1960 at Webster Hall, NY.
Transferred from a Audio Fidelity 4 Track Tape by HDTT.
Musicians:
Louis Armstrong - trumpet, vocals
"Papa" Jac Assunto - banjo, trombone
Frank Assunto - trumpet
Fred Assunto - trombone
Jerry Fuller - clarinet
Owen Mahoney - drums
Richard Matteson - tuba
Analyzed: Louie Armstrong, The Dukes Of Dixieland / Louie Armstrong and The Dukes of Dixieland
––––––––––––––––––––––––––––––––––––––––

DR Peak RMS Duration Track
––––––––––––––––––––––––––––––––––––––––
DR9 -8.55 dB -20.44 dB 3:16 01-Bourbon Street Parade
DR10 -8.69 dB -21.57 dB 3:43 02-South
DR9 -7.91 dB -20.09 dB 3:53 03-Washington And Lee Swing
DR10 -9.26 dB -22.03 dB 4:56 04-Avalon
DR9 -9.52 dB -22.48 dB 3:08 05-New Orleans
DR10 -9.09 dB -21.93 dB 3:55 06-That's A' Plenty
DR12 -8.05 dB -23.56 dB 4:25 07-Just A Closer Walk With Thee
DR12 -9.23 dB -24.30 dB 3:59 08-Dixie
DR10 -7.47 dB -21.25 dB 3:34 09-Sheik Of Araby
DR12 -8.60 dB -23.19 dB 4:46 10-Wolverine Blues
DR10 -8.49 dB -21.69 dB 4:06 11-Sweet Georgia Brown
DR10 -8.19 dB -21.36 dB 4:50 12-Limehouse Blues
––––––––––––––––––––––––––––––––––––––––

Number of tracks: 12
Official DR value: DR10

Samplerate: 5644800 Hz / PCM Samplerate: 176400 Hz
Channels: 2
Bits per sample: 1
Bitrate: 11290 kbps
Codec: DSD128
================================================================================


Thanks to the Original customer!