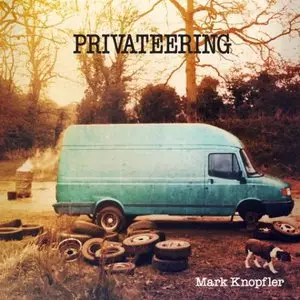 Mark Knopfler - Privateering (2012)
FLAC (tracks) 24 bit/96 kHz | Time - 90:01 minutes | 1,92 GB
Studio Master, Official Digital Download | Artwork: Front cover
2012 two CD release from the British guitarist, songwriter, producer and former Dire Straits leader. "Privateering" is Knopfler's first double album, each song an original. They cover a wide range of locations and characters from both sides of the Atlantic and move through a number of genres which include several new Blues originals. The album is a soulful and heartfelt collection masterfully performed by a group of world class players.
In addition to what has become Knopfler's long-time band, hand-picked guest aces include Kim Wilson (harp) of the Fabulous Thunderbirds, Tim O'Brien (mandolin), singer Ruth Moody of The Wailin' Jennys, Paul Franklin (pedal steel) and Scotland's Phil Cunningham (accordion). Twenty new titles were recorded at the artist's British Grove Studios in London with the following players: Richard Bennett (guitar), Jim Cox (piano) Guy Fletcher (keyboards), John McCusker (fiddle), Mike McGoldrick (whistle and flute), Glenn Worf (bass) and Ian Thomas (drums). Knopfler was assisted by co-producers Guy Fletcher and Chuck Ainlay.
Since officially embarking on a solo career in 1995, former Dire Straits frontman Mark Knopfler has been quietly and consistently amassing an unassuming horn of plenty, maintaining his prior outfit's penchant for fusing meticulously crafted English blues-rock with sardonic, radio-ready AOR pop, while introducing elements of traditional folk and country with the effortless gait of an artist who has spent his years as both a student and a professor. On Privateering, his seventh solo outing, Knopfler has crafted his most ambitious and pugnacious set to date, going all in on a two-disc set that pits all of the aforementioned influences against each other without ever succumbing to the convenience of their architectures. Upon first spin, Privateering feels a little like a garage sale, offering up long cold plates of once warm, late-night porch jams that feel like pre-studio session warm-ups, but the album's stately, yet schizophrenic nature, which pits lo-fi, studious, yet ultimately forgettable exercises in rote American blues like "Hot or What" and "Gator Blood" with amiable, highway-ready rockers ("Corned Beef City") and incredibly affecting, spooky folk-pop ballads like "Redbud Tree," "Kingdom of Gold," and the magnificent "Dream of the Drowned Submariner," all three of which owe a couple of polite high fives to Dire Straits songs like "The Man's Strong" and "Brothers in Arms," reveals an artist in complete control of his arsenal. Could the album use some trimming? Sure, but Knopfler is that rare gunslinger who can make even the wildest shot look like it was completely intentional, and his steady voice, mercurial lyrics, and instantly recognizable guitar tone, that latter of which falls somewhere between the rich, lucid beauty of David Gilmour and the Pan-like spell-casting of Richard Thompson, provide just the right amount of ballast to keep a ship as big as Privateering buoyant.
Tracklist:
01 - Redbud Tree
02 - Haul Away
03 - Don't Forget Your Hat
04 - Privateering
05 - Miss You Blues
06 - Corned Beef City
07 - Go, Love
08 - Hot Or What
09 - Yon Two Crows
10 - Seattle
11 - Kingdom Of Gold
12 - Got To Have Something
13 - Radio City Serenade
14 - I Used To Could
15 - Gator Blood
16 - Bluebird
17 - Dream Of The Drowned Submariner
18 - Blood And Water
19 - Today Is Okay
20 - After The Beanstalk
Analyzed: Mark Knopfler / Privateering
––––––––––––––––––––––––––––––––––––––––

DR Peak RMS Duration Track
––––––––––––––––––––––––––––––––––––––––
DR9 -0.09 dB -12.09 dB 3:19 01-Redbud Tree
DR10 -0.52 dB -13.37 dB 4:01 02-Haul Away
DR10 -0.10 dB -11.82 dB 5:15 03-Don't Forget Your Hat
DR9 -0.08 dB -13.06 dB 6:19 04-Privateering
DR10 -0.09 dB -12.42 dB 4:18 05-Miss You Blues
DR8 -0.04 dB -8.65 dB 3:32 06-Corned Beef City
DR8 -1.87 dB -12.06 dB 4:52 07-Go, Love
DR9 -0.08 dB -11.28 dB 4:54 08-Hot Or What
DR9 -0.10 dB -11.66 dB 4:26 09-Yon Two Crows
DR10 -0.09 dB -11.95 dB 4:17 10-Seattle
DR10 -0.10 dB -13.76 dB 5:22 11-Kingdom Of Gold
DR9 -0.10 dB -10.03 dB 4:01 12-Got To Have Something
DR10 -1.13 dB -14.15 dB 5:13 13-Radio City Serenade
DR9 -0.10 dB -10.23 dB 3:36 14-I Used To Could
DR9 -0.80 dB -10.97 dB 4:15 15-Gator Blood
DR10 -0.09 dB -11.99 dB 3:27 16-Bluebird
DR10 -0.10 dB -11.87 dB 4:57 17-Dream Of The Drowned Submariner
DR10 -0.72 dB -12.34 dB 5:19 18-Blood And Water
DR9 -0.06 dB -10.96 dB 4:45 19-Today Is Okay
DR11 -0.09 dB -12.52 dB 3:54 20-After The Beanstalk
––––––––––––––––––––––––––––––––––––––––

Number of tracks: 20
Official DR value: DR9

Samplerate: 96000 Hz
Channels: 2
Bits per sample: 24
Bitrate: 2949 kbps
Codec: FLAC
================================================================================


Thanks to the Original customer!