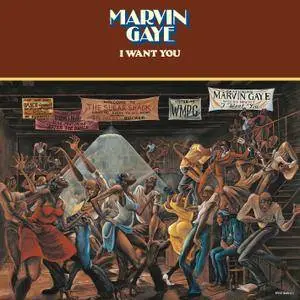 Marvin Gaye - I Want You (1976/2016)
FLAC (tracks) 24-bit/192 kHz | Time - 37:56 minutes | 1,55 GB
FLAC (tracks) 24-bit/96 kHz | Time - 37:56 minutes | 827 MB
Studio Master, Official Digital Download | Artwork: Front cover
"I Want You" is the fourteenth studio release from the R&B musician Marvin Gaye, originally released March 16, 1976 on Motown records. Recording sessions for the album occured from 1975 to 1976 at Motown Recording Studios, and Gaye's personal recording studio in Los Angeles, California.
I Want You, while it a Top Ten smash for Marvin Gaye in 1976, is not as generally as well-known as its predecessors for several reasons. First, it marked a sharp change in direction, leaving his trademark Motown soul for lush, funky, breezy disco. Secondly, its subject matter is as close to explicit as pop records got in 1976. Third, Gaye hadn't recorded in nearly three years and critics were onto something else – exactly what, in retrospect is anybody's guess. From the amazing Ernie Barnes cover painting "Back to Sugar Shack" to the Coleridge-Taylor Perkinson string and horn arrangements to Leon Ware's exotic production that relied on keyboards as well as drums and basses as rhythm instruments, I Want You was a giant leap for Gaye. The feel of the album was one of late-night parties in basements and small clubs, and the intimacy of the music evokes the image of people getting closer as every hour of a steamy night wears on. But the most astonishing things about I Want You are its intimacy (it was dedicated to and recorded in front of Gaye's future second wife, Jan), silky elegance, and seamless textures. Gaye worked with producer Leon Ware, who wrote all of the original songs on the album and worked with Gaye to revise them, thus lending Gaye a co-writing credit. The title track is a monster two-step groover with hand percussion playing counterpoint to the strings and horns layered in against a spare electric guitar solo, all before Gaye begins to sing on top of the funky backbeat. It's a party anthem to be sure, and one that evokes the vulnerability that a man in love displays when the object of his affection is in plain sight. Art Stewart's engineering rounds off all the edges and makes Gaye's already sweet crooning instrument into the true grain in the voice of seductive need. "Feel All My Love Inside" and "I Want to Be Where You Are" are anthems to sensuality with strings creeping up under Gaye's voice as the guitars move through a series of chunky changes and drums punctuate his every syllable. In all, the original album is a suite to the bedroom, one in which a man tells his woman all of his sexual aspirations because of his love for her. The entire album has been referenced by everyone from Mary J. Blige to D'Angelo to Chico DeBarge and even Todd Rundgren, who performed the title track live regularly. By the time it is over, the listener should be a blissed-out, brimming container for amorous hunger. I Want You and its companion, Ware's Musical Massage, are the pre-eminent early disco concept albums. They are adult albums about intimacy, sensuality, and commitment, and decades later they still reverberate with class, sincerity, grace, intense focus, and astonishingly good taste. I Want You is as necessary as anything Gaye ever recorded.
Tracklist:
01 - I Want You
02 - Come Live With Me Angel
03 - After The Dance
04 - Feel All My Love Inside
05 - I Wanna Be Where You Are
06 - I Want You
07 - All The Way Around
08 - Since I Had You
09 - Soon I'll Be Loving You Again
10 - I Want You
11 - After The Dance
Analyzed: Marvin Gaye / I Want You
––––––––––––––––––––––––––––––––––––––––

DR Peak RMS Duration Track
––––––––––––––––––––––––––––––––––––––––
DR10 0.00 dB -11.81 dB 4:34 01-I Want You
DR11 -0.35 dB -12.18 dB 6:29 02-Come Live With Me Angel
DR9 0.00 dB -10.99 dB 4:25 03-After The Dance
DR9 -0.23 dB -11.64 dB 3:23 04-Feel All My Love Inside
DR10 -0.32 dB -14.66 dB 1:20 05-I Wanna Be Where You Are
DR15 -1.99 dB -21.48 dB 0:20 06-I Want You
DR9 0.00 dB -10.41 dB 3:51 07-All The Way Around
DR9 0.00 dB -11.25 dB 4:04 08-Since I Had You
DR10 0.00 dB -12.99 dB 3:14 09-Soon I'll Be Loving You Again
DR15 -0.30 dB -18.84 dB 1:41 10-I Want You
DR11 -0.33 dB -12.91 dB 4:37 11-After The Dance
––––––––––––––––––––––––––––––––––––––––

Number of tracks: 11
Official DR value: DR11

Samplerate: 192000 Hz
Channels: 2
Bits per sample: 24
Bitrate: 5521 kbps
Codec: FLAC
================================================================================


Thanks to the Original customer!