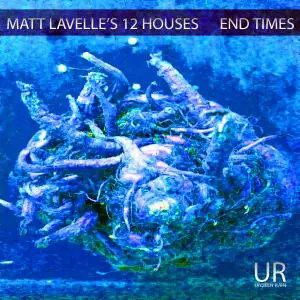 Matt Lavelle's 12 Houses - End Times (2017)
FLAC (tracks) 24-bit/96 kHz | Time - 62:25 minutes | 1,34 GB
Studio Master, Official Digital Download | Artwork: Digital booklet
Matt Lavelle is New York based trumpet, flugelhorn, bass and alto clarinet player, and composer. He began his music career with Hildred Humphries, a swing era veteran who played with Count Basie and Billie Holiday. Mentored by the late, great saxophonist, violinist, and trumpeter Ornette Coleman, Lavelle combines his original improvisational works with a string, horn, and rhythm section for a most unflattering, unnerving effect. The original idea for the 12 Houses was to join 12 musicians who each represented a different house of the Zodiac.
One of the signatures of the 12 Houses is that with the exception of the singularly unique voices of guitar players Jack DeSalvo and Anders Nilsson, very rarely is an instrument doubled. In fact, the only time this occurs is when we are joined by special friends like incomparable global citizen Nicole Johänntgen or shaman Ras Miguel who hails from the mountains of Puerto Rico. Each of the houses is an individual sound-color and story. The seed for the creation go the 12 Houses was planted in a series of discussions I had with Ornette Coleman. In one important conversation, he pointed out to me that, instrumentation aside, what most traditional large ensembles were missing was a balance in male and female energy. I still am not aware of any large group in jazz history which has pursued this elemental balance. In another discussion, I recall wondering out loud, what it might be like to have a large ensemble in which you could hear every individual color at the same time. Ornette smiled when he said, "There's only one way to find out". If we dare to enter the mind of God, we can wonder about what decisions were made in creating life as we know it in order for the human race to become itself. Seemingly, separation by gender and culture continues to be far more than we can handle. The 12 Houses are an attempt to musically begin to bring us all back together while celebrating each and every one of us. What if the balance Ornette spoke of could be achieved on a worldwide scale? Every piece on our second album is a concerto of sorts that celebrates a sound color that is entirely unique in the world. At the same time, each house is supported by all the other houses in the neighborhood. We're all stronger together, and one day we just may tune the world.
Tracklist:
01 - OC DC BC
02 - Bloodstreams
03 - Daniel Carter
04 - End Times
05 - Sleepy Harlem
06 - Sue
07 - Darklight
Recorded in November 2014 at Systems Two Recording Studio, Brooklyn, New York.
Produced by Jack DeSalvo. Mixed and Mastered by Jim DeSalvo at Beanstudio, Wayne, NJ.
MATT LAVELLE - cornet, flugelhorn, alto clarinet, conduction
LEE ODOM - soprano saxophone and clarinet
CHARLES WATERS - alto saxophone and clarinet
RAS MOSHE BURNETT - tenor and soprano saxophones, flute, bells
TIM STOCKER - baritone saxophone, bass clarinet
MARY CHERNEY - flute, piccolo
CLAIRE de BRUNNER - bassoon
CHRIS FORBES - piano
LAURA ORTMAN - violin
GIL SELINGER - cello
ANDERS NILLSON - guitar
JACK DeSALVO - banjo, mandola
JOHN PIETARO - vibraphone, percussion
FRANÇOIS GRILLOT - double-bass
RYAN SAWYER - drums
ANAÏS MAVIEL - voice


Analyzed: Matt Lavelle's 12 Houses / End Times
––––––––––––––––––––––––––––––––––––––––

DR Peak RMS Duration Track
––––––––––––––––––––––––––––––––––––––––
DR7 -0.16 dB -10.01 dB 9:53 01-OC DC BC
DR9 -0.16 dB -11.39 dB 6:28 02-Bloodstreams
DR9 -0.16 dB -11.77 dB 8:09 03-Daniel Carter
DR10 -0.16 dB -13.66 dB 11:19 04-End Times
DR11 -0.16 dB -14.42 dB 10:19 05-Sleepy Harlem
DR10 -0.16 dB -14.59 dB 5:38 06-Sue
DR10 -0.16 dB -13.94 dB 10:38 07-Darklight
––––––––––––––––––––––––––––––––––––––––

Number of tracks: 7
Official DR value: DR9

Samplerate: 96000 Hz
Channels: 2
Bits per sample: 24
Bitrate: 2754 kbps
Codec: FLAC
================================================================================


Thanks to the Original customer!