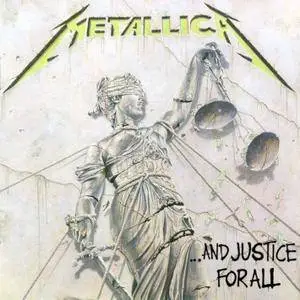 Metallica - …And Justice For All (1988/2016)
FLAC (tracks) 24-bit/96 kHz | Time - 65:25 minutes | 1,47 GB
Studio Master, Official Digital Download | Artwork: Front cover
The group's best-selling album at the time, "…And Justice for All" is the fourth studio album by Metallica. It was the band's first studio album to feature bassist Jason Newsted after the death of Cliff Burton in 1986. This album is musically progressive, with long and complex songs, fast tempos, and few verse-chorus structures. The album is noted for its sterile production, which producer Flemming Rasmussen attributed to his absence during the mixing process. The lyrics feature themes of political and legal injustice seen through the prisms of censorship, war, and nuclear brinkmanship. The single "One" earned Metallica its first Grammy Award for Best Metal Performance in 1990.
The most immediately noticeable aspect of …And Justice for All isn't Metallica's still-growing compositional sophistication or the apocalyptic lyrical portrait of a society in decay. It's the weird, bone-dry production. The guitars buzz thinly, the drums click more than pound, and Jason Newsted's bass is nearly inaudible. It's a shame that the cold, flat sound obscures some of the sonic details, because …And Justice for All is Metallica's most complex, ambitious work; every song is an expanded suite, with only two of the nine tracks clocking in at under six minutes. It takes a while to sink in, but given time, …And Justice for All reveals some of Metallica's best material. It also reveals the band's determination to pull out all the compositional stops, throwing in extra sections, odd-numbered time signatures, and dense webs of guitar arpeggios and harmonized leads. At times, it seems like they're doing it simply because they can; parts of the album lack direction and probably should have been trimmed for momentum's sake. Pacing-wise, the album again loosely follows the blueprint of Ride the Lightning, though not as closely as Master of Puppets. This time around, the fourth song – once again a ballad with a thrashy chorus and outro – gave the band one of the unlikeliest Top 40 singles in history; "One" was an instant metal classic, based on Dalton Trumbo's antiwar novel Johnny Got His Gun and climaxing with a pulverizing machine-gun imitation. As a whole, opinions on …And Justice for All remain somewhat divided: some think it's a slightly flawed masterpiece and the pinnacle of Metallica's progressive years; others see it as bloated and overambitious. Either interpretation can be readily supported, but the band had clearly taken this direction as far as it could. The difficulty of reproducing these songs in concert eventually convinced Metallica that it was time for an overhaul.
Tracklist:
01 - Blackened
02 - …And Justice For All
03 - Eye Of The Beholder
04 - One
05 - The Shortest Straw
06 - Harvester Of Sorrow
07 - The Frayed Ends Of Sanity
08 - To Live Is To Die
09 - Dyers Eve
Analyzed: Metallica / …And Justice For All
––––––––––––––––––––––––––––––––––––––––

DR Peak RMS Duration Track
––––––––––––––––––––––––––––––––––––––––
DR8 -0.40 dB -9.75 dB 6:42 01-Blackened
DR9 -0.40 dB -10.32 dB 9:46 02-…And Justice For All
DR9 -0.40 dB -10.93 dB 6:26 03-Eye Of The Beholder
DR9 -0.40 dB -11.83 dB 7:28 04-One
DR8 -0.40 dB -10.01 dB 6:35 05-The Shortest Straw
DR8 -0.40 dB -9.98 dB 5:45 06-Harvester Of Sorrow
DR9 -0.40 dB -10.59 dB 7:43 07-The Frayed Ends Of Sanity
DR9 -0.40 dB -11.64 dB 9:48 08-To Live Is To Die
DR8 -0.40 dB -9.21 dB 5:13 09-Dyers Eve
––––––––––––––––––––––––––––––––––––––––

Number of tracks: 9
Official DR value: DR8

Samplerate: 96000 Hz
Channels: 2
Bits per sample: 24
Bitrate: 3254 kbps
Codec: FLAC
================================================================================


Thanks to the Original customer!