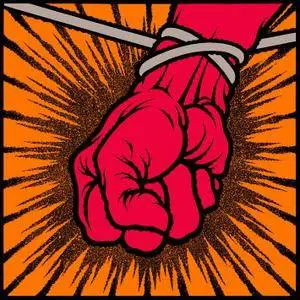 Metallica - St. Anger (2003/2016)
FLAC (tracks) 24-bit/88,2 kHz | Time - 75:06 minutes | 1,54 GB
Studio Master, Official Digital Download | Artwork: Front cover
"St. Anger" is the eighth studio album by Metallica. It was the band's last album released through Elektra, thus marking the end of the second-longest timespan between studio albums from Metallica, with nearly six years between the release of Reload and this album. It is also the final collaboration between Metallica and producer Bob Rock, whose relationship began with the band's fifth studio album, 1991's "Metallica".
Metallica's first new material in over five years arrived after a flurry of non-musical activity that included a much-publicized spat over Internet file sharing, the departure of bassist Jason Newsted, and a lengthy stay in rehab for James Hetfield that suspended the recording of a new album indefinitely. Hetfield returned to the fold in late 2001. Still without a bass player, Lars Ulrich, Kirk Hammett, and their newly sober frontman recruited longtime producer Bob Rock to man Newsted's spot, and creation of the album commenced in May 2002. St. Anger arrived a year later as a punishing, unflinching document of internal struggle – taking listeners inside the bruised yet vital body of Metallica, but ultimately revealing the alternately torturous and defiant demons that wrestle inside Hetfield's brain. St. Anger is an immediate record. Written largely in the first person, it never warns of impending doom, doesn't struggle with claustrophobia, and has care neither for religion's safety nor its hypocrisy. (The religious symbolism of its title and artwork seems only to function as a metaphorical device.) Lacking the heavy metal baggage of these past themes, Metallica is left to ponder only itself and its singer's psychosis, and delivers its diagnosis on slabs of speed metal informed with years of innovation and texture. The record exists as it ends. As the lockstep thrash of the eight-plus minute "All Within My Hands" tumbles toward its final gasp, Hetfield is explicit in his aims. "I will only let you breathe my air that you receive," he seethes. "Then we'll see if I let you love me." Ulrich's drums sputter in fits and starts, but the guitars are already dying, shutting down as Hetfield stabs at the microphone. "Kill kill kill kill kill," he screams, and you have to check the wall for a splatter radius. It's a brutal, ugly end to an album that switches on like a bare light bulb in an underground cave. It blasts each corner with harsh, unfiltered light for 75 minutes, until the bulb is shattered with a combat boot, leaving disquieting after-images exploding on the backs of your eyelids.
Tracklist:
01 - Frantic
02 - St. Anger
03 - Some Kind Of Monster
04 - Dirty Window
05 - Invisible Kid
06 - My World
07 - Shoot Me Again
08 - Sweet Amber
09 - The Unnamed Feeling
10 - Purify
11 - All Within My Hands
Analyzed: Metallica / St. Anger
––––––––––––––––––––––––––––––––––––––––

DR Peak RMS Duration Track
––––––––––––––––––––––––––––––––––––––––
DR5 -0.40 dB -6.36 dB 5:50 01-Frantic
DR5 -0.40 dB -6.54 dB 7:21 02-St. Anger
DR6 -0.40 dB -6.99 dB 8:26 03-Some Kind Of Monster
DR5 -0.40 dB -7.16 dB 5:25 04-Dirty Window
DR6 -0.40 dB -7.00 dB 8:30 05-Invisible Kid
DR4 -0.40 dB -6.08 dB 5:46 06-My World
DR6 -0.40 dB -7.38 dB 7:10 07-Shoot Me Again
DR5 -0.40 dB -6.84 dB 5:27 08-Sweet Amber
DR5 -0.40 dB -6.86 dB 7:09 09-The Unnamed Feeling
DR5 -0.40 dB -5.90 dB 5:14 10-Purify
DR4 -0.40 dB -5.47 dB 8:48 11-All Within My Hands
––––––––––––––––––––––––––––––––––––––––

Number of tracks: 11
Official DR value: DR5

Samplerate: 88200 Hz
Channels: 2
Bits per sample: 24
Bitrate: 2913 kbps
Codec: FLAC
================================================================================


Thanks to the Original customer!