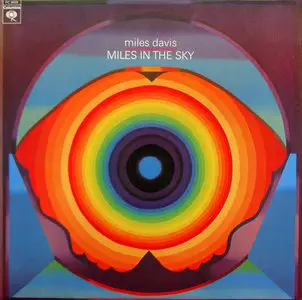 Miles Davis - Miles In The Sky
Columbia records
Vinyl rip in 24-bit/96kHz & 16-bit/44.1kHz | FLAC (Tracks), artworks | Stereo | 1.05 Go, 313 Mb | 5% RAR Recovery | 1968
Styles: Jazz, Post Bop, Fusion | RapidShare Download
With the 1968 album Miles in the Sky, Miles Davis explicitly pushed his second great quintet away from conventional jazz, pushing them toward the jazz-rock hybrid that would later become known as fusion. Here, the music is still in its formative stages, and it's a little more earth-bound than you might expect, especially following on the heels of the shape-shifting, elusive Nefertiti. On Miles in the Sky, much of the rhythms are straightforward, picking up on the direct 4/4 beats of rock, and these are illuminated by Herbie Hancock's electric piano — one of the very first sounds on the record, as a matter of fact — and the guest appearance of guitarist George Benson on "Paraphernalia." All of these additions are tangible and identifiable, and they do result in intriguing music, but the form of the music itself is surprisingly direct, playing as extended grooves. This meanders considerable more than Nefertiti, even if it is significantly less elliptical in its form, because it's primarily four long jams. Intriguing, successful jams in many respects, but even with the notable additions of electric instruments, and with the deliberately noisy "Country Son," this is less visionary than its predecessor and feels like a transitional album — and, like many transitional albums, it's intriguing and frustrating in equal measures. Allmusic.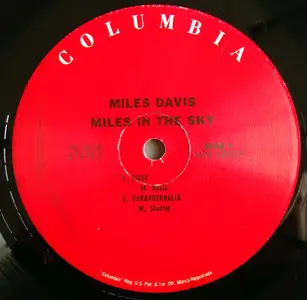 Track listing
Side one
1. "Stuff" (M. Davis) - 16:58
2. "Paraphernalia" (W. Shorter) - 12:36
Side two
1. "Black Comedy" (T. Williams) - 7:25
2. "Country Son" (M. Davis) - 13:49
Performers
* Miles Davis - Trumpet
* Wayne Shorter - Tenor saxophone
* Herbie Hancock - Piano, Electric piano on "Stuff"
* George Benson - Electric guitar on "Paraphernalia"
* Ron Carter - Double bass, electric bass on "Stuff"
* Tony Williams - drums
TT: Technics SP 15 with SME 3009 tonearm & customized plinth
Cartridge: Ortofon Concorde OM 30 MM
Phono amp: Pro-Ject Tube Box II with 2X JAN 12AX 7WA (General Electric)
Cables: Wire World Solstice 5.2
Computer: Sony Vaio Laptop
ADC: Tascam US-144 external USB 2.0 Audiointerface
Software: WaveLab 5.01, ClickRepair, Redbook Resampled And Dithered with iZotope RX