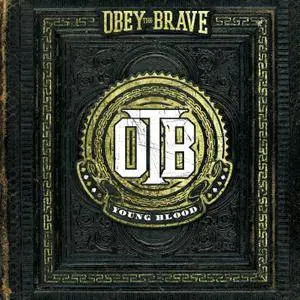 Obey The Brave - Young Blood (2012/2013)
FLAC (tracks) 24-bit/44,1 kHz | Time - 32:44 minutes | 394 MB
Studio Master, Official Digital Download | Artwork: Front cover
Canada's most exciting, adrenaline-charged metalcore band Obey The Brave have officially signed to Epitaph Records and released "Young Blood". Originating from Montreal and Ottawa, Canada, Obey The Brave is vocalist Alex Erian (ex-Despised Icon), bassist Miguel Lepage, guitarist John Campbell, guitarist Greg Wood and drummer Stevie Morotti. Fueled by passion and a strong DIY ethic, Obey The Brave formed in January 2012 and gained over 14,000 Facebook fans in their first two weeks of existence, all without releasing a single song.

"Not trying to reinvent the wheel/We keep it simple, we keep it real." Seconds into "Lifestyle," the punishing opening track on Young Blood, the debut album from Canadian metalcore upstarts Obey the Brave, these lyrics beam out with vitriolic fervor, both setting the tone for the record and relaying Obey the Brave's mission statement. The album's 11 tracks grind by relentlessly, brutal Pantera-influenced metal riffs meeting up with melodic hardcore choruses and plenty of mosh-inducing breakdowns and shouted group vocals supporting singer Alex Erian's (former voicebox for Despised Icon) gruff and growling lead vocals. The lyrical themes on Young Blood are classic metal cornerstones: living your own life, doing things by your own code, identifying who your friends are and are not, the scene and keeping it alive. The production takes a lot of well-trodden musical elements and pushes them over the top with in-the-red volumes and explosive dynamics that threaten to break into blown-out distortion at any moment. These production choices set Obey the Brave apart, capturing the tension and energy of songs like the anthemic bounding of "Early Graves" and the swinging double bass drum assault of the moshy "Get Real." Without their sometimes frighteningly overdriven quality, the songs might demand less attention and make a far less immediate impression. Some of the songs (even with an average length somewhere around three minutes and 20 seconds) linger a little longer than necessary, and just over the four-minute mark, "Time for a Change" drags on, feeling over about halfway through. A fair number of guest vocalists make appearances on the album as well, including Terror/ex-Buried Alive vocalist Scott Vogel and Keith Holuk, former singer for East Coast hardcore heavy-hitters Ligeia. These guests speak to the camaraderie of the hardcore community, but to many ears their tortured shouts are indistinguishable from one another, or from Erian's ever present vocals. Despite this and the band's relaxed editing of the songs, the album on the whole comes off as an instant classic of metal-informed hardcore. Obey the Brave's no-nonsense approach, boundless energy and verve, and catharsis-cleansing rage make the songs on Young Blood crackle with the out-of-control power of both the hungriest up-and-comers and all the institutions of power metal that came before.
Tracklist:
01 - Lifestyle
02 - It Starts Today
03 - Self Made
04 - Live And Learn
05 - Garde La Tete Froide
06 - Grim
07 - Get Real
08 - Time For A Change
09 - Unstoppable
10 - Early Graves
11 - Burning Bridges
Analyzed: Obey The Brave / Young Blood
––––––––––––––––––––––––––––––––––––––––

DR Peak RMS Duration Track
––––––––––––––––––––––––––––––––––––––––
DR5 0.00 dB -6.42 dB 1:29 01-Lifestyle
DR5 0.00 dB -5.05 dB 3:07 02-It Starts Today
DR5 0.00 dB -5.31 dB 3:45 03-Self Made
DR5 0.00 dB -5.31 dB 3:25 04-Live And Learn
DR5 0.00 dB -5.34 dB 2:46 05-Garde La Tete Froide
DR5 0.00 dB -8.06 dB 0:33 06-Grim
DR4 0.00 dB -5.09 dB 3:29 07-Get Real
DR4 0.00 dB -5.12 dB 4:11 08-Time For A Change
DR4 0.00 dB -5.03 dB 3:24 09-Unstoppable
DR5 0.00 dB -5.38 dB 2:43 10-Early Graves
DR4 0.00 dB -5.17 dB 3:53 11-Burning Bridges
––––––––––––––––––––––––––––––––––––––––

Number of tracks: 11
Official DR value: DR5

Samplerate: 44100 Hz
Channels: 2
Bits per sample: 24
Bitrate: 1604 kbps
Codec: FLAC
================================================================================


Thanks to the Original customer!