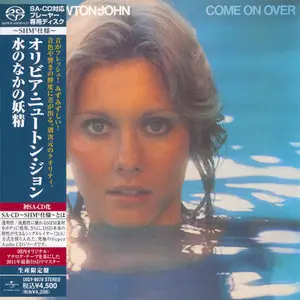 Olivia Newton-John - Come On Over (1976) [Japanese Limited SHM-SACD 2011]
PS3 Rip | SACD ISO | DSD64 2.0 > 1-bit/2.8224 MHz | 41:20 minutes | Scans included | 1,31 GB
or DSD64 2.0 (from SACD-ISO to Tracks.dsf) > 1-bit/2.8224 MHz | Full Scans included | 1,15 GB
or FLAC (carefully converted & encoded to tracks) 24bit/96 kHz | Full Scans included | 988 MB
Come On Over is the eighth studio album by Olivia Newton-John, originally released on 29 February 1976. It peaked at number 2 on the US Country albums chart, and number 13 on the Billboard 200. The album was certified Gold. Come On Over was also a success in the Japanese market, reaching the number 2 position on the Oricon Albums Chart.
Olivia Newton John's Come on Over is country tunes, folk ballads, and more. Her own arrangement and adaptation of the traditional "Greensleeves" is exquisite, haunting, and shows Newton-John is more than just a pretty face. Her hit catalog was already nine songs deep, and "Come on Over" was the tenth of close to 30 visits to the Top 40 in a 14-year period. Fred Rose's "Blue Eyes Crying in the Rain" and a cover of Dolly Parton's classic "Jolene" open and shut side one with the country side of things while the Diane Berglund/Jim Phillips composition "Pony Ride" is more of a piano ballad, nicely bridging the Western music with the song which would go to the top of the adult contemporary charts, the brilliant title track written by Barry Gibb and Robin Gibb of the Bee Gees. "Come on Over" came right on the heels of one of the Bee Gees' most brilliant compositions, "Fanny (Be Tender With My Love)," charting just three months prior to "Come on Over." What this record becomes is a textbook on the separation between what is good and what is great. The album is quality stuff through and through, but even a good reading of a Beatles classic like "The Long and Winding Road" pales next to the majesty of John Farrar's simple production and Olivia's direct and heart-wrenching vocal on the title track. It is so moving that every other performance becomes a supporting act to the main attraction. It is also the only song that charted on the Top 40 from this consistent and entertaining project. "It'll Be Me" is the next best thing to "Come on Over," a Hank Marvin/John Farrar composition showing Newton-John's relationship to Cliff Richard's Shadows, drummer Brian Bennett providing the backbeat. Cliff Richard had his biggest U.S. success up to this point in time with "Devil Woman" as this record was charting simultaneously. It would be four years until Olivia and Cliff's duet "Suddenly," from the Xanadu soundtrack, made its splash. "Don't Throw It All Away" and "Who Are You Now?" are beautiful middle of the road performances here, and Farrar's production is really understated and sadly underrated. His grasp of the pop format is major league and worthy of note. Farrar's "Small Talk and Pride" and Harlan Collins' "Wrap Me in Your Arms" are elegant and perfect in their construction. Olivia Newton-John was a superstar before Mariah Carey and Celine Dion, and as beautiful as those pop divas can sing, it is John Farrar's understanding of his artist which makes these albums by Olivia so heartfelt and magical. "Come on Over" is a tremendous song on a very good album. More than just the Bee Gees meets the Shadows featuring Olivia Newton-John, Come on Over is a true pop classic.
Tracklist:
01 - Jolene
02 - Pony Ride
03 - Come On Over
04 - It'll Be Me
05 - Greensleeves
06 - Blue Eyes Crying In The Rain
07 - Don't Throw It All Away
08 - Who Are you Now?
09 - Smile For Me
10 - Small Talk And Pride
11 - Wrap Me In Your Arms
12 - The Long And Winding Road
DSD Transferred from analogue master tapes by Masaru Takagi at Sunrise Studio.
Universal Japan # UIGY-9078
foobar2000 1.6.2 / Dynamic Range Meter 1.1.1

––––––––––––––––––––––––––––––––––––––––
Analyzed: Olivia Newton-John / Come On Over
––––––––––––––––––––––––––––––––––––––––

DR Peak RMS Duration Track
––––––––––––––––––––––––––––––––––––––––
DR10 -5.33 dB -17.39 dB 3:03 01-Jolene
DR11 -4.22 dB -19.36 dB 4:00 02-Pony Ride
DR10 -4.00 dB -16.44 dB 3:41 03-Come On Over
DR10 -4.04 dB -16.17 dB 3:29 04-It'll Be Me
DR10 -5.97 dB -19.13 dB 3:41 05-Greensleeves
DR9 -5.29 dB -17.29 dB 2:24 06-Blue Eyes Crying In The Rain
DR10 -4.12 dB -16.64 dB 2:55 07-Don't Throw It All Away
DR11 -4.95 dB -17.97 dB 3:07 08-Who Are you Now?
DR9 -4.01 dB -15.21 dB 3:41 09-Smile For Me
DR11 -4.06 dB -17.57 dB 3:53 10-Small Talk And Pride
DR10 -4.83 dB -16.98 dB 3:06 11-Wrap Me In Your Arms
DR10 -4.45 dB -18.27 dB 4:22 12-The Long And Winding Road
––––––––––––––––––––––––––––––––––––––––

Number of tracks: 12
Official DR value: DR10

Samplerate: 2822400 Hz / PCM Samplerate: 176400 Hz
Channels: 2
Bits per sample: 1
Bitrate: 5645 kbps
Codec: DSD64


Thanks to PS³SACD!
Uncompressed SACD ISO size > 1,66 GB
>