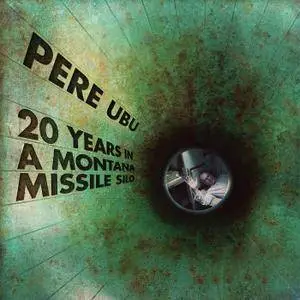 Pere Ubu - 20 Years In A Montana Missile Silo (2017)
FLAC (tracks) 24-bit/96 kHz | Time - 33:51 minutes | 748 MB
Studio Master, Official Digital Download | Artwork: Front cover
Pere Ubu is an American rock group formed in Cleveland, Ohio, United States, in 1975. Fronted as ever by David Thomas, Pere Ubu unveil their "20 Years In A Montana Missile Silo" album, which opens the doors of the avant-garage to reveal the hardworking mechanics hammering away at the fundamentals of blue-collar rock.
If Marvel Comics' Man-Thing made a record it would sound dangerously close to 20 Years In A Montana Missile Silo. Sci-fi synths swirl and soar over Creedence Clearwater Revival-style swamp rock, topped off with David Thomas' idiosyncratic warbling yelp. Pere Ubu are one of those rare bands who are – as John Peel put it when referring to The Fall – "always different, always the same."
Over their decades-spanning career, Pere Ubu have changed and grown without losing any of their inventiveness. On 20 Years in a Montana Missile Silo, they reorient their music once again: inspired by the concept of putting people in a dark room with an object or animal and having them describe it based on what they felt, David Thomas had his musicians work on their parts independently, then edited the pieces together. Though these intentionally fractured tracks are much shorter than Lady from Shanghai and Carnival of Souls' epics, unlike Pere Ubu's early-'90s alt-rock flirtations, 20 Years feels less like a compromise and more like a challenge to see just how much wild creativity the band can pack into a short amount of time. "Monkey Bizness," which opens the album with a dose of nightmarish nursery rhyme surf-punk, barely passes the two-minute mark. The brevity of 20 Years' outbursts only adds to their mystique; when Thomas sings "I'm the man you know so well/But which part of me is hard to tell" over chugging boogie-woogie, it distills the album's feeling of stumbling around in the dark, grasping for clues. Similarly, the band's inspired subversions of familiar sounds, whether it's the stalking blues of "Howl" or the stomping punk of "Red Eye Blues," just add to the unease that culminates on the album's more experimental tracks. Pere Ubu remain masters of wasteland soundscapes on songs like "I Can Still See" and "Plan from Frag 9," on which Thomas compares himself to a pencil's ability to leave – or remove – a mark over seething electronics, jittery handclaps, and Darryl Boon's swirling clarinet. However, Thomas is 20 Years in a Montana Missile Silo's main attraction, and he uses the album's wailing, clanking, and gurgling instrumentation to complement some of his most expressive vocals. On "Funk 49," he mutters "Yeah I got a bit of soul/I keep it in a cage" with the deadpan delivery of a comedian as synths and guitars lurch at Dutch angles. Later, he's surprisingly tender on the windswept acoustic ballad "The Healer" and "Cold Sweat," where he's both sarcastic and vulnerable as he sings "Thank you/You've been great/And I really mean that" over a sea of synth strings. 20 Years in a Montana Missile Silo's glimpses at life's unknowability are disturbing, affecting, and always fascinating – and prove that Pere Ubu are as vital as ever in the 2010s.
Tracklist:
01 - Monkey Bizness
02 - Funk 49
03 - Prison of the Senses
04 - Toe to Toe
05 - The Healer
06 - Swampland
07 - Plan from Frag 9
08 - Howl
09 - Red Eye Blues
10 - Walking Again
11 - I Can Still See
12 - Cold Sweat
Produced by David Thomas. Engineered by Paul Hamann.
Recorded and Mixed at Suma, Painesville, Ohio. Mastered by Nick Watson.
Musicians:
David Thomas - vocals
Robert Wheeler - synth, theremin
Darryl Boon - clarinet
Kristof Hahn - steel guitar
Gary Siperko - guitar
Keith Moliné - guitar
Michele Temple - bass
Steve Mehlman - drums
Analyzed: Pere Ubu / 20 Years in a Montana Missile Silo
––––––––––––––––––––––––––––––––––––––––

DR Peak RMS Duration Track
––––––––––––––––––––––––––––––––––––––––
DR6 -0.48 dB -8.17 dB 2:18 01-Monkey Bizness
DR8 -0.48 dB -9.95 dB 1:57 02-Funk 49
DR7 -0.48 dB -9.37 dB 2:12 03-Prison of the Senses
DR6 -0.48 dB -7.61 dB 1:34 04-Toe to Toe
DR8 -0.48 dB -10.63 dB 3:18 05-The Healer
DR7 -0.58 dB -7.97 dB 1:50 06-Swampland
DR8 -0.48 dB -11.84 dB 3:20 07-Plan from Frag 9
DR9 -0.48 dB -12.81 dB 3:01 08-Howl
DR6 -0.48 dB -8.36 dB 1:52 09-Red Eye Blues
DR7 -0.48 dB -9.49 dB 4:37 10-Walking Again
DR8 -0.48 dB -9.45 dB 4:09 11-I Can Still See
DR9 -0.48 dB -11.41 dB 3:42 12-Cold Sweat
––––––––––––––––––––––––––––––––––––––––

Number of tracks: 12
Official DR value: DR7

Samplerate: 96000 Hz
Channels: 2
Bits per sample: 24
Bitrate: 2711 kbps
Codec: FLAC
================================================================================


Thanks to the Original customer!
Pere Ubu - The Modern Dance (1978/2017)