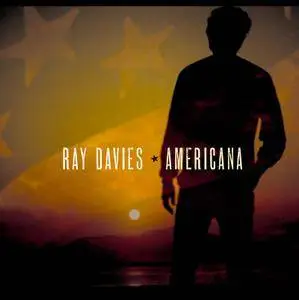 Ray Davies - Americana (2017)
FLAC (tracks) 24-bit/44,1 kHz | Time - 58:28 minutes | 707 MB
Studio Master, Official Digital Download | Artwork: Front cover
As suggested by the title "Americana", the former Kinks frontman is a cultural and musical paradox. The most emphatically English of all the British Invasion bandleaders, Britpop's beloved father argues throughout his new album (and 2013 autobiography by the same name) that he spent much of his band's 32-year career chasing the American Dream. The Kinks legend uses Americana to blaze a path through both America's rock'n'roll history and his own. Its back-to-basics energy and prosaic storytelling make it his best solo album in years.

Ray Davies published a memoir chronicling his life-long affair with America in 2013. Naturally, it was called Americana, and that's also the title of this 2017 musical adaptation of the book. Davies plays a little fast and loose with his facts, which is perhaps a detriment in an autobiography but suits the condensed nature of songwriting. He doesn't tell a story with Americana – it's not a song cycle along the lines of Arthur (Or the Decline and Fall of the British Empire) – but rather offers a series of vignettes, some torn from the pages of his book, others expanding upon its themes. Images of highways, cowboys, and movies dance through the songs, as do sly allusions to the Kinks. It's not just that there's an echo of "All Day and All of the Night" on "The Man Upstairs," either: "Poetry" recalls the pastoral jangle of Village Green Preservation Society and "The Great Highway" stomps like a Low Budget outtake. This is the key to understanding Americana. While there are a few nods to classic American music – "A Place in Your Heart" rambles like an old country & western tune – Americana is Davies examining how America has changed him, so it fits that his own work is threaded into the album. Backed by the Jayhawks – an Americana band raised on the British Invasion – Davies manages to skillfully pull off such subtle shifts in tone. Collaborating with a working band enlivens him – there's snap and muscle here that were missing on the otherwise fine Working Man's Café – and for as good as the songs are, what's initially so absorbing about Americana is this limber musicality. What makes it last are the songs, which are wry, moving, and truthful, which wasn't always the case in his book.
Tracklist:
01 - Americana
02 - The Deal
03 - Poetry
04 - Message from the Road
05 - A Place in Your Heart
06 - The Mystery Room
07 - Silent Movie
08 - Rock 'N' Roll Cowboys
09 - Change for Change
10 - The Man Upstairs
11 - I've Heard That Beat Before
12 - A Long Drive Home to Tarzana
13 - The Great Highway
14 - The Invaders
15 - Wings of Fantasy
Analyzed: Ray Davies / Americana
––––––––––––––––––––––––––––––––––––––––

DR Peak RMS Duration Track
––––––––––––––––––––––––––––––––––––––––
DR8 -1.20 dB -11.43 dB 4:02 01-Americana
DR10 -1.20 dB -12.70 dB 5:04 02-The Deal
DR9 -1.20 dB -10.85 dB 5:05 03-Poetry
DR11 -2.25 dB -16.94 dB 2:57 04-Message from the Road
DR9 -1.20 dB -11.46 dB 5:04 05-A Place in Your Heart
DR7 -1.20 dB -10.84 dB 3:52 06-The Mystery Room
DR12 -5.73 dB -21.02 dB 1:12 07-Silent Movie
DR8 -1.20 dB -12.46 dB 4:21 08-Rock 'N' Roll Cowboys
DR11 -1.20 dB -14.17 dB 3:23 09-Change for Change
DR15 -1.30 dB -19.31 dB 1:37 10-The Man Upstairs
DR11 -1.25 dB -13.70 dB 4:04 11-I've Heard That Beat Before
DR8 -1.20 dB -10.99 dB 5:00 12-A Long Drive Home to Tarzana
DR8 -1.20 dB -10.52 dB 4:44 13-The Great Highway
DR10 -1.20 dB -12.17 dB 3:48 14-The Invaders
DR8 -1.20 dB -10.61 dB 4:17 15-Wings of Fantasy
––––––––––––––––––––––––––––––––––––––––

Number of tracks: 15
Official DR value: DR10

Samplerate: 44100 Hz
Channels: 2
Bits per sample: 24
Bitrate: 1672 kbps
Codec: FLAC
================================================================================


Thanks to the Original customer!