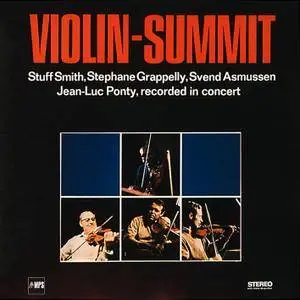 Stuff Smith - Violin Summit (1966/2015)
FLAC (tracks) 24-bit/88,2 kHz | Time - 40:54 minutes | 831 MB
Studio Master, Official Digital Download | Artwork: Front cover
Stuff Smith, born as Hezekiah Leroy Gordon Smith in 1909 passed away in 1967, one year after this unique recording session. "Violin Summit" featured Stuff Smith, Stephane Grappelli, Svend Asmussen and Jean Luc-Ponty (with pianist Kenny Drew, bassist Niels-Henning Orsted Pedersen, drummer Alex Riel) in concert on September 30, 1966. It was an unique opportunity to have four of the best violin players together in one concert. The music came off quite well, in large part probably because the four violinists were paired in different sets with all four actually featured together on only one take, "It Don't Mean a Thing If It Ain't Got That Swing".
Four of the greatest violinists in jazz get together for a once-in-a-lifetime live summit. Dane Svend Asmussen, followed in the steps of jazz legend Joe Venuti; Frenchman Stephané Grappelli together with Django Reinhardt defined European swing; Afro-American Stuff Smith built the bridge between swing and bop; Frenchman Jean-Luc Ponty catapulted the instrument into the modern era (for more on the four, check out their individual releases on MPS). Copenhagen's famous Club Montmartre's rhythm section with pianist Kenny Drew and bassist Niels Henning Pederson guide the violinists as they climb the heights. Ponty's Summit Soul shows off the Europeans as Stephané, Svend and Jean-Luc solo in that order. The two Frenchmen take center stage on Sonny Rollins' bop classic Pentup House, with first Grappelli, then Ponty soloing. Stuff Smith's Timme's Blues has Stuff and Svend vocalizing before going into solos. On Ellington's It Don't Mean A Thing first Grappelli, then Asmussen, Ponty, and Smith decisively demonstrate they all 'got that swing'. Pennies From Heaven is all Grappelli, and it's worth every cent. Smith's Only Time Will Tell features Stuff, and he has a lot to say in so short a span. The summit ends with Svend, Jean-Luc, and Stephané soloing on Hot Toddy, an exhilarating final kick to an album that warms the soul.
Tracklist:
01 - Summit Soul
02 - Pentup House
03 - Timme's Blues
04 - It Don't Mean a Thing
05 - Pennies from Heaven
06 - Only Time Will Tell
07 - Hot Toddy
Produced by Joachim E. Berendt. Engineered by Hans-Georg Brunner-Schwer.
Recorded on September 30th, 1966 at "Jazz im Fauteuil" in Basel, Switzerland.
Digitally Remastered.
Musicians:
Stuff Smith - violin
Jean-Luc Ponty - violin
Stéphane Grappelli - violin
Svend Asmussen - violin
Kenny Drew - piano
Niels-Henning Örsted Pedersen - bass
Axel Riehl - drums
Analyzed: Stuff Smith / Violin Summit
––––––––––––––––––––––––––––––––––––––––

DR Peak RMS Duration Track
––––––––––––––––––––––––––––––––––––––––
DR11 -2.84 dB -15.95 dB 6:44 01-Summit Soul
DR12 -2.03 dB -16.64 dB 5:55 02-Pentup House
DR12 -2.46 dB -17.34 dB 6:56 03-Timme's Blues
DR12 -0.66 dB -15.48 dB 7:01 04-It Don't Mean a Thing
DR11 -2.83 dB -15.85 dB 4:24 05-Pennies from Heaven
DR11 -2.40 dB -16.38 dB 5:47 06-Only Time Will Tell
DR11 -1.99 dB -16.14 dB 4:07 07-Hot Toddy
––––––––––––––––––––––––––––––––––––––––

Number of tracks: 7
Official DR value: DR11

Samplerate: 88200 Hz
Channels: 2
Bits per sample: 24
Bitrate: 2719 kbps
Codec: FLAC
================================================================================


Thanks to the Original customer!