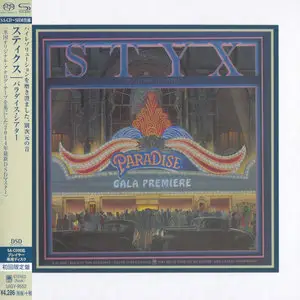 Styx - Paradise Theater (1981) [Japanese SHM-SACD 2014]
PS3 Rip | SACD ISO | DSD64 2.0 > 1-bit/2.8224 MHz | 40:39 minutes | Scans included | 1,14 GB
or DSD64 2.0 (from SACD-ISO to Tracks.dsf) > 1-bit/2.8224 MHz | Full Scans included | 1,01 GB
or FLAC (carefully converted & encoded to tracks) 24bit/96 kHz | Full Scans included | 959 MB
Paradise Theatre is the tenth album by the rock band Styx, released in January 1981. A concept album, the album is a fictional account of Chicago's Paradise Theatre from its opening to closin, used as a metaphor for America's changing times from the late 1970s into the 1980s. It was the most successful album by Styx, peaking at #1 for 3 weeks on the Billboard Album Chart in April and May 1981. It was the band's fourth consecutive triple-platinum album.
After successfully establishing themselves as one of America's best commercial progressive rock bands of the late '70s with albums like The Grand Illusion and Pieces of Eight, Chicago's Styx had taken a dubious step towards pop overkill with singer Dennis DeYoung's ballad "Babe." The centerpiece of 1979's uneven Cornerstone album, the number one single sowed the seeds of disaster for the group by pitching DeYoung's increasingly mainstream ambitions against the group's more conservative songwriters, Tommy Shaw and James "JY" Young. Hence, what had once been a healthy competitive spirit within the band quickly deteriorated into bitter co-existence during the sessions for 1980's Paradise Theater – and all-out warfare by the time of 1983's infamous Kilroy Was Here. For the time being, however, Paradise Theater seemed to represent the best of both worlds, since its loose concept about the roaring '20s heyday and eventual decline of an imaginary theater (used as a metaphor for the American experience in general, etc., etc.) seemed to satisfy both of the band's camps with its return to complex hard rock (purists Shaw and JY) while sparing no amount of pomp and grandeur (DeYoung). The stage is set by the first track, "A.D. 1928," which features a lonely DeYoung on piano and vocals introducing the album's recurring musical theme before launching into "Rockin' the Paradise" – a total team effort of wonderfully stripped down hard rock. From this point forward, DeYoung's compositions ("Nothing Ever Goes as Planned," "The Best of Times") continue to stick close to the overall storyline, while Shaw's ("Too Much Time on My Hands," "She Cares") try to resist thematic restrictions as best they can. Among these, "The Best of Times" – with its deliberate, marching rhythm – remains one of the more improbable Top Ten hits of the decade (somehow it just works), while "Too Much Time on My Hands" figures among Shaw's finest singles ever. As for JY, the band's third songwriter (and resident peacekeeper) is only slightly more cooperative with the Paradise Theater concept. His edgier compositions include the desolate tale of drug addiction, "Snowblind," and the rollicking opus "Half-Penny, Two-Penny," which infuses a graphic depiction of inner city decadence with a final, small glimmer of hope and redemption. The song also leads straight into the album's beautiful saxophone-led epilogue, "A.D. 1958," which once again reveals MC DeYoung alone at his piano. A resounding success, Paradise Theater would become Styx's greatest commercial triumph; and in retrospect, it remains one of the best examples of the convergence between progressive rock and AOR which typified the sound of the era's top groups (Journey, Kansas, etc.). For Styx, its success would spell both their temporary saving grace and ultimate doom, as the creative forces which had already been tearing at the band's core finally reached unbearable levels three years later. It is no wonder that when the band reunited after over a decade of bad blood, all the music released post-1980 was left on the cutting room floor – further proof that Paradise Theater was truly the best of times.
Tracklist:
01. A.D. 1928
02. Rockin' the Paradise
03. Too Much Time on My Hands
04. Nothing Ever Goes As Planned
05. The Best of Times
06. Lonely People
07. She Cares
08. Snowblind
09. Half-Penny, Two-Penny
10. A.D. 1958
11. State Street Sadie
No information about the source for trasfer available.
foobar2000 1.6.5 / Dynamic Range Meter 1.1.1

––––––––––––––––––––––––––––––––––––––––
Analyzed: Styx / Paradise Theatre
––––––––––––––––––––––––––––––––––––––––

DR Peak RMS Duration Track
––––––––––––––––––––––––––––––––––––––––
DR13 -10.29 dB -27.18 dB 1:08 01-A.D. 1928
DR13 -4.59 dB -19.55 dB 3:35 02-Rockin' The Paradise
DR14 -3.84 dB -20.82 dB 4:33 03-Too Much Time On My Hands
DR14 -5.02 dB -21.01 dB 4:48 04-Nothing Ever Goes As Planned
DR13 -6.13 dB -23.09 dB 4:19 05-The Best Of Times
DR14 -5.74 dB -23.08 dB 5:23 06-Lonely People
DR14 -7.12 dB -22.67 dB 4:19 07-She Cares
DR13 -5.99 dB -22.72 dB 4:58 08-Snowblind
DR14 -6.82 dB -22.52 dB 5:58 09-Half-Penny, Two-Penny
DR13 -13.58 dB -29.29 dB 1:07 10-A.D. 1958
DR11 -21.67 dB -34.29 dB 0:32 11-State Street Sadie
––––––––––––––––––––––––––––––––––––––––

Number of tracks: 11
Official DR value: DR13

Samplerate: 2822400 Hz / PCM Samplerate: 176400 Hz
Channels: 2
Bits per sample: 1
Bitrate: 5645 kbps
Codec: DSD64


Thanks to PS³SACD!
Uncompressed SACD ISO size > 1,63 GB
>