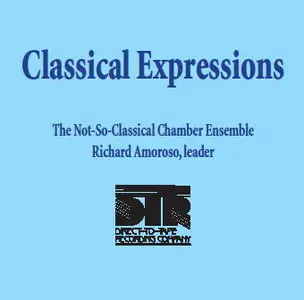 The Not-So-Classical Chamber Ensemble - Classical Expressions (1981/2013)
DSD128 (.dff) 1 bit/5,64 MHz | Time - 33:25 minutes | 2,35 GB
FLAC (tracks) 24-bit/96 kHz | Time - 33:25 minutes | 688 MB
Studio Master, Official Digital Download | Artwork: Digital booklet
The pieces on this recording are performed on a wide variety of instruments. There is a piece for solo harp (Whirlwind), pieces for cello and harp; cello and accordian; two guitars; cello, harp, accordian and piano; through those including the entire ensemble of cello, harp, accordian, two guitars, piano, marimba, string bass, and percussion. Except as noted, the compositions were arranged or transcribed by Richard Amoroso to take advantage of the many instrumental colors available within the group.
The Ensemble came out of a cello recital given by leader Amoroso which used many exotic instruments in unique combination. He put together an ensemble focusing primarily on light Romantic-period music, with an emphasis on Spanish music. Most of the other musicians of the ensemble come out of a classical background. There is accordion, mandolin, harp, marimba and piano.

High Definition Tape Transfers has expanded their original practice of offering hi-res reissues of consumer-level prerecorded stereo tapes, to stereo LPs and especially high fidelity analog tapes from various sources. This is one of the latter, recorded originally using two Schoeps mics and an analog open reel deck in 1981 by Direct-to-Tape Recording Co. in Haddon Heights, NJ. I still have some of their open-reel tapes in my library and they are of exceptional fidelity. No compression, equalization, limiting or editing was used on the original tapes. The program sounds something like one might hear at an informal concert accompanying some sort of art or fund-raising event. The arrangements and instrumentation sound slightly dated but are enjoyable nevertheless. The fidelity is superb and perhaps the main attraction here.
Tracklist:
01 - Yesterdays
02 - C-Jam Blues
03 - Night And Day
04 - Blue Moon
05 - I Think You're Wonderful
06 - Memories Of You
07 - Fine And Dandy
08 - Indiana
09 - Pennies From Heaven
10 - Lady Is A Tramp
11 - Holland's Holiday Drum Solo
12 - Lullaby In Rhythm
13 - There's A Small Hotel [Alternate]
14 - There's A Small Hotel
15 - There's No You
16 - September Song
17 - Jazz Man Blues
18 - I Got It Bad And It Ain't Good
19 - Disc Jockey Jump
Recording Info
:
Recorded August and September 1981.
Produced and Engineered by Bob Sellman.
Source used for Transfer: Original 15ips 2-track Master Tapes.
Originally mastered to Pure DSD Transfer - No PCM Editing.
Analyzed: The Not-So-Classical Chamber Ensemble / Classical Expressions
––––––––––––––––––––––––––––––––––––––––

DR Peak RMS Duration Track
––––––––––––––––––––––––––––––––––––––––
DR15 0.00 dB -18.81 dB 2:17 ?-01_Sabre_Dance
DR13 -12.66 dB -28.44 dB 2:18 ?-02_Nostalgia
DR13 -2.14 dB -21.69 dB 2:54 ?-03_Whirlwind
DR13 -2.08 dB -22.57 dB 3:58 ?-04_Orientale_Spanish_Dance
DR14 -0.26 dB -21.20 dB 3:34 ?-05_Zapateado
DR12 -8.56 dB -25.78 dB 3:32 ?-06_Prelude _in_G_Rachmaninoff
DR14 -7.93 dB -27.66 dB 3:11 ?-07_Piece_Form_Habanera
DR12 -5.75 dB -21.29 dB 1:25 ?-08_The_Bee
DR13 -9.92 dB -28.47 dB 4:24 ?-09_Prelude_II_Greshwin
DR16 -2.30 dB -23.29 dB 1:16 ?-10_Flight_of_the_Bumble_Bee
DR13 -5.12 dB -24.34 dB 2:50 ?-11_The_Girl_with_Flaxen_Hair
DR14 0.00 dB -18.59 dB 1:45 ?-12_Tico_Tico
––––––––––––––––––––––––––––––––––––––––

Number of tracks: 12
Official DR value: DR13

Samplerate: 5644800 Hz / PCM Samplerate: 176400 Hz
Channels: 2
Bits per sample: 24
Bitrate: 11290 kbps
Codec: DSD128
================================================================================


Thanks to the Original customer!