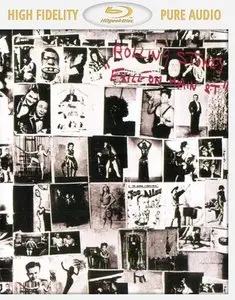 The Rolling Stones - Exile On Main St. (1972/2013)
FLAC(tracks) 24 bit/96 kHz | Time - 67:42 minutes | 1,57 GB
Blu-Ray Audio Rip | Sourced Track - LPCM 2.0 Stereo | Full Artwork
"Exile on Main St." is a studio album by English rock band the Rolling Stones. It was first released as a double album on 12 May 1972 by Rolling Stones Records and was the band's tenth studio album released in the United Kingdom.
Greeted with decidedly mixed reviews upon its original release, Exile on Main St. has become generally regarded as the Rolling Stones' finest album. Part of the reason why the record was initially greeted with hesitant reviews is that it takes a while to assimilate. A sprawling, weary double album encompassing rock & roll, blues, soul, and country, Exile doesn't try anything new on the surface, but the substance is new. Taking the bleakness that underpinned Let It Bleed and Sticky Fingers to an extreme, Exile is a weary record, and not just lyrically. Jagger's vocals are buried in the mix, and the music is a series of dark, dense jams, with Keith Richards and Mick Taylor spinning off incredible riffs and solos. And the songs continue the breakthroughs of their three previous albums. No longer does their country sound forced or kitschy – it's lived-in and complex, just like the group's forays into soul and gospel. While the songs, including the masterpieces "Rocks Off," "Tumbling Dice," "Torn and Frayed," "Happy," "Let It Loose," and "Shine a Light," are all terrific, they blend together, with only certain lyrics and guitar lines emerging from the murk. It's the kind of record that's gripping on the very first listen, but each subsequent listen reveals something new. Few other albums, let alone double albums, have been so rich and masterful as Exile on Main St., and it stands not only as one of the Stones' best records, but sets a remarkably high standard for all of hard rock.
Tracklist:
01 - Rocks Off
02 - Rip This Joint
03 - Shake Your Hips
04 - Casino Boogie
05 - Tumbling Dice
06 - Sweet Virginia
07 - Torn And Frayed
08 - Sweet Black Angel
09 - Loving Cup
10 - Happy
11 - Turd On The Run
12 - Ventilator Blues
13 - I Just Want To See His Face
14 - Let It Loose
15 - All Down The Line
16 - Stop Breaking Down
17 - Shine A Light
18 - Soul Survivor
Analyzed: The Rolling Stones / Exile On Main St
––––––––––––––––––––––––––––––––––––––––

DR Peak RMS Duration Track
––––––––––––––––––––––––––––––––––––––––
DR10 -2.37 dB -14.48 dB 4:34 01-Rocks Off
DR10 -2.47 dB -14.25 dB 2:26 02-Rip This Joint
DR11 -4.02 dB -16.93 dB 2:58 03-Shake Your Hips
DR12 -2.39 dB -16.36 dB 3:36 04-Casino Boogie
DR10 -2.67 dB -14.96 dB 3:49 05-Tumbling Dice
DR12 -2.32 dB -17.65 dB 4:27 06-Sweet Virginia
DR11 -1.04 dB -14.38 dB 4:19 07-Torn And Frayed
DR11 -1.56 dB -15.55 dB 3:00 08-Sweet Black Angel
DR11 -0.65 dB -15.52 dB 4:28 09-Loving Cup
DR11 -1.57 dB -14.19 dB 3:07 10-Happy
DR9 -2.49 dB -12.67 dB 2:38 11-Turd On The Run
DR11 -2.65 dB -15.17 dB 3:25 12-Ventilator Blues
DR11 -5.20 dB -19.26 dB 2:55 13-I Just Want To See His Face
DR11 -1.88 dB -16.83 dB 5:22 14-Let It Loose
DR11 -1.72 dB -15.36 dB 3:51 15-All Down The Line
DR10 -1.26 dB -12.96 dB 4:38 16-Stop Breaking Down
DR13 -1.30 dB -17.99 dB 4:17 17-Shine A Light
DR10 -0.44 dB -12.79 dB 3:55 18-Soul Survivor
––––––––––––––––––––––––––––––––––––––––

Number of tracks: 18
Official DR value: DR11

Samplerate: 96000 Hz
Channels: 2
Bits per sample: 24
Bitrate: 2990 kbps
Codec: FLAC
================================================================================


All files were fully tagged.