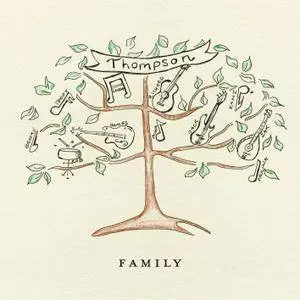 Thompson - Family (2014)
FLAC (tracks) 24-bit/96 kHz | Time - 41:11 minutes | 859 MB
Studio Master, Official Digital Download | Artwork: Digital booklet
As the title indicates, this album brings together various members of the musical Thompson family: Teddy Thompson, his acclaimed folk rocker parents Richard and Linda, brother Jack, younger sister Kami, her husband James and nephew Zak Hobbs, collectively dubbed Thompson. This collaborative album of original songs captures the warmth, intelligence and humour of this supremely talented family as they record together for the very first time. The family members all wrote and recorded their songs where they live and sent them in; once done, the family met up for four days of studio time in London and New York City where the tracks were recorded with Teddy at the helm. The recordings feature abundant musical cross-pollination from all the performers as well as shared backing vocals.
It's hard not to view this collaborative album from the extended Thompson family through the eyes of the cod psychologist, given it how tortuous their family dynamic has been – Richard and Linda Thompson chronicled their disintegrating marriage on Shoot Out the Lights in 1982. The idea came from their son Teddy, who opens the album with the title track, which meditates on being the child of famous parents, stuck "betwixt and between/ Sean Lennon, you know what I mean". His sister Kami contributes a lovely, Teenage Fanclubesque folk rocker, Careful, but the heart of the album lies in the parents' songs. Linda's Bonny Boy, a beautiful acoustic ballad, sees her offering advice on love to her son, with the mixture of wisdom and inappropriateness that only elderly parents can carry off, while Richard's One Life at a Time might be political, but seems just as likely to plumb a deep well of misanthropy: "If you're busy living your life/ You won't be living mine." Goodness knows you wouldn't want to share a group therapy session with them, but it makes for a musically fabulous and lyrically compelling album.

Having a celebrated family can be a blessing or a curse, which is something Teddy Thompson knows from experience. Teddy's father is the peerless guitarist and songwriter Richard Thompson, his mother Linda Thompson is one of the best respected singers in British folk-rock, and together they cut a handful of acclaimed albums that rank with the best singer/songwriter material of the '70s and early '80s. While Teddy has established himself as an impressive talent in his own right, it's hard to escape the long shadow of his parents' legacy, and rather than avoid it, he's embraced it by producing an album in which he collaborates with Richard, Linda, his sister Kami Thompson (a member of the Rails as well as a solo artist), his half-brother Jack Thompson, and nephew Zak Hobbs. Credited to the collective name Thompson and simply titled Family, the album opens with a song from Teddy in which he celebrates the accomplishments of his relations, and puzzles over where he fits into the picture: "Born to the manor, and never quite clamoring free." It's the one song on Family that most directly addresses the sometimes difficult bonds of family (especially sticky when your parents had a famously contentious divorce), something that otherwise only really pops up on Linda's song for her children, "Bonny Boys." On Family, Richard, Linda, Teddy, and Kami each contribute two original songs, and Jack and Zak each deliver one. While members of the extended family accompany one another (Kami's husband and Rails bandmate James Walbourne contributes guitar work), what's most fascinating about Family is the way the individual voices of these musicians complement one another, as Richard's dour but expressive "One Life at a Time" and "That's Enough" face off against the spare, bittersweet traditionalism of Linda's "Bonny Boys" and "Perhaps We Can Sleep," and the sharp, wordy wit of Teddy's "Right" and "Family" provide the yin to Kami's soulful yang on "Careful" and "I Long for Lonely." (Zak's "Root So Bitter" is a strong bit of upbeat acoustic folk, and Jack's "At the Feet of the Emperor" is a well-crafted but relatively disposable instrumental focusing on his bass work.) Under typical circumstances, a handful of songwriters asked to contribute to a collective project might not deliver their A-list material, but thankfully no one was willing to let the family down, and if this set of songs doesn't always boast thematic unity, Family holds together as these artists revel in the fierce emotional pull of their music, a bond that feels as strong as blood. If it doesn't always feel like the dream collaboration between these gifted relations, Family clearly demonstrates what makes them special, individually and collectively.
Tracklist:
01 - Family
02 - One Life At A Time
03 - Careful
04 - Bonny Boys
05 - Root So Bitter
06 - At The Feet Of The Emperor
07 - Right
08 - Perhaps We Can Sleep
09 - That's Enough
10 - I Long For Lonely
Produced by Teddy Thompson.
Musicians:
Jack Thompson – bass (6)
Linda Thompson – vocals (1, 4, 8 & 9)
Richard Thompson – acoustic guitar (1, 6 & 9), vocals (2 & 9), doumbek (2 & 9), electric guitar (3 & 6), hurdy-gurdy (5)
Kami Thompson – vocals (3, 9 & 10), acoustic guitar (10)
Teddy Thompson – acoustic guitar (1 & 7), vocals (1, 2, 3, 4 & 9), bass (2), pump organ (5,8 & 9), piano (8)
Zak Thompson – acoustic guitar (1, 4 & 5), electric guitar (2 & 3), mandolin (2 & 9), slide guitar (7)
James Walbourne – bass (3), acoustic guitar (3 & 10), electric guitar (7 & 9), vocals (9 & 10)
Rob Walbourne – drums & percussion (2, 7 & 9), organ (3), vocals (9)
Paulina Liss – vocals (3 & 7)
Muna Mascalo – vocals (9)
Brooke Gengrass – vocals (9)
Analyzed: Thompson / Family
––––––––––––––––––––––––––––––––––––––––

DR Peak RMS Duration Track
––––––––––––––––––––––––––––––––––––––––
DR12 -0.57 dB -15.57 dB 5:14 01-Family
DR8 0.00 dB -9.27 dB 4:17 02-One Life At A Time
DR7 0.00 dB -9.46 dB 3:07 03-Careful
DR12 -0.71 dB -16.77 dB 3:21 04-Bonny Boys
DR12 -0.36 dB -15.11 dB 3:34 05-Root So Bitter
DR11 -2.73 dB -16.12 dB 5:38 06-At The Feet Of The Emperor
DR7 0.00 dB -8.71 dB 2:43 07-Right
DR12 -1.57 dB -16.12 dB 4:09 08-Perhaps We Can Sleep
DR9 0.00 dB -10.71 dB 5:06 09-That's Enough
DR12 -0.47 dB -16.76 dB 4:00 10-I Long For Lonely
––––––––––––––––––––––––––––––––––––––––

Number of tracks: 10
Official DR value: DR10

Samplerate: 96000 Hz
Channels: 2
Bits per sample: 24
Bitrate: 2729 kbps
Codec: FLAC
================================================================================


Thanks to the Original customer!