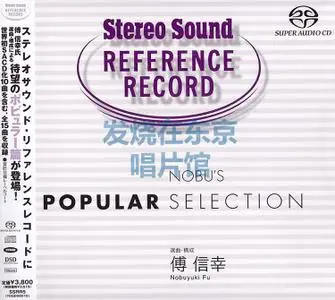 Various Artists - Nobu's Popular Selection (2010)
SACD Rip | SACD ISO | DSD64 2.0 > 1-bit/2.8224 MHz | 60:33 minutes | Basic Scans | 1,85 GB
or DSD64 2.0 (from SACD-ISO to Tracks.dsf) > 1-bit/2.8224 MHz | Basic Scans | 1,64 GB
or FLAC (carefully converted & encoded to tracks) 24bit/96 kHz | Basic Scans | 1,36 GB
Stereo Sound Reference Record ~ Critics Series | Stereo Sound Japan # SSRR5 (TDGD90016)
The fifteen tracks carefully selected here come from popular music pieces owned by Sony/BMG Music. Ten of these wonderful pieces are first Japanese SACD for this project, and these particular tracks by the world famous artists such The Alan Parsons Project, Boz Scaggs, Roger Waters, Karla Bonoff, and Sarah McLachlan are a world exclusive on SACD only in this series.
Mr. Fu's project with this series had a specific objective, not only to produce a collection of excellently recorded pieces, but also ones he truly values and listens to himself. As you can imagine, there were some hard choices regarding selections that were left out. This part of the process alone took Mr. Fu more than six months. That was a lot of listening time, and a comprehensive workout of his extensive personal disc collection. In the attached liner notes, he has written extensively regarding his philosophy in producing this CD, his reasons for the selection of each piece, and many interesting observations.

Of course, not only the selection of key tracks was considered, but also the sound quality was paramount. For pieces converted to SA-CD, the original DSD data was used. Pieces not sourced this way were sourced from the earliest and best possible master tapes that could be acquired, to covert to DSD data. When the sound sources were chosen as optimal after extended trial listening, the masters used to cut the LPs in Japan were selected. One of them is an Ann Burton recording, highly regarded as a reference recording by the late Mr. Fuyuki Segawa. Among the works included here, Ann Burton's piece has the oldest recording date (1969). The most recent one is a Beatles number performed by Jake Shimabukuro, a ukulele player, together with Cyndi Lauper in 2009. Unusually, the conversion to DSD of this Shimabukuro piece was permitted not from the master tape for CD, but from the track-down master tape.

This disc is SA-CD, so we can be assured of the highest sound quality. This is in part because the SA-CD layer does not include multi-channel sound, so the DSD signal is not compressed. This also means that listeners who do not have a SA-CD player can play it on a standard CD player, because it is a hybrid with a dual structure. The "Onsho" higher sound quality specification label coating creates a further enhanced sound quality, using special green ink. The effect is present in both the SA-CD layer and the CD layer. The overall finish is excellent, and audiophiles will really enjoy owning this new selection, even if they own the original discs: This disc should not be missed.
Tracklist:
01. The Alan Parsons Project - Sirius
02. The Alan Parsons Project - Eye In The Sky
03. Boz Scaggs - Jojo
04. TOTO - Rosanna
05. Earth, Wind & Fire - Let's Groove
06. Roger Waters - 5:06 AM (Every Strangers Eyes)
07. Willie Nelson - Stardust
08. Ann Burton - A Lovely Way To Spend An Evening
09. Karla Bonoff - Just Walk Away
10. Sarah McLachlan - Dirty Little Secret
11. Jake Shimabukuro & Cyndi Lauper - Across The Universe
12. Michael Hedges - Jitterboogie
13. Toshiaki Matsumoto - Tsukino Niwa
14. Yo-Yo Ma - Gabriel's Oboe
15. Yo-Yo Ma - The Falls
Compiled by Nobuyuki Fu.
Mastered by Koji "C-chan" Suzuki.
foobar2000 1.6.4 / Dynamic Range Meter 1.1.1

––––––––––––––––––––––––––––––––––––––––
Analyzed: VARIOUS ARTIST / NOBU'S POPULAR SELECTION
––––––––––––––––––––––––––––––––––––––––

DR Peak RMS Duration Track
––––––––––––––––––––––––––––––––––––––––
DR11 -3.86 dB -17.39 dB 1:54 01-Sirius
DR10 -3.70 dB -16.11 dB 4:37 02-Eye In The Sky
DR11 -4.28 dB -17.22 dB 5:52 03-Jojo
DR10 -3.41 dB -15.71 dB 5:31 04-Rosanna
DR12 -4.29 dB -17.41 dB 5:37 05-Let's Groove
DR11 -4.27 dB -20.06 dB 4:50 06-5:06AM (Every Strangers Eyes)
DR14 -4.93 dB -22.25 dB 3:51 07-Stardust
DR12 -6.87 dB -21.55 dB 2:24 08-A Lovely Way To Spend An Evening
DR11 -3.56 dB -17.57 dB 4:14 09-Just Walk Away
DR11 -6.96 dB -20.76 dB 3:56 10-Dirty Little Secret
DR13 -4.09 dB -21.58 dB 4:34 11-Across The Universe
DR12 -6.17 dB -20.78 dB 2:38 12-Jitterboogie
DR13 -4.79 dB -22.48 dB 4:57 13-Tsukino Niwa
DR13 -4.34 dB -22.05 dB 3:12 14-Gabriel's Oboe
DR13 -4.94 dB -23.78 dB 2:25 15-The Falls
––––––––––––––––––––––––––––––––––––––––

Number of tracks: 15
Official DR value: DR12

Samplerate: 2822400 Hz / PCM Samplerate: 176400 Hz
Channels: 2
Bits per sample: 1
Bitrate: 5645 kbps
Codec: DSD64


Thanks to the Original ripper!
Uncompressed SACD ISO size > 2,44 GB
>