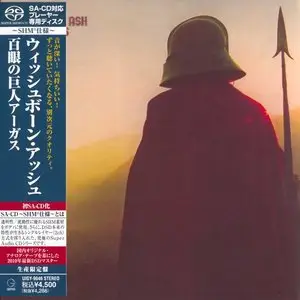 Wishbone Ash - Argus (1972) [Japanese Limited SHM-SACD 2010 # UIGY-9046]
PS3 Rip | SACD ISO | DSD64 2.0 > 1-bit/2.8224 MHz | 44:44 minutes | Scans included | 1,34 GB
or FLAC (converted with foobar2000 to tracks) 24bit/96 kHz | Full Scans included | 1,04 GB
Argus is the third album by the rock band Wishbone Ash. It is their most commercially and critically successful album. The album is medieval-themed, featuring a blend of progressive rock, folk, and hard rock, and is considered a landmark album in the progression of twin-lead guitar harmonisation later adopted by bands such as Thin Lizzy and Iron Maiden. The sound engineer on Argus was Martin Birch, who also worked with Deep Purple, later with Black Sabbath, Iron Maiden and other hard rock bands. It was named "Album of the Year" in the 1972 year-end issue of Sounds magazine.
If Wishbone Ash can be considered a group who dabbled in the main strains of early-'70s British rock without ever settling on one (were they a prog rock outfit like Yes, a space rock unit like Pink Floyd, a heavy metal ensemble like Led Zeppelin, or just a boogie band like Ten Years After?), the confusion compounded by their relative facelessness and the generic nature of their compositions, Argus, their third album, was the one on which they looked like they finally were going to forge their own unique amalgamation of all those styles into a sound of their own. The album boasted extended compositions, some of them ("Time Was," "Sometime World") actually medleys of different tunes, played with assurance and developing into imaginative explorations of new musical territory and group interaction. The lyrics touched on medieval themes ("The King Will Come," "Warrior") always popular with British rock bands, adding a majestic tone to the music, but it was the arrangements, with their twin lead guitar parts and open spaces for jamming, that made the songs work so well. Argus was a bigger hit in the U.K., where it reached the Top Five, than in the U.S., where it set up the commercial breakthrough enjoyed by the band's next album, Wishbone Four, but over the years it came to be seen as the quintessential Wishbone Ash recording, the one that best realized the group's complex vision.
Tracklist:
01 - Time Was
02 - Sometime World
03 - Blowin' Free
04 - The King Will Come
05 - Leaf And Stream
06 - Warrior
07 - Throw Down The Sword
Personnel
Martin Turner – bass guitar, vocals
Andy Powell – lead (all tracks except 4), harmony lead, rhythm and acoustic guitars, vocals
Ted Turner – lead (tracks 2, 3, 4, 6), slide (track 3), harmony lead, rhythm and acoustic guitars, vocals
Steve Upton – drums (all tracks except 5), percussion
+
John Tout – organ on "6"
DSD Transferred from analogue master tapes by Kenji Yoshiro (Universal Studio Mastering).
foobar2000 1.4.3 / Dynamic Range Meter 1.1.1

––––––––––––––––––––––––––––––––––––––––
Analyzed: Wishbone Ash / Argus
––––––––––––––––––––––––––––––––––––––––

DR Peak RMS Duration Track
––––––––––––––––––––––––––––––––––––––––
DR12 -6.86 dB -21.58 dB 9:42 01-Time Was
DR12 -6.00 dB -20.24 dB 6:54 02-Sometime World
DR11 -7.22 dB -22.11 dB 5:19 03-Blowin' Free
DR13 -6.20 dB -21.90 dB 7:07 04-The King Will Come
DR11 -10.05 dB -23.04 dB 3:55 05-Leaf And Stream
DR12 -6.61 dB -22.44 dB 5:54 06-Warrior
DR12 -7.28 dB -22.32 dB 5:52 07-Throw Down The Sword
––––––––––––––––––––––––––––––––––––––––

Number of tracks: 7
Official DR value: DR12

Samplerate: 2822400 Hz / PCM Samplerate: 176400 Hz
Channels: 2
Bits per sample: 1
Bitrate: 5645 kbps
Codec: DSD64


Thanks to PS³SACD!
Uncompressed SACD ISO size > 1,8 GB
Wishbone Ash - Almighty Blues
>