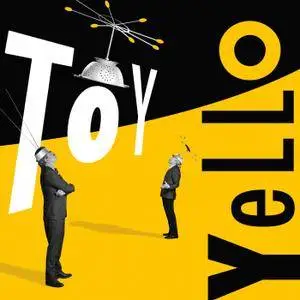 Yello - Toy (2016)
FLAC (tracks) 24-bit/48 kHz | Time - 60:44 minutes | 747 MB
Studio Master, Official Digital Download | Artwork: Front cover
2016 release from the Swiss electronic duo. Yello's thirteenth album - and first in nine years - is a super-smart, electronic smorgasbord of moods and styles from the liquid synths of it's lead-off single 'Limbo' to continental torch songs like 'Dark Side' and the shimmering Balearic sunset moods of 'Blue Biscuit'. Toy is nothing less than the unmistakable sound of Dieter Meier and Boris Blank gleefully working at the top of their game after nearly four decades making music together. This Hi-Res Deluxe Edition includes three bonus tracks.
Most North Americans seem to believe Yello's career began and ended with "Oh Yeah," the 1985 tune from their album Stella that became unavoidable in movies and television for years afterward. But the truth is, Yello have been a presence in international pop music since 1980, and with their 13th album, 2016's Toy, they've reminded us that they're still making smart, well-crafted, and politely subversive electronic pop more than three decades after their biggest hit. Stylistically, Toy doesn't sound radically different than the work Yello did in the '80s and '90s, though their touch has grown a bit lighter with time. These tunes are pop that exists somewhere between crisp EDM-influenced rhythms and witty ambient music. Boris Blank (who handles the group's music and production) moves back and forth from upbeat numbers with tuneful hooks and dance-friendly percussive effects to low-key soundscapes that, despite their playful edge, communicate a mood far more than a melody. Vocalist and lyricist Dieter Meier was 71 when Toy was released, but his gruff, smoky instrument fits the clean, polished surfaces of this music remarkably well, like Leonard Cohen's eccentric cousin from Switzerland. Toy wisely front-loads the catchier numbers, especially "Limbo," "Cold Flame" (featuring guest vocals from Malia), and "30,000 Days," while the set closes with more abstract and free-flowing tracks such as "Magma" and "Toy Square." Toy doesn't sound especially innovative, but it certainly demonstrates that Yello haven't been resting on their laurels, and at its best, the album applies new thinking in electronic pop with the melodic and production approaches that have always been part of Yello's music, for a set that's fresh but unmistakably their work.
Tracklist:
01 - Frautonium Intro
02 - Limbo
03 - 30'000 Days
04 - Electrified II
05 - Cold Flame
06 - Kiss The Cloud
07 - Starlight Scene
08 - Tool Of Love
09 - Give You The World
10 - Dialectical Kid
11 - Dark Side
12 - Pacific AM
13 - Blue Biscuit
14 - Lost In Motion
15 - Magma
16 - Toy Square
17 - Frautonium
Analyzed: Yello / Toy
––––––––––––––––––––––––––––––––––––––––

DR Peak RMS Duration Track
––––––––––––––––––––––––––––––––––––––––
DR7 -1.73 dB -13.71 dB 1:10 01-Frautonium Intro
DR11 0.00 dB -12.23 dB 3:22 02-Limbo
DR9 -0.67 dB -11.99 dB 4:05 03-30'000 Days
DR9 -0.16 dB -12.11 dB 2:50 04-Electrified II
DR11 0.00 dB -12.76 dB 4:02 05-Cold Flame
DR12 -0.16 dB -14.76 dB 3:14 06-Kiss The Cloud
DR11 -0.72 dB -13.84 dB 3:17 07-Starlight Scene
DR11 -0.10 dB -13.56 dB 3:12 08-Tool Of Love
DR11 -0.08 dB -13.54 dB 3:32 09-Give You The World
DR11 -0.22 dB -13.79 dB 3:18 10-Dialectical Kid
DR11 -0.74 dB -13.97 dB 4:15 11-Dark Side
DR13 -0.26 dB -17.33 dB 3:23 12-Pacific AM
DR10 -0.61 dB -13.99 dB 3:36 13-Blue Biscuit
DR13 -0.08 dB -15.51 dB 3:32 14-Lost In Motion
DR11 -0.74 dB -13.69 dB 6:27 15-Magma
DR9 -0.65 dB -12.26 dB 3:08 16-Toy Square
DR8 -0.71 dB -12.86 dB 4:21 17-Frautonium
––––––––––––––––––––––––––––––––––––––––

Number of tracks: 17
Official DR value: DR11

Samplerate: 48000 Hz
Channels: 2
Bits per sample: 24
Bitrate: 1601 kbps
Codec: FLAC
================================================================================


Thanks to the Original customer!