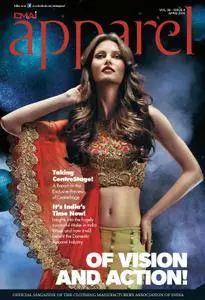 Apparel - April 2016
English | 116 pages | True PDF | 21.9 MB
The April 2016 issue of Apparel magazine is mainly centered on the theme ' Of Vision and Action!' The 'CMAI Events' segment of this issue has a report on CMAI's Excise Meet and also on the Annual Convention 2016 which was held recently. The 'Report' section carries a report on the exclusive preview of the most exciting event – Centre Stage. The 'Tech Talk' section covers Colour tex Industries Ltd. It also explores digital trends in fabrics and fashion. The 'Industry Insights' segment covers the Budget and its impact on the domestic apparel industry. It highlights the Make in India Week and what it means for the domestic apparel industry. We also speak about the importance of Skill Training in the apparel sector. This section also has a report on facilitating the ease of apparel transport through railways. The 'E-Space News' section has a report on how online platforms are using technology to woo shoppers. The 'Brand Profile' segment profiles Birla Cellulose's LIVA, a new-age fabric that is natural, fluid and fashionable. The 'Launch Event' section reports on designer Nishka Lulla's collaboration with 1090F to unveil their brand new collection designed by her. The 'Trend Talk' segment helps us understand the youth fashion segment in India. The 'Fashion Speak' segment looks at the Gen Next show featuring fresh talent from Lakme Fashion Week's Fall/Winter 2006 season. The 'Press Meet' section covers the press conference held by the Retailers Association of India (RAI). The 'Regulars' section includes a round-up of important news and events in the apparel world (nationally and globally), a look at what's trending, a sneak peek into the newly launched stores, news of the brands in vogue and forthcoming events in the world of apparel.All in all, the Apparel April 2016 edition covers a wide range of topics which are bound to interest the reader.