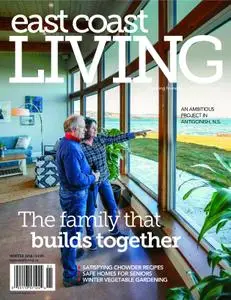 East Coast Living – December 2018
English | 52 pages | True PDF | 7.4 MB
In our winter issue , we visit a house in rural Antigonish, N.S., with a magnificent waterfront view of Graham's Cove. Homeowner and engineer Ernie Porter wanted to create a home that his grown children would feel a call to return to every year, so he asked them to help him build it. The List offers tips on curating your home art collection and DIY advice on making your bedroom a cozy winter sanctuary. Not matter how you feel about the snowy season, we'll help you prepare with a primer on icewine, warming Atlantic chowder recipes, and tips to keep your vegetable garden growing all year long.