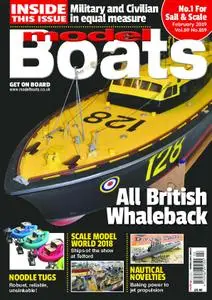 Model Boats – February 2019
English | 84 pages | True PDF | 16.6 MB
Welcome to the February 2019 issue of Model Boats magazine, put together during December 2018, which makes us feel like the festivities are already over and the spring season is already around the corner (a day before winter officially starts depending on your meteorological domination!). 2018, for me, was a year that began with high hopes for one magazine and ended with equally high hopes for another. As a diehard freelancer, I never take anything for granted and despite Model Boats position as the UK's leading (the only) 'hard-copy' magazine on this subject, every effort should still be made to keep the publication as fresh and informative as possible. With regard to the latter I am at the mercy of the contributor; the troopers at the coal face who supply me with a regular flow of great material and to those who respond to my ideas and commissions. This month's issue will see the end of one regular feature, the beginning of another, the start of multi-part builds and the ending of others. This is a hobby that is constantly adjusting and evolving, I am hoping that this old magazine is also rolling with the changes.