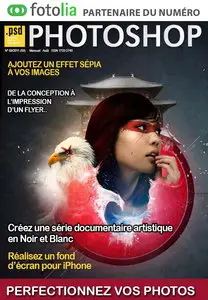 .PSD Photoshop No.08(50) - Août 2011 / France
True PDF | 49 pages | French | 12.24 MB
.Psd Photoshop
- the excellent french magazine devoted to a photoshop and processing of photos. It is a lot of text, there are lessons a photoshop, reviews of lenses and cameras and many other things.
.Psd Photoshop
- le magazine français excellent consacré à un photomagasin et à un traitement de photos. C'est beaucoup de texte, il y a des leçons un photomagasin, les révisions de lentilles et appareils de photo et beaucoup d'autres choses.
No Mirror(s) Please !!!
Vous pouvez trouver de plus magnifiques magazines français dans mon
blog