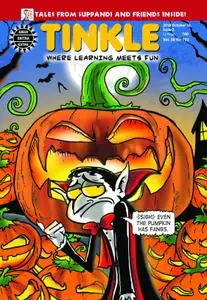 Tinkle - October 19, 2018
English | 42 pages | True PDF | 24.4 MB
What's Special?
Get ready for chills and thrills with this new Tinkle issue!
• Miserly Jagannath has turned into a spendthrift overnight. Get to the bottom of this mystery on Observe the Moon Night in Ina Mina Mynah Mo: If Only!
• This Halloween, visit a haunted Rajasthani village with Sadiq and his sister in Thrillers: A Taxing Terror.
• All Ramaa wants for Vijayadashmi is peace and quiet. But with the ruckus at home how will she find Some Me Time?
• A brand new ghost awaits Buchki during Durga Puja. Will she manage to face this ghost's Smoky Shenanigans?
• What's Halloween without spooky decorations? With our simple Do-It-Yourself activity learn to make your very own Balloon Pumpkin.
• Halloween won't be complete without a healthy helping of undead creatures. So join Billy Drain and his family in celebrating A Hairy Halloween!
• Continue the festival of fear with fun and exciting puzzles in Pic(k) Your Brains!
Also Starring:
It's time to announce the Tinkle Squad Champs. Meet the Tinkle Squad's top scorers and take a peek at the exciting prizes that await them!