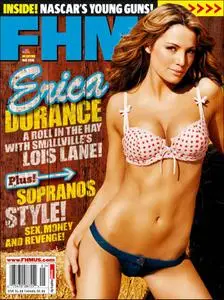 FHM Magazine - May 2006
Features
MICHAEL DOUGLAS
The Oscar winner on America's gay future and landing Catherine Zeta-Jones.
ETIQUETTE
Four Sopranos stars dispense hard-earned wisdom about taking care of business.
FIGHT THE X-MEN!
Win a customized comic page showing Wolverine clobbering you senseless!
ERIN CAHILL
The star of TV's Free Ride loves shooting guns and wearing lingerie. Just like Dick Cheney.
DRAG RACING
Get dangerous, fast and loud with Funny Car, Top Fuel and Pro Stock drivers.
SVETLANA SHUSTERMAN
Real World housemate heats up Key West.
KINGS OF THE COURT
Celebrating their 80th anniversary, the Harlem Globetrotters relive past glories.
ERICA DURANCE
Smallville's Lois Lane unwinds in her hottest shoot ever.
MEL KIPER JR.
ESPN's NFL draft guru discusses tight ends and his Eddie Munster hair.
http://rapidshare.de/files/17807021/yfhm10.pdf