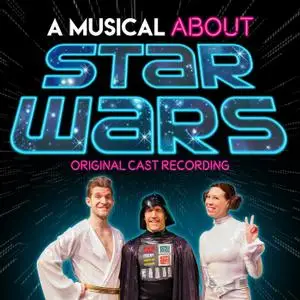 A Musical About Star Wars (Original Cast Recording) (2019)
FLAC tracks | 45:13 | 296 Mb
Genre: Soundtrack / Label: Broadway Records
A long time ago, in a galaxy far far away… a Staten Island Blockbuster Video to be exact… two Star Wars fanatics, Scott and Taylor, write the most epic Star Wars musical ever. On their endless quest to perform it at Comic Con - a restraining order filed by Warwick Davis stands in their way – they have opted to perform it on the glamorous off-broadway stages instead! However, dark forces are looming over their production, and her name is Emily. "Do Scott and Taylor prevail? Does the show make it to Comic Con? The answers are less important than the fun time you'll have getting there!
Track List:
01. Various Artists; Taylor Crousore; Scott Foster - Overture / All the Exposition That You Need (1:40)
02. Various Artists; Taylor Crousore; Emily McNamara; Scott Foster - A Musical About Star Wars (2:59)
03. Various Artists; Taylor Crousore; Emily McNamara; Scott Foster - Welcome / The Padme Pas De Bourree (2:07)
04. Various Artists; Taylor Crousore; Emily McNamara; Scott Foster - A Lucas Orgy (2:53)
05. Various Artists; Taylor Crousore; Emily McNamara; Scott Foster - The Rules Song (3:25)
06. Various Artists; Taylor Crousore; Emily McNamara; Scott Foster - The X-Wing Effect (3:55)
07. Various Artists; Taylor Crousore; Emily McNamara; Scott Foster - Backstory Song (5:00)
08. Various Artists; Taylor Crousore; Emily McNamara; Scott Foster - Anakin (6:17)
09. Various Artists; Taylor Crousore; Emily McNamara; Scott Foster - More to the Story (5:15)
10. Various Artists; Taylor Crousore; Emily McNamara; Scott Foster - We Got Leia! (3:41)
11. Various Artists; Taylor Crousore; Emily McNamara; Scott Foster - Be the Change That You Wish to See in the Galaxy (4:09)
12. Various Artists; Taylor Crousore; Emily McNamara; Scott Foster - A Musical About Star Wars Finale! (3:52)
ANALYZER: auCDtect: CD records authenticity detector, version 0.8.2
Copyright © 2004 Oleg Berngardt. All rights reserved.
Copyright © 2004 Alexander Djourik. All rights reserved.


FILE: 1.01. Overture - All the Exposition That You Need.flac
Size: 11036495 Hash: C98A3F46F8CAF79D78491AE83E003F24 Accuracy: -m40
Conclusion: CDDA 100%
Signature: 7B465C81D2625DFED7FFFEE9A5AA6A04B4450DC5
FILE: 1.02. A Musical About Star Wars.flac
Size: 19584139 Hash: ECED5EA2A4BA4DF0E671CBD88009E4E5 Accuracy: -m40
Conclusion: CDDA 100%
Signature: E66D8520353F6DADF45E805F823643E2978510A0
FILE: 1.03. Welcome - The Padme Pas De Bourree.flac
Size: 14416094 Hash: EAC91B73F13F9F9A25F8F726239035F9 Accuracy: -m40
Conclusion: CDDA 100%
Signature: 807D8D7A78D665DABCC67B73E2BDAF1E09AF866D
FILE: 1.04. A Lucas Orgy.flac
Size: 19938020 Hash: 41A7B1E4F101C902D13E7C29329A4FE0 Accuracy: -m40
Conclusion: CDDA 100%
Signature: CE6EDDD21EBEA325E42617FE9B5A5AF42BF7700E
FILE: 1.05. The Rules Song.flac
Size: 22123388 Hash: 6457DDB8E4AEB6FD3491E7BE754366C2 Accuracy: -m40
Conclusion: CDDA 100%
Signature: 1342BC7CD8E760FFF5E94E308AAEB82D4663EF42
FILE: 1.06. The X-Wing Effect.flac
Size: 26538050 Hash: 369B2CD4367AC8CC3C016B3CCFD79827 Accuracy: -m40
Conclusion: CDDA 100%
Signature: 5BE4D755C387DEB7810C093A002A64B325628DDF
FILE: 1.07. Backstory Song.flac
Size: 34062878 Hash: 203F86BF756807EF68DABA2EA847AC94 Accuracy: -m40
Conclusion: CDDA 100%
Signature: B24BE227C2F7C4BAF9ACF235B1F3A9C880B0013C
FILE: 1.09. More to the Story.flac
Size: 38811944 Hash: D8DE8F5ED08ACC7347737D338FCF3B79 Accuracy: -m40
Conclusion: CDDA 99%
Signature: 5C0F792933A629A7A3B13D2A8761A4091B4FA04A
FILE: 1.10. We Got Leia!.flac
Size: 27814677 Hash: C1867C2398F27E25F25D42F689C43247 Accuracy: -m40
Conclusion: CDDA 100%
Signature: D80E6942B56276692E68A6DD5ED0DCFFB9EC42B8
FILE: 1.11. Be the Change That You Wish to See in the Galaxy.flac
Size: 28974816 Hash: 90A00426658FC7A579A97306733CD277 Accuracy: -m40
Conclusion: CDDA 99%
Signature: 48D0530DB803F0536E1736C7DF8A017B299AF22F
FILE: 1.12. A Musical About Star Wars Finale!.flac
Size: 28163517 Hash: 866F942911059A3DFAD0145D6A7E44D3 Accuracy: -m40
Conclusion: CDDA 100%
Signature: 76C00B76C3AE4CE222964CACF40D5424AC49E9E0