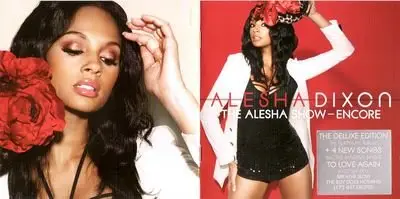 Alesha Dixon – The Alesha Show [Encore] (Deluxe Edition) 2009
Genre: R&B | MP3 | VBR kbps (193 Kbps Avg) | 1h 08min 34sec total | 92.89MB
With her start as part of the group Mis-Teeq, Alesha Dixon tasted success with the group's two albums and touring around the United States. When the group split, Dixon went on her own, using her unique voice to release her solo album Fired Up. She became a judge on UK television's Strictly Come Dancing, and was awarded a Guinness Book of World Records award for Most Backup Dancers with her performance of Let's Get Excited. Re-releasing her album Alesha Show, the encore edition has all her hit singles like Breathe Slow and The Boy Does Nothing, as well as four bonus tracks including the To Love AgainÆ. Dixon has brought an album of soulful dance and funk tracks that give you the temptation to dance, no matter where you are.
Track List
01. Welcome To The Alesha Show (Produced By Trak Invaders)
02. Let's Get Exited (Produced By Kuk Harrell)
03. Breathe Slow (Produced By Soulshock & Karlin)
04. Cinderella Shoe (Produced By Brian Higgins)
05. The Boy Does Nothing (Produced By Brian Higgins)
06. Chasing Ghosts (Produced By Steve Booker)
07. Play Me (Produced By Brian Higgins)
08. Hand It Over (Produced By Harvey Mason Jr. & Oak of the Knightwritaz)
09. Do You Know The Way It Feels (Produced By Steve Lipson)
10. Can I Begin? (Produced By Shux)
11. Italians Do It Better (Produced By Brian Higgins)
12. Ooh Baby I Liki It Like That (Produced By Brian Higgins)
13. Don't Ever Let Me Go (Produced By Brian Higgins)
14. I'm Thru (Produced By Brian Higgins)
15. To Love Again (Bonus Track) (Produced By John Shanks & Gary Barlow)
16. Shake (Bonus Track) (Produced By Steve Booker)
17. The Light (Bonus Track) (Produced By Brian Higgins)
18. All Out Of Tune (Bonus Track) (Produced By Alex Da Kid)/Mystery (Hidden Track) (Produced By Brian Higgins)