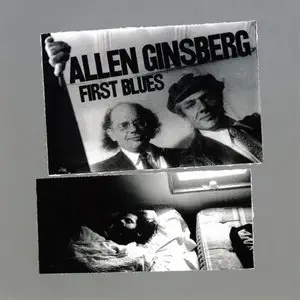 Allen Ginsberg First Blues (2006)
XLD Rip | Flac (Tracks-24) Cue, Log, m3u, md5, st5, ffp | complete Artwork 300 dpi | 605 MB
Blues, Folk, Poetry | 2006 | Water | Water 166
This album first hit the shelves in 1983. Produced by John Hammond Sr, this was a double album including Bob Dylan, Arthur Russel, Peter Orlovsky, and many more. It was remaindered and shreded shortly after it's release because of a mixup at the record label.
Beat generation poet Allen Ginsberg was also a singer/songwriter who was encouraged to write and record by none other than Bob Dylan, who took Allen into the studio his first ever 'music' recordings. Those 1971 recordings with Dylan, as well as sessions from 1976 with members of Dylan's Rolling Thunder Review band produced by maverick John Hammond (Billie Holiday, Aretha Franklin and Bruce Springsteen), and additional recordings from 1981 were gathered together and released as the double LP First Blues in 1983. Many of the recordings feature cello player Arthur Russell (known for his 1970s Flying Hearts band and his ground-breaking 1980s solo recordings). First time on CD: 24 songs on two CDs. Cover photography by the legendary Robert Frank. Original detailed liner notes by Allen Ginsberg.
Uncut (p.119) - 3 stars out of 5 – "[T]he workouts with Dylan still catch the ear; semi-improvised lyrics and loose jams reminiscent of THE BASEMENT TAPES…"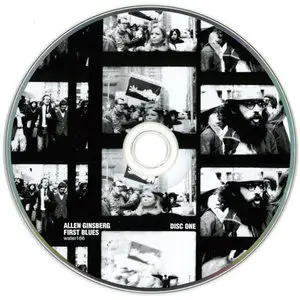 Tracklisting:
Disc 1:
1. Going to San Diego (4:16)
2. Vomit Express (6:35)
3. Jimmy Berman (Gay Lib Rag) (4:04)
4. NY Youth Call Annunciation (4:38)
5. CIA Dope Calypso (3:33)
6. Put Down Yr Cigarette Rag (2:54)
7. Sickness Blues (4:51)
8. Broken Bone Blues (3:31)
9. Stay Away From White House (4:18)
10. Hard-On Blues (2:34)
11. Guru Blues (4:04)
Notes: Tracks 1,2,3 recorded November 9-17, 1971,
all other tracks recorded March 23, 1976 and June 1-2, 1976
Disc 2:
1. Everybody Sings (2:35)
2. Gospel Nobel Truths (4:46)
3. Bus Ride Ballad to Suva (3:12)
4. Prayer Blues - 1972 (6:22)
5. Love Forgiven (2:33)
6. Father Death Blues (3:50)
7. Dope Friend Blues (3:14)
8. Tyger (1:57)
9. You Are My Dildo (5:16)
10. Old Pond (5:04)
11. No Reason (1:53)
12. My Pretty Rose Tree (1:58)
13. Capitol Air (4:30)
Notes: Tracks 1,2 recorded March 23, 1976 and June 1-2, 1976
all ther tracks recorded February 29-March 1, 1981
X Lossless Decoder version 20080926 (93.3)

XLD extraction logfile from 2008-11-10 13:43:01 +0100

Allen Ginsberg / First Blues

Used drive : PIONEER DVD-RW DVR-115D (revision 1.06)

Use cdparanoia mode : YES (CDParanoia III 10.2 engine)
Disable audio cache : OK for the drive with cache less than 2750KB
Make use of C2 pointers : NO
Read offset correction : 48
Max retry count : 100

TOC of the extracted CD
Track | Start | Length | Start sector | End sector
––––––––––––––––––––––––––––-
1 | 00:00:00 | 04:16:00 | 0 | 19199
2 | 04:16:00 | 06:35:53 | 19200 | 48877
3 | 10:51:53 | 04:04:37 | 48878 | 67214
4 | 14:56:15 | 04:38:13 | 67215 | 88077
5 | 19:34:28 | 03:33:45 | 88078 | 104097
6 | 23:07:73 | 02:54:52 | 104098 | 117199
7 | 26:02:50 | 04:51:20 | 117200 | 139044
8 | 30:53:70 | 03:31:45 | 139045 | 154914
9 | 34:25:40 | 04:18:48 | 154915 | 174312
10 | 38:44:13 | 02:34:65 | 174313 | 185927
11 | 41:19:03 | 04:04:59 | 185928 | 204286

All Tracks
Album gain : -4.87 dB
Peak : 0.977509
Track 01
Filename : /Volumes/Nebucadnezzar/00 Music rip and upload/Allen Ginsgerg - First Blues (1983) [SPECIAL] (XLD Rip)/Disc 1of2/01 - Going To San Diego.flac

Track gain : -6.01 dB
Peak : 0.977417
CRC32 hash (test run) : 8B7A1933
CRC32 hash : 8B7A1933
CRC32 hash (skip zero) : B854F6A4
AccurateRip signature : 6A16E771
->Track not present in AccurateRip database.
Statistics
Read error : 0
Skipped (treated as error) : 0
Edge jitter error (maybe fixed) : 0
Atom jitter error (maybe fixed) : 0
Drift error (maybe fixed) : 0
Dropped bytes error (maybe fixed) : 0
Duplicated bytes error (maybe fixed) : 0
Inconsistency in error sectors : 0

Track 02
Filename : /Volumes/Nebucadnezzar/00 Music rip and upload/Allen Ginsgerg - First Blues (1983) [SPECIAL] (XLD Rip)/Disc 1of2/02 - Vomit Express.flac

Track gain : -5.80 dB
Peak : 0.977509
CRC32 hash (test run) : E0A97795
CRC32 hash : E0A97795
CRC32 hash (skip zero) : EF14F81B
AccurateRip signature : 0C01D0E3
->Track not present in AccurateRip database.
Statistics
Read error : 0
Skipped (treated as error) : 0
Edge jitter error (maybe fixed) : 0
Atom jitter error (maybe fixed) : 0
Drift error (maybe fixed) : 0
Dropped bytes error (maybe fixed) : 0
Duplicated bytes error (maybe fixed) : 0
Inconsistency in error sectors : 0

Track 03
Filename : /Volumes/Nebucadnezzar/00 Music rip and upload/Allen Ginsgerg - First Blues (1983) [SPECIAL] (XLD Rip)/Disc 1of2/03 - Jimmy Berman (Gay Lib Rag).flac

Track gain : -6.24 dB
Peak : 0.977509
CRC32 hash (test run) : 4578CCD2
CRC32 hash : 4578CCD2
CRC32 hash (skip zero) : 2074FB9F
AccurateRip signature : 706FE12B
->Track not present in AccurateRip database.
Statistics
Read error : 0
Skipped (treated as error) : 0
Edge jitter error (maybe fixed) : 0
Atom jitter error (maybe fixed) : 0
Drift error (maybe fixed) : 0
Dropped bytes error (maybe fixed) : 0
Duplicated bytes error (maybe fixed) : 0
Inconsistency in error sectors : 0

Track 04
Filename : /Volumes/Nebucadnezzar/00 Music rip and upload/Allen Ginsgerg - First Blues (1983) [SPECIAL] (XLD Rip)/Disc 1of2/04 - NY Youth Call Annunciation.flac

Track gain : -1.87 dB
Peak : 0.846008
CRC32 hash (test run) : 291DA249
CRC32 hash : 291DA249
CRC32 hash (skip zero) : 919D160D
AccurateRip signature : 0B252DAD
->Track not present in AccurateRip database.
Statistics
Read error : 0
Skipped (treated as error) : 0
Edge jitter error (maybe fixed) : 0
Atom jitter error (maybe fixed) : 0
Drift error (maybe fixed) : 0
Dropped bytes error (maybe fixed) : 0
Duplicated bytes error (maybe fixed) : 0
Inconsistency in error sectors : 0

Track 05
Filename : /Volumes/Nebucadnezzar/00 Music rip and upload/Allen Ginsgerg - First Blues (1983) [SPECIAL] (XLD Rip)/Disc 1of2/05 - CIA Dope Calypso.flac

Track gain : -2.69 dB
Peak : 0.977356
CRC32 hash (test run) : 89C5C004
CRC32 hash : 89C5C004
CRC32 hash (skip zero) : 4A6FFF08
AccurateRip signature : 4B2D91C6
->Track not present in AccurateRip database.
Statistics
Read error : 0
Skipped (treated as error) : 0
Edge jitter error (maybe fixed) : 0
Atom jitter error (maybe fixed) : 0
Drift error (maybe fixed) : 0
Dropped bytes error (maybe fixed) : 0
Duplicated bytes error (maybe fixed) : 0
Inconsistency in error sectors : 0

Track 06
Filename : /Volumes/Nebucadnezzar/00 Music rip and upload/Allen Ginsgerg - First Blues (1983) [SPECIAL] (XLD Rip)/Disc 1of2/06 - Put Down Yr Cigarette Rag.flac

Track gain : -4.25 dB
Peak : 0.976807
CRC32 hash (test run) : A9836E83
CRC32 hash : A9836E83
CRC32 hash (skip zero) : 04247A82
AccurateRip signature : 8CF9167B
->Track not present in AccurateRip database.
Statistics
Read error : 0
Skipped (treated as error) : 0
Edge jitter error (maybe fixed) : 0
Atom jitter error (maybe fixed) : 0
Drift error (maybe fixed) : 0
Dropped bytes error (maybe fixed) : 0
Duplicated bytes error (maybe fixed) : 0
Inconsistency in error sectors : 0

Track 07
Filename : /Volumes/Nebucadnezzar/00 Music rip and upload/Allen Ginsgerg - First Blues (1983) [SPECIAL] (XLD Rip)/Disc 1of2/07 - Sickness Blues.flac

Track gain : -2.07 dB
Peak : 0.544708
CRC32 hash (test run) : 2DB2B111
CRC32 hash : 2DB2B111
CRC32 hash (skip zero) : A82C80FB
AccurateRip signature : DBC0F06C
->Track not present in AccurateRip database.
Statistics
Read error : 0
Skipped (treated as error) : 0
Edge jitter error (maybe fixed) : 0
Atom jitter error (maybe fixed) : 0
Drift error (maybe fixed) : 0
Dropped bytes error (maybe fixed) : 0
Duplicated bytes error (maybe fixed) : 0
Inconsistency in error sectors : 0

Track 08
Filename : /Volumes/Nebucadnezzar/00 Music rip and upload/Allen Ginsgerg - First Blues (1983) [SPECIAL] (XLD Rip)/Disc 1of2/08 - Broken Bone Blues.flac

Track gain : -1.42 dB
Peak : 0.866394
CRC32 hash (test run) : 7C526FA2
CRC32 hash : 7C526FA2
CRC32 hash (skip zero) : 96BECB01
AccurateRip signature : B61D436B
->Track not present in AccurateRip database.
Statistics
Read error : 0
Skipped (treated as error) : 0
Edge jitter error (maybe fixed) : 0
Atom jitter error (maybe fixed) : 0
Drift error (maybe fixed) : 0
Dropped bytes error (maybe fixed) : 0
Duplicated bytes error (maybe fixed) : 0
Inconsistency in error sectors : 0

Track 09
Filename : /Volumes/Nebucadnezzar/00 Music rip and upload/Allen Ginsgerg - First Blues (1983) [SPECIAL] (XLD Rip)/Disc 1of2/09 - Stay Away From White House.flac

Track gain : -1.77 dB
Peak : 0.753784
CRC32 hash (test run) : 69B715CC
CRC32 hash : 69B715CC
CRC32 hash (skip zero) : 8D39BAD9
AccurateRip signature : 40BFA171
->Track not present in AccurateRip database.
Statistics
Read error : 0
Skipped (treated as error) : 0
Edge jitter error (maybe fixed) : 0
Atom jitter error (maybe fixed) : 0
Drift error (maybe fixed) : 0
Dropped bytes error (maybe fixed) : 0
Duplicated bytes error (maybe fixed) : 0
Inconsistency in error sectors : 0

Track 10
Filename : /Volumes/Nebucadnezzar/00 Music rip and upload/Allen Ginsgerg - First Blues (1983) [SPECIAL] (XLD Rip)/Disc 1of2/10 - Hard-On Blues.flac

Track gain : -1.43 dB
Peak : 0.654907
CRC32 hash (test run) : A967EBBA
CRC32 hash : A967EBBA
CRC32 hash (skip zero) : 227EBEBD
AccurateRip signature : 99867359
->Track not present in AccurateRip database.
Statistics
Read error : 0
Skipped (treated as error) : 0
Edge jitter error (maybe fixed) : 0
Atom jitter error (maybe fixed) : 0
Drift error (maybe fixed) : 0
Dropped bytes error (maybe fixed) : 0
Duplicated bytes error (maybe fixed) : 0
Inconsistency in error sectors : 0

Track 11
Filename : /Volumes/Nebucadnezzar/00 Music rip and upload/Allen Ginsgerg - First Blues (1983) [SPECIAL] (XLD Rip)/Disc 1of2/11 - Guru Blues.flac

Track gain : -1.03 dB
Peak : 0.865723
CRC32 hash (test run) : 3EBCE567
CRC32 hash : 3EBCE567
CRC32 hash (skip zero) : 92445BA9
AccurateRip signature : 9C4824BB
->Track not present in AccurateRip database.
Statistics
Read error : 0
Skipped (treated as error) : 0
Edge jitter error (maybe fixed) : 0
Atom jitter error (maybe fixed) : 0
Drift error (maybe fixed) : 0
Dropped bytes error (maybe fixed) : 0
Duplicated bytes error (maybe fixed) : 0
Inconsistency in error sectors : 0

No errors occurred

End of status report





X Lossless Decoder version 20080926 (93.3)

XLD extraction logfile from 2008-11-10 14:09:02 +0100

Allen Ginsberg / First Blues

Used drive : PIONEER DVD-RW DVR-115D (revision 1.06)

Use cdparanoia mode : YES (CDParanoia III 10.2 engine)
Disable audio cache : OK for the drive with cache less than 2750KB
Make use of C2 pointers : NO
Read offset correction : 48
Max retry count : 100

TOC of the extracted CD
Track | Start | Length | Start sector | End sector
––––––––––––––––––––––––––––-
1 | 00:00:00 | 02:35:33 | 0 | 11657
2 | 02:35:33 | 04:46:60 | 11658 | 33167
3 | 07:22:18 | 03:12:40 | 33168 | 47607
4 | 10:34:58 | 06:22:72 | 47608 | 76329
5 | 16:57:55 | 02:33:25 | 76330 | 87829
6 | 19:31:05 | 03:50:10 | 87830 | 105089
7 | 23:21:15 | 03:14:58 | 105090 | 119697
8 | 26:35:73 | 01:57:15 | 119698 | 128487
9 | 28:33:13 | 05:16:72 | 128488 | 152259
10 | 33:50:10 | 05:04:35 | 152260 | 175094
11 | 38:54:45 | 01:53:60 | 175095 | 183629
12 | 40:48:30 | 01:58:15 | 183630 | 192494
13 | 42:46:45 | 04:30:02 | 192495 | 212746

All Tracks
Album gain : -6.48 dB
Peak : 0.977631
Track 01
Filename : /Volumes/Nebucadnezzar/00 Music rip and upload/Allen Ginsgerg - First Blues (1983) [SPECIAL] (XLD Rip)/Disc 2of2/01 - Everybody Sing.flac

Track gain : -5.98 dB
Peak : 0.977539
CRC32 hash (test run) : 7F4AA0FC
CRC32 hash : 7F4AA0FC
CRC32 hash (skip zero) : 8A158A3A
AccurateRip signature : 89AE0500
->Track not present in AccurateRip database.
Statistics
Read error : 0
Skipped (treated as error) : 0
Edge jitter error (maybe fixed) : 0
Atom jitter error (maybe fixed) : 0
Drift error (maybe fixed) : 0
Dropped bytes error (maybe fixed) : 0
Duplicated bytes error (maybe fixed) : 0
Inconsistency in error sectors : 0

Track 02
Filename : /Volumes/Nebucadnezzar/00 Music rip and upload/Allen Ginsgerg - First Blues (1983) [SPECIAL] (XLD Rip)/Disc 2of2/02 - Gospel Nobel Truths.flac

Track gain : -4.06 dB
Peak : 0.977539
CRC32 hash (test run) : 35C5C08B
CRC32 hash : 35C5C08B
CRC32 hash (skip zero) : 37FF78CE
AccurateRip signature : 8610A2EE
->Track not present in AccurateRip database.
Statistics
Read error : 0
Skipped (treated as error) : 0
Edge jitter error (maybe fixed) : 0
Atom jitter error (maybe fixed) : 0
Drift error (maybe fixed) : 0
Dropped bytes error (maybe fixed) : 0
Duplicated bytes error (maybe fixed) : 0
Inconsistency in error sectors : 0

Track 03
Filename : /Volumes/Nebucadnezzar/00 Music rip and upload/Allen Ginsgerg - First Blues (1983) [SPECIAL] (XLD Rip)/Disc 2of2/03 - Bus Ride Ballad To Suva.flac

Track gain : -6.65 dB
Peak : 0.977509
CRC32 hash (test run) : 53E9D947
CRC32 hash : 53E9D947
CRC32 hash (skip zero) : 40A7E97C
AccurateRip signature : B230B213
->Track not present in AccurateRip database.
Statistics
Read error : 0
Skipped (treated as error) : 0
Edge jitter error (maybe fixed) : 0
Atom jitter error (maybe fixed) : 0
Drift error (maybe fixed) : 0
Dropped bytes error (maybe fixed) : 0
Duplicated bytes error (maybe fixed) : 0
Inconsistency in error sectors : 0

Track 04
Filename : /Volumes/Nebucadnezzar/00 Music rip and upload/Allen Ginsgerg - First Blues (1983) [SPECIAL] (XLD Rip)/Disc 2of2/04 - Prayer Blues - 1972.flac

Track gain : -8.14 dB
Peak : 0.977600
CRC32 hash (test run) : 91C7A1E9
CRC32 hash : 91C7A1E9
CRC32 hash (skip zero) : 73EFA0F9
AccurateRip signature : D049B07B
->Track not present in AccurateRip database.
Statistics
Read error : 0
Skipped (treated as error) : 0
Edge jitter error (maybe fixed) : 0
Atom jitter error (maybe fixed) : 0
Drift error (maybe fixed) : 0
Dropped bytes error (maybe fixed) : 0
Duplicated bytes error (maybe fixed) : 0
Inconsistency in error sectors : 0

Track 05
Filename : /Volumes/Nebucadnezzar/00 Music rip and upload/Allen Ginsgerg - First Blues (1983) [SPECIAL] (XLD Rip)/Disc 2of2/05 - Love Forgiven.flac

Track gain : -4.74 dB
Peak : 0.977509
CRC32 hash (test run) : 75705B84
CRC32 hash : 75705B84
CRC32 hash (skip zero) : F00D73E5
AccurateRip signature : FC4EB08F
->Track not present in AccurateRip database.
Statistics
Read error : 0
Skipped (treated as error) : 0
Edge jitter error (maybe fixed) : 0
Atom jitter error (maybe fixed) : 0
Drift error (maybe fixed) : 0
Dropped bytes error (maybe fixed) : 0
Duplicated bytes error (maybe fixed) : 0
Inconsistency in error sectors : 0

Track 06
Filename : /Volumes/Nebucadnezzar/00 Music rip and upload/Allen Ginsgerg - First Blues (1983) [SPECIAL] (XLD Rip)/Disc 2of2/06 - Father Death Blues.flac

Track gain : -2.50 dB
Peak : 0.977539
CRC32 hash (test run) : C746743D
CRC32 hash : C746743D
CRC32 hash (skip zero) : 9900FE32
AccurateRip signature : CCDC5046
->Track not present in AccurateRip database.
Statistics
Read error : 0
Skipped (treated as error) : 0
Edge jitter error (maybe fixed) : 0
Atom jitter error (maybe fixed) : 0
Drift error (maybe fixed) : 0
Dropped bytes error (maybe fixed) : 0
Duplicated bytes error (maybe fixed) : 0
Inconsistency in error sectors : 0

Track 07
Filename : /Volumes/Nebucadnezzar/00 Music rip and upload/Allen Ginsgerg - First Blues (1983) [SPECIAL] (XLD Rip)/Disc 2of2/07 - Dope Fiend Blues.flac

Track gain : -7.97 dB
Peak : 0.977631
CRC32 hash (test run) : 0FAEF2E2
CRC32 hash : 0FAEF2E2
CRC32 hash (skip zero) : 978FD5FB
AccurateRip signature : 1C46A641
->Track not present in AccurateRip database.
Statistics
Read error : 0
Skipped (treated as error) : 0
Edge jitter error (maybe fixed) : 0
Atom jitter error (maybe fixed) : 0
Drift error (maybe fixed) : 0
Dropped bytes error (maybe fixed) : 0
Duplicated bytes error (maybe fixed) : 0
Inconsistency in error sectors : 0

Track 08
Filename : /Volumes/Nebucadnezzar/00 Music rip and upload/Allen Ginsgerg - First Blues (1983) [SPECIAL] (XLD Rip)/Disc 2of2/08 - Tyger.flac

Track gain : -5.42 dB
Peak : 0.977539
CRC32 hash (test run) : B8E2B885
CRC32 hash : B8E2B885
CRC32 hash (skip zero) : B3576624
AccurateRip signature : 0F72DE8B
->Track not present in AccurateRip database.
Statistics
Read error : 0
Skipped (treated as error) : 0
Edge jitter error (maybe fixed) : 0
Atom jitter error (maybe fixed) : 0
Drift error (maybe fixed) : 0
Dropped bytes error (maybe fixed) : 0
Duplicated bytes error (maybe fixed) : 0
Inconsistency in error sectors : 0

Track 09
Filename : /Volumes/Nebucadnezzar/00 Music rip and upload/Allen Ginsgerg - First Blues (1983) [SPECIAL] (XLD Rip)/Disc 2of2/09 - You Are My Dildo.flac

Track gain : -2.04 dB
Peak : 0.977417
CRC32 hash (test run) : B0022657
CRC32 hash : B0022657
CRC32 hash (skip zero) : 9A54A1D5
AccurateRip signature : 94105FBC
->Track not present in AccurateRip database.
Statistics
Read error : 0
Skipped (treated as error) : 0
Edge jitter error (maybe fixed) : 0
Atom jitter error (maybe fixed) : 0
Drift error (maybe fixed) : 0
Dropped bytes error (maybe fixed) : 0
Duplicated bytes error (maybe fixed) : 0
Inconsistency in error sectors : 0

Track 10
Filename : /Volumes/Nebucadnezzar/00 Music rip and upload/Allen Ginsgerg - First Blues (1983) [SPECIAL] (XLD Rip)/Disc 2of2/10 - Old Pond.flac

Track gain : -8.38 dB
Peak : 0.977631
CRC32 hash (test run) : D88974FC
CRC32 hash : D88974FC
CRC32 hash (skip zero) : F5163714
AccurateRip signature : A8184064
->Track not present in AccurateRip database.
Statistics
Read error : 0
Skipped (treated as error) : 0
Edge jitter error (maybe fixed) : 0
Atom jitter error (maybe fixed) : 0
Drift error (maybe fixed) : 0
Dropped bytes error (maybe fixed) : 0
Duplicated bytes error (maybe fixed) : 0
Inconsistency in error sectors : 0

Track 11
Filename : /Volumes/Nebucadnezzar/00 Music rip and upload/Allen Ginsgerg - First Blues (1983) [SPECIAL] (XLD Rip)/Disc 2of2/11 - No Reason.flac

Track gain : -4.44 dB
Peak : 0.977325
CRC32 hash (test run) : 7C2F242F
CRC32 hash : 7C2F242F
CRC32 hash (skip zero) : D19F3CF3
AccurateRip signature : 399CF1A2
->Track not present in AccurateRip database.
Statistics
Read error : 0
Skipped (treated as error) : 0
Edge jitter error (maybe fixed) : 0
Atom jitter error (maybe fixed) : 0
Drift error (maybe fixed) : 0
Dropped bytes error (maybe fixed) : 0
Duplicated bytes error (maybe fixed) : 0
Inconsistency in error sectors : 0

Track 12
Filename : /Volumes/Nebucadnezzar/00 Music rip and upload/Allen Ginsgerg - First Blues (1983) [SPECIAL] (XLD Rip)/Disc 2of2/12 - My Pretty Rose Tree.flac

Track gain : -3.31 dB
Peak : 0.977448
CRC32 hash (test run) : 4DDC5778
CRC32 hash : 4DDC5778
CRC32 hash (skip zero) : 778AF8AD
AccurateRip signature : E6E2EF08
->Track not present in AccurateRip database.
Statistics
Read error : 0
Skipped (treated as error) : 0
Edge jitter error (maybe fixed) : 0
Atom jitter error (maybe fixed) : 0
Drift error (maybe fixed) : 0
Dropped bytes error (maybe fixed) : 0
Duplicated bytes error (maybe fixed) : 0
Inconsistency in error sectors : 0

Track 13
Filename : /Volumes/Nebucadnezzar/00 Music rip and upload/Allen Ginsgerg - First Blues (1983) [SPECIAL] (XLD Rip)/Disc 2of2/13 - Capitol Air.flac

Track gain : -6.96 dB
Peak : 0.977631
CRC32 hash (test run) : A9CD8495
CRC32 hash : A9CD8495
CRC32 hash (skip zero) : 2920624A
AccurateRip signature : D8C030F8
->Track not present in AccurateRip database.
Statistics
Read error : 0
Skipped (treated as error) : 0
Edge jitter error (maybe fixed) : 0
Atom jitter error (maybe fixed) : 0
Drift error (maybe fixed) : 0
Dropped bytes error (maybe fixed) : 0
Duplicated bytes error (maybe fixed) : 0
Inconsistency in error sectors : 0

No errors occurred

End of status report