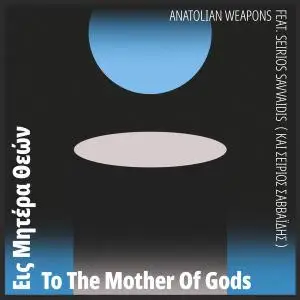 Anatolian Weapons feat. Seirios Savvaidis - To the Mother of Gods (2019)
WEB FLAC (tracks) - 269 MB | MP3 CBR 320 kbps (LAME 3.93) - 100 MB | Front cover
Genre: Psychedelic Folk Rock | RAR 3% Rec. | Label: Beats in Space Records
Anatolian Weapons, the project of Aggelos Baltas (Dream Weapons, Fantastikoi Hxoi), makes its Beats In Space Records debut with To The Mother Of Gods. A hypnotic journey through the psychedelic folk music of Seirios Savvaidis, To The Mother Of Gods testifies that music, through repetition and drone, can take us outside ourselves to a liminal space beyond thought and rationality.
Tracklist:
01. Tarachti Katarrachti
02. To the Mother of Gods
03. Kalesma
04. Ofiodaimon
05. Chaire Eos
06. Ston Stavraito
07. Limnothalassa
08. Tarachti Katarrachti (Reprise)
Total time:
41:40
PERFORMER: auCDtect Task Manager, ver. 1.6.0 RC1 build 1.6.0.1
Copyright © 2008-2010 y-soft. All rights reserved

ANALYZER: auCDtect: CD records authenticity detector, version 0.8.2
Copyright © 2004 Oleg Berngardt. All rights reserved.
Copyright © 2004 Alexander Djourik. All rights reserved.


FILE: 08. Tarachti Katarrachti (Reprise).flac
Size: 17138180 Hash: 816DA8D8134C8C6E2C693872CB08E770 Accuracy: -m0
Conclusion: CDDA 100%
Signature: 8A20007590F997C8FAACBD9CD368AD6A41047D65
FILE: 07. Limnothalassa.flac
Size: 39877765 Hash: 7D3296364F420EE6C9CB297F61D6F230 Accuracy: -m0
Conclusion: CDDA 100%
Signature: 1C44CB3EBF7B0CBA0CA75BF0A5AFF45084A356A8
FILE: 06. Ston Stavraito.flac
Size: 39475866 Hash: AAB5917496E1D7003A502E540FF2811B Accuracy: -m0
Conclusion: CDDA 100%
Signature: A21C96156C33379005ECCA2F3243FB31C1601AFB
FILE: 05. Chaire Eos.flac
Size: 27836918 Hash: 6184F860F443C749FD0BDEFEFD94E48F Accuracy: -m0
Conclusion: CDDA 99%
Signature: BF59CB62F2DCFD7E5167B5F04ABA7B5F2EC7A42D
FILE: 04. Ofiodaimon.flac
Size: 58687615 Hash: 05C5304DCBF27058C23ADFC09BBFD153 Accuracy: -m0
Conclusion: CDDA 100%
Signature: B63EBDF09C50CFBB9711B87552778615C6FC2956
FILE: 03. Kalesma.flac
Size: 26354899 Hash: A807C5C364F1C4D091C27A79D4B73A07 Accuracy: -m0
Conclusion: CDDA 99%
Signature: D6D01387E7CB4150849E5678EA394C0D612490CC
FILE: 02. To the Mother of Gods.flac
Size: 25775178 Hash: 418CE193E0DBC1B895FF35C6F530B992 Accuracy: -m0
Conclusion: CDDA 100%
Signature: AA0833F39B7AB99CC4EBF7550B3926632457F358
FILE: 01. Tarachti Katarrachti.flac
Size: 36830835 Hash: 145FB46C1BAD44AA0D0D03A50B857A87 Accuracy: -m0
Conclusion: CDDA 100%
Signature: 43A59C50EDD110615EFCC522B40E234DAA405ADE