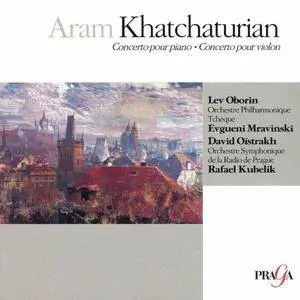 Lev Oborin, Evgueni Mravinski, David Oistrakh, Rafael Kubelik - Aram Khatchaturian: Piano & Violin Concerto (2004)
EAC | FLAC (image+.cue, log) | Covers Included | 01:03:52 | 271 MB
Genre: Classical | Label: Praga | Catalog: PR50017
These performances of Khachaturian's concertos for piano and violin are almost but not quite definitive. Both works are played by the performers for whom they were composed, Lev Oborin in the Piano Concerto and David Oistrakh in the Violin Concerto, and both receive performances of complete commitment, total dedication, utter authority, and unbelievable virtuosity. Both works are conducted by two of the greatest conductors of the twentieth century – Yevgeny Mravinsky and Rafael Kubelik – and both receive performances that are overwhelmingly precise and overpoweringly passionate. But while the Czech Philharmonic and the Prague Radio Symphony Orchestra give the performances and the conductors the best they have – and their best is fully world class – they still don't quite sound Slavic enough for the music. That is, they play like an elegant Western orchestra when Khachaturian's music demands less refinement and more vitality. Nevertheless, anyone who knows and loves these works and is looking for recordings by the performers who know and love these works could hardly do better than to hear these performances.
Recorded in 1946 and 1947, the antique sound of these performances is, however, only for anyone who is willing to overlook more than 50 years of technological improvements.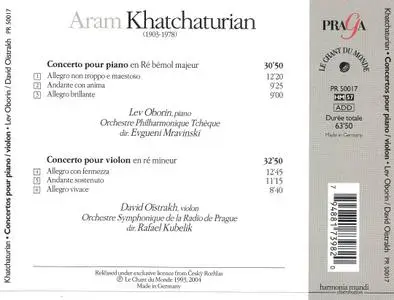 Concerto pour piano en Re bemol majeur
' 30:50
1. Allegro non troppo e maestroso [12:20]
2. Andante con anima [9:25]
3. Allegro brilliante [9:00]
Lev Oborin, piano
Orchestre Philarmonique Tcheque
dir. Evgueni Mravinski
1 juin 1946
Concerto pour violin en re mineur
' 32:50
4. Allegro con fermezza [12:45]
5. Andante sostenuto [11:15]
6. Allegro vivace [8:40]
David Oistrakh, violin
Orchestre Symphonique de la Radio de Prague
dir.Rafael Kubelik
15 mai 1947
Exact Audio Copy V0.99 prebeta 4 from 23. January 2008

Отчёт EAC об извлечении, выполненном 7. февраля 2009, 7:19

KHACHATURIAN Piano&Violin Concerto / Oistrakh, Oborin - PRAGA

Дисковод: HL-DT-STDVDRAM GSA-4163B Adapter: 3 ID: 0

Режим чтения : Достоверность
Использование точного потока : Да
Отключение кэша аудио : Да
Использование указателей C2 : Нет

Коррекция смещения при чтении : 667
Способность читать области Lead-in и Lead-out : Нет
Заполнение пропущенных сэмплов тишиной : Да
Удаление блоков с тишиной в начале и конце : Нет
При вычислениях CRC использовались нулевые сэмплы : Да
Интерфейс : Установленный внешний ASPI-интерфейс

Выходной формат : Пользовательский кодировщик
Выбранный битрейт : 768 kBit/s
Качество : Высокий
Добавление ID3-тэга : Нет
Утилита сжатия : C:\Program Files\Exact Audio Copy\Flac\flac.exe


TOC извлечённого CD

Трек | Старт | Длительность | Начальный сектор | Конечный сектор
––––––––––––––––––––––––––––––––––-
1 | 0:00.32 | 12:21.63 | 32 | 55669
2 | 12:22.20 | 9:28.07 | 55670 | 98276
3 | 21:50.27 | 9:08.48 | 98277 | 139424
4 | 30:59.00 | 12:54.32 | 139425 | 197506
5 | 43:53.32 | 11:22.15 | 197507 | 248671
6 | 55:15.47 | 8:36.58 | 248672 | 287429


Характеристики диапазона извлечения и сообщения об ошибках

Выбранный диапазон

Имя файла C:\Documents and Settings\Admin\Рабочий стол\Carmen-fantasie\KHACHATURIAN Piano&Violin Concerto - Oistrakh, Oborin - PRAGA.wav

Пиковый уровень 100.0 %
Качество диапазона 100.0 %
CRC копии 31DD1993
Копирование… OK

Ошибок не произошло


AccurateRip: сводка

Трек 1 нет в базе данных
Трек 2 нет в базе данных
Трек 3 нет в базе данных
Трек 4 нет в базе данных
Трек 5 нет в базе данных
Трек 6 нет в базе данных

Ни одного трека нет в базе AccurateRip

Конец отчёта