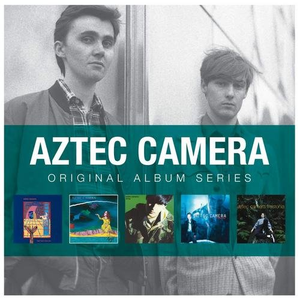 Aztec Camera - Original Album Series (2009)
EAC Rip | FLAC (tracks, cue, log, scans) - 1.3 GB | MP3 CBR 320 kbps - 433 MB
3:46:56 | New Wave, Pop Rock, Synth-pop | Label: Rhino
Five CD box set containing a quintet of original albums from this British Pop/Rock outfit, all housed together in an eye-catching slipcase: High Land Hard Rain (1983), Knife (1984), Stray (1990), Dreamland (1993) and Frestonia (1995). Led by Roddy Frame, Aztec Camera were one of the most successful Guitar Pop bands to emerge from the Scottish Pop/Rock scene of the late '70s and early '80s which also included Orange Juice, the Bluebells, Josef K and many others. Features the hit singles 'Oblivious', 'Walk Out to Winter', 'All I Need Is Everything', 'Good Morning Britain' and many others.
Tracklist
CD1 - High Land, Hard Rain (1983)
1. Oblivious
2. The Boy Wonders
3. Walk Out To Winter
4. The Bugle Sounds Again
5. We Could Send Letters
6. Pillar To Post
7. Release
8. Lost Outside The Tunnel
9. Back On Board
10. Down The Dip
11. Haywire
12. Orchid Girl
13. Queen's Tattoos
CD2 - Knife (1984)
1. Still On Fire
2. Just Like The USA
3. Head Is Happy (Heart's Insane)
4. Back Door To Heaven
5. All I Need Is Everything
6. Backwards And Forwards
7. The Birth Of The True
8. Knife
CD3 - Stray (1990)
1. Stray
2. The Crying Scene
3. Get Outta London
4. Over My Head
5. Good Morning Britain
6. How It Is
7. The Gentle Kind
8. Notting Hill Blues
9. Song For A Friend
CD4 - Dreamland (1993)
1. Birds
2. Safe In Sorrow
3. Black Lucia
4. Let Your Love Decide
5. Spanish Horses
6. Dream Sweet Dreams
7. Pianos And Clocks
8. Sister Anne
9. Vertigo
10. Valium Summer
11. Belle Of The Ball
CD5 - Frestonia (1995)
1. Rainy Season
2. Sun
3. Crazy
4. On The Avenue
5. Imperfectly
6. Debutante
7. Beautiful Girl
8. Phenomenal World
9. Method Of Love
10. Sunset
X Lossless Decoder version 20110228 (129.0)

XLD extraction logfile from 2011-03-04 12:04:20 +0100

Aztec Camera / High Land, Hard Rain

Used drive : SONY DVD RW DW-D150A (revision 1.MD)

Ripper mode : XLD Secure Ripper
Disable audio cache : OK for the drive with a cache less than 1375KiB
Make use of C2 pointers : NO
Read offset correction : 48
Max retry count : 100
Gap status : Analyzed, Appended (except HTOA)

TOC of the extracted CD
Track | Start | Length | Start sector | End sector
––––––––––––––––––––––––––––-
1 | 00:00:00 | 03:12:13 | 0 | 14412
2 | 03:12:13 | 03:15:27 | 14413 | 29064
3 | 06:27:40 | 03:25:33 | 29065 | 44472
4 | 09:52:73 | 02:58:27 | 44473 | 57849
5 | 12:51:25 | 05:49:30 | 57850 | 84054
6 | 18:40:55 | 04:02:08 | 84055 | 102212
7 | 22:42:63 | 03:41:10 | 102213 | 118797
8 | 26:23:73 | 03:42:30 | 118798 | 135477
9 | 30:06:28 | 04:53:50 | 135478 | 157502
10 | 35:00:03 | 02:23:35 | 157503 | 168262
11 | 37:23:38 | 03:58:37 | 168263 | 186149
12 | 41:22:00 | 02:35:48 | 186150 | 197822
13 | 43:57:48 | 02:10:15 | 197823 | 207587

List of alternate offset correction values
# | Absolute | Relative | Confidence
–––––––––––––––––––––
1 | 1376 | 1328 | 25
2 | 712 | 664 | 4

AccurateRip Summary
Track 01 : OK (confidence 7)
Track 02 : OK (confidence 7)
Track 03 : OK (confidence 7)
Track 04 : OK (confidence 8)
Track 05 : OK (confidence 7)
Track 06 : OK (confidence 7)
Track 07 : OK (confidence 7)
Track 08 : OK (confidence 7)
Track 09 : OK (confidence 8)
Track 10 : OK (confidence 8)
Track 11 : OK (confidence 7)
Track 12 : OK (confidence 7)
Track 13 : OK (confidence 8)
->All tracks accurately ripped.

All Tracks
Album gain : -3.52 dB
Peak : 0.891663
Statistics
Read error : 0
Jitter error (maybe fixed) : 0
Retry sector count : 0
Damaged sector count : 0

Track 01
Filename : /XLD-rip/Aztec Camera - Original Album Series (1983-95) [FLAC] {2009 Rhino}/1 - High Land, Hard Rain (1984)/01 - Oblivious.flac
Pre-gap length : 00:02:00

Track gain : -4.06 dB
Peak : 0.891663
CRC32 hash (test run) : CF347974
CRC32 hash : CF347974
CRC32 hash (skip zero) : A9807BEE
AccurateRip signature : 9443CCC9
->Accurately ripped! (confidence 7)
Statistics
Read error : 0
Jitter error (maybe fixed) : 0
Retry sector count : 0
Damaged sector count : 0

Track 02
Filename : /XLD-rip/Aztec Camera - Original Album Series (1983-95) [FLAC] {2009 Rhino}/1 - High Land, Hard Rain (1984)/02 - The Boy Wonders.flac
Pre-gap length : 00:01:35

Track gain : -4.86 dB
Peak : 0.869110
CRC32 hash (test run) : D5BBDE77
CRC32 hash : D5BBDE77
CRC32 hash (skip zero) : 62F50C9E
AccurateRip signature : 95C90A99
->Accurately ripped! (confidence 7)
Statistics
Read error : 0
Jitter error (maybe fixed) : 0
Retry sector count : 0
Damaged sector count : 0

Track 03
Filename : /XLD-rip/Aztec Camera - Original Album Series (1983-95) [FLAC] {2009 Rhino}/1 - High Land, Hard Rain (1984)/03 - Walk Out To Winter.flac
Pre-gap length : 00:00:70

Track gain : -5.08 dB
Peak : 0.827576
CRC32 hash (test run) : F2E1E34B
CRC32 hash : F2E1E34B
CRC32 hash (skip zero) : 3569E0C8
AccurateRip signature : 9E7627DC
->Accurately ripped! (confidence 7)
Statistics
Read error : 0
Jitter error (maybe fixed) : 0
Retry sector count : 0
Damaged sector count : 0

Track 04
Filename : /XLD-rip/Aztec Camera - Original Album Series (1983-95) [FLAC] {2009 Rhino}/1 - High Land, Hard Rain (1984)/04 - The Bugle Sounds Again.flac
Pre-gap length : 00:01:47

Track gain : -3.02 dB
Peak : 0.804474
CRC32 hash (test run) : 58067BFD
CRC32 hash : 58067BFD
CRC32 hash (skip zero) : A0704126
AccurateRip signature : 23719301
->Accurately ripped! (confidence 8)
Statistics
Read error : 0
Jitter error (maybe fixed) : 0
Retry sector count : 0
Damaged sector count : 0

Track 05
Filename : /XLD-rip/Aztec Camera - Original Album Series (1983-95) [FLAC] {2009 Rhino}/1 - High Land, Hard Rain (1984)/05 - We Could Send Letters.flac
Pre-gap length : 00:01:20

Track gain : -3.06 dB
Peak : 0.767334
CRC32 hash (test run) : 740EF40E
CRC32 hash : 740EF40E
CRC32 hash (skip zero) : 60147F9B
AccurateRip signature : 6D3CC8E7
->Accurately ripped! (confidence 7)
Statistics
Read error : 0
Jitter error (maybe fixed) : 0
Retry sector count : 0
Damaged sector count : 0

Track 06
Filename : /XLD-rip/Aztec Camera - Original Album Series (1983-95) [FLAC] {2009 Rhino}/1 - High Land, Hard Rain (1984)/06 - Pillar To Post.flac
Pre-gap length : 00:03:35

Track gain : -3.45 dB
Peak : 0.789520
CRC32 hash (test run) : B4E7BF50
CRC32 hash : B4E7BF50
CRC32 hash (skip zero) : EF68F74F
AccurateRip signature : 40122E3E
->Accurately ripped! (confidence 7)
Statistics
Read error : 0
Jitter error (maybe fixed) : 0
Retry sector count : 0
Damaged sector count : 0

Track 07
Filename : /XLD-rip/Aztec Camera - Original Album Series (1983-95) [FLAC] {2009 Rhino}/1 - High Land, Hard Rain (1984)/07 - Release.flac
Pre-gap length : 00:02:00

Track gain : -1.42 dB
Peak : 0.680847
CRC32 hash (test run) : F1B714C5
CRC32 hash : F1B714C5
CRC32 hash (skip zero) : 73A46756
AccurateRip signature : EF54BAC3
->Accurately ripped! (confidence 7)
Statistics
Read error : 0
Jitter error (maybe fixed) : 0
Retry sector count : 0
Damaged sector count : 0

Track 08
Filename : /XLD-rip/Aztec Camera - Original Album Series (1983-95) [FLAC] {2009 Rhino}/1 - High Land, Hard Rain (1984)/08 - Lost Outside The Tunnel.flac

Track gain : -2.74 dB
Peak : 0.745789
CRC32 hash (test run) : D52AABE9
CRC32 hash : D52AABE9
CRC32 hash (skip zero) : 7034DBB6
AccurateRip signature : 9ABAEC6B
->Accurately ripped! (confidence 7)
Statistics
Read error : 0
Jitter error (maybe fixed) : 0
Retry sector count : 0
Damaged sector count : 0

Track 09
Filename : /XLD-rip/Aztec Camera - Original Album Series (1983-95) [FLAC] {2009 Rhino}/1 - High Land, Hard Rain (1984)/09 - Back On Board.flac
Pre-gap length : 00:00:35

Track gain : -1.94 dB
Peak : 0.690491
CRC32 hash (test run) : 0B17CA12
CRC32 hash : 0B17CA12
CRC32 hash (skip zero) : 5987EB53
AccurateRip signature : 3DA0BD51
->Accurately ripped! (confidence 8)
Statistics
Read error : 0
Jitter error (maybe fixed) : 0
Retry sector count : 0
Damaged sector count : 0

Track 10
Filename : /XLD-rip/Aztec Camera - Original Album Series (1983-95) [FLAC] {2009 Rhino}/1 - High Land, Hard Rain (1984)/10 - Down The Dip.flac

Track gain : -0.46 dB
Peak : 0.592163
CRC32 hash (test run) : EF2B9DA1
CRC32 hash : EF2B9DA1
CRC32 hash (skip zero) : EB483466
AccurateRip signature : C644D3A9
->Accurately ripped! (confidence 8)
Statistics
Read error : 0
Jitter error (maybe fixed) : 0
Retry sector count : 0
Damaged sector count : 0

Track 11
Filename : /XLD-rip/Aztec Camera - Original Album Series (1983-95) [FLAC] {2009 Rhino}/1 - High Land, Hard Rain (1984)/11 - Haywire.flac
Pre-gap length : 00:01:58

Track gain : -2.86 dB
Peak : 0.790710
CRC32 hash (test run) : 053AC2B8
CRC32 hash : 053AC2B8
CRC32 hash (skip zero) : CDBC4408
AccurateRip signature : BFC3A242
->Accurately ripped! (confidence 7)
Statistics
Read error : 0
Jitter error (maybe fixed) : 0
Retry sector count : 0
Damaged sector count : 0

Track 12
Filename : /XLD-rip/Aztec Camera - Original Album Series (1983-95) [FLAC] {2009 Rhino}/1 - High Land, Hard Rain (1984)/12 - Orchid Girl.flac
Pre-gap length : 00:02:17

Track gain : -2.83 dB
Peak : 0.808044
CRC32 hash (test run) : 45F463EB
CRC32 hash : 45F463EB
CRC32 hash (skip zero) : 7C2927C9
AccurateRip signature : 2921182D
->Accurately ripped! (confidence 7)
Statistics
Read error : 0
Jitter error (maybe fixed) : 0
Retry sector count : 0
Damaged sector count : 0

Track 13
Filename : /XLD-rip/Aztec Camera - Original Album Series (1983-95) [FLAC] {2009 Rhino}/1 - High Land, Hard Rain (1984)/13 - Queen's Tattoos.flac
Pre-gap length : 00:03:09

Track gain : -3.53 dB
Peak : 0.726959
CRC32 hash (test run) : 99CBC132
CRC32 hash : 99CBC132
CRC32 hash (skip zero) : CF115FDB
AccurateRip signature : 10F445F1
->Accurately ripped! (confidence 8)
Statistics
Read error : 0
Jitter error (maybe fixed) : 0
Retry sector count : 0
Damaged sector count : 0

No errors occurred

End of status report


X Lossless Decoder version 20110228 (129.0)

XLD extraction logfile from 2011-03-04 15:15:51 +0100

Aztec Camera / Knife

Used drive : SONY DVD RW DW-D150A (revision 1.MD)

Ripper mode : XLD Secure Ripper
Disable audio cache : OK for the drive with a cache less than 1375KiB
Make use of C2 pointers : NO
Read offset correction : 48
Max retry count : 100
Gap status : Analyzed, Appended (except HTOA)

TOC of the extracted CD
Track | Start | Length | Start sector | End sector
––––––––––––––––––––––––––––-
1 | 00:00:00 | 04:01:20 | 0 | 18094
2 | 04:01:20 | 04:03:17 | 18095 | 36336
3 | 08:04:37 | 04:14:20 | 36337 | 55406
4 | 12:18:57 | 05:22:73 | 55407 | 79629
5 | 17:41:55 | 05:50:60 | 79630 | 105939
6 | 23:32:40 | 04:12:67 | 105940 | 124906
7 | 27:45:32 | 02:41:45 | 124907 | 137026
8 | 30:27:02 | 09:04:03 | 137027 | 177829

List of alternate offset correction values
# | Absolute | Relative | Confidence
–––––––––––––––––––––
1 | 1371 | 1323 | 11
2 | 1254 | 1206 | 8
3 | 712 | 664 | 3

AccurateRip Summary
Track 01 : OK (confidence 7)
Track 02 : OK (confidence 7)
Track 03 : OK (confidence 7)
Track 04 : OK (confidence 7)
Track 05 : OK (confidence 7)
Track 06 : OK (confidence 7)
Track 07 : OK (confidence 8)
Track 08 : OK (confidence 7)
->All tracks accurately ripped.

All Tracks
Album gain : 0.33 dB
Peak : 1.000000
Statistics
Read error : 0
Jitter error (maybe fixed) : 0
Retry sector count : 0
Damaged sector count : 0

Track 01
Filename : /XLD-rip/Aztec Camera - Original Album Series (1983-95) [FLAC] {2009 Rhino}/2 - Knife (1984)/01 - Still On Fire.flac
Pre-gap length : 00:02:00

Track gain : -0.46 dB
Peak : 0.881165
CRC32 hash (test run) : 4C1AC185
CRC32 hash : 4C1AC185
CRC32 hash (skip zero) : 2DE23AC7
AccurateRip signature : 345B5DD7
->Accurately ripped! (confidence 7)
Statistics
Read error : 0
Jitter error (maybe fixed) : 0
Retry sector count : 0
Damaged sector count : 0

Track 02
Filename : /XLD-rip/Aztec Camera - Original Album Series (1983-95) [FLAC] {2009 Rhino}/2 - Knife (1984)/02 - Just Like The USA.flac
Pre-gap length : 00:03:13

Track gain : 0.94 dB
Peak : 0.876434
CRC32 hash (test run) : 6D9B5848
CRC32 hash : 6D9B5848
CRC32 hash (skip zero) : 6282F312
AccurateRip signature : 8F8A771F
->Accurately ripped! (confidence 7)
Statistics
Read error : 0
Jitter error (maybe fixed) : 0
Retry sector count : 0
Damaged sector count : 0

Track 03
Filename : /XLD-rip/Aztec Camera - Original Album Series (1983-95) [FLAC] {2009 Rhino}/2 - Knife (1984)/03 - Head is Happy (Heart's Insane).flac
Pre-gap length : 00:03:05

Track gain : -1.24 dB
Peak : 0.969971
CRC32 hash (test run) : 18077122
CRC32 hash : 18077122
CRC32 hash (skip zero) : 1F768C06
AccurateRip signature : 13BBA575
->Accurately ripped! (confidence 7)
Statistics
Read error : 0
Jitter error (maybe fixed) : 0
Retry sector count : 0
Damaged sector count : 0

Track 04
Filename : /XLD-rip/Aztec Camera - Original Album Series (1983-95) [FLAC] {2009 Rhino}/2 - Knife (1984)/04 - The Back Door To Heaven.flac
Pre-gap length : 00:01:15

Track gain : -0.55 dB
Peak : 0.999969
CRC32 hash (test run) : EAEDE223
CRC32 hash : EAEDE223
CRC32 hash (skip zero) : ABEF6011
AccurateRip signature : 7DC5FCA6
->Accurately ripped! (confidence 7)
Statistics
Read error : 0
Jitter error (maybe fixed) : 0
Retry sector count : 0
Damaged sector count : 0

Track 05
Filename : /XLD-rip/Aztec Camera - Original Album Series (1983-95) [FLAC] {2009 Rhino}/2 - Knife (1984)/05 - All I Need Is Everything.flac
Pre-gap length : 00:01:45

Track gain : 0.35 dB
Peak : 1.000000
CRC32 hash (test run) : A65247A9
CRC32 hash : A65247A9
CRC32 hash (skip zero) : CDDE2BC6
AccurateRip signature : AAEB5024
->Accurately ripped! (confidence 7)
Statistics
Read error : 0
Jitter error (maybe fixed) : 0
Retry sector count : 0
Damaged sector count : 0

Track 06
Filename : /XLD-rip/Aztec Camera - Original Album Series (1983-95) [FLAC] {2009 Rhino}/2 - Knife (1984)/06 - Backwards And Forwards.flac
Pre-gap length : 00:01:73

Track gain : 2.08 dB
Peak : 0.984100
CRC32 hash (test run) : E213D282
CRC32 hash : E213D282
CRC32 hash (skip zero) : 78D66BF7
AccurateRip signature : 3EBBEF9A
->Accurately ripped! (confidence 7)
Statistics
Read error : 0
Jitter error (maybe fixed) : 0
Retry sector count : 0
Damaged sector count : 0

Track 07
Filename : /XLD-rip/Aztec Camera - Original Album Series (1983-95) [FLAC] {2009 Rhino}/2 - Knife (1984)/07 - The Birth Of The True.flac
Pre-gap length : 00:01:47

Track gain : 2.37 dB
Peak : 0.494263
CRC32 hash (test run) : 05B343C4
CRC32 hash : 05B343C4
CRC32 hash (skip zero) : A2C6D0FD
AccurateRip signature : C8D9DD5F
->Accurately ripped! (confidence 8)
Statistics
Read error : 0
Jitter error (maybe fixed) : 0
Retry sector count : 0
Damaged sector count : 0

Track 08
Filename : /XLD-rip/Aztec Camera - Original Album Series (1983-95) [FLAC] {2009 Rhino}/2 - Knife (1984)/08 - Knife.flac
Pre-gap length : 00:00:72

Track gain : 2.41 dB
Peak : 0.694763
CRC32 hash (test run) : 77D72A14
CRC32 hash : 77D72A14
CRC32 hash (skip zero) : 1BDE44C7
AccurateRip signature : 2EF0F97A
->Accurately ripped! (confidence 7)
Statistics
Read error : 0
Jitter error (maybe fixed) : 0
Retry sector count : 0
Damaged sector count : 0

No errors occurred

End of status report


X Lossless Decoder version 20110228 (129.0)

XLD extraction logfile from 2011-03-04 15:46:22 +0100

Aztec Camera / Stray

Used drive : SONY DVD RW DW-D150A (revision 1.MD)

Ripper mode : XLD Secure Ripper
Disable audio cache : OK for the drive with a cache less than 1375KiB
Make use of C2 pointers : NO
Read offset correction : 48
Max retry count : 100
Gap status : Analyzed, Appended (except HTOA)

TOC of the extracted CD
Track | Start | Length | Start sector | End sector
––––––––––––––––––––––––––––-
1 | 00:00:00 | 05:34:30 | 0 | 25079
2 | 05:34:30 | 03:34:53 | 25080 | 41182
3 | 09:09:08 | 03:41:42 | 41183 | 57799
4 | 12:50:50 | 05:53:33 | 57800 | 84307
5 | 18:44:08 | 04:02:42 | 84308 | 102499
6 | 22:46:50 | 04:00:13 | 102500 | 120512
7 | 26:46:63 | 05:32:57 | 120513 | 145469
8 | 32:19:45 | 06:41:45 | 145470 | 175589
9 | 39:01:15 | 02:27:38 | 175590 | 186652

List of alternate offset correction values
# | Absolute | Relative | Confidence
–––––––––––––––––––––
1 | 1371 | 1323 | 24

AccurateRip Summary
Track 01 : OK (confidence 7)
Track 02 : OK (confidence 7)
Track 03 : OK (confidence 7)
Track 04 : OK (confidence 7)
Track 05 : OK (confidence 7)
Track 06 : OK (confidence 7)
Track 07 : OK (confidence 7)
Track 08 : OK (confidence 7)
Track 09 : OK (confidence 7)
->All tracks accurately ripped.

All Tracks
Album gain : -2.31 dB
Peak : 1.000000
Statistics
Read error : 0
Jitter error (maybe fixed) : 0
Retry sector count : 0
Damaged sector count : 0

Track 01
Filename : /XLD-rip/Aztec Camera - Original Album Series (1983-95) [FLAC] {2009 Rhino}/3 - Stray (1990)/01 - Stray.flac
Pre-gap length : 00:02:00

Track gain : 0.28 dB
Peak : 0.838837
CRC32 hash (test run) : A207C49E
CRC32 hash : A207C49E
CRC32 hash (skip zero) : BEAE47CD
AccurateRip signature : EC5B365C
->Accurately ripped! (confidence 7)
Statistics
Read error : 0
Jitter error (maybe fixed) : 0
Retry sector count : 0
Damaged sector count : 0

Track 02
Filename : /XLD-rip/Aztec Camera - Original Album Series (1983-95) [FLAC] {2009 Rhino}/3 - Stray (1990)/02 - The Crying Scene.flac
Pre-gap length : 00:01:62

Track gain : -3.99 dB
Peak : 1.000000
CRC32 hash (test run) : 7C2F77AC
CRC32 hash : 7C2F77AC
CRC32 hash (skip zero) : C049F16A
AccurateRip signature : AB72CCF2
->Accurately ripped! (confidence 7)
Statistics
Read error : 0
Jitter error (maybe fixed) : 0
Retry sector count : 0
Damaged sector count : 0

Track 03
Filename : /XLD-rip/Aztec Camera - Original Album Series (1983-95) [FLAC] {2009 Rhino}/3 - Stray (1990)/03 - Get Outta London.flac
Pre-gap length : 00:00:43

Track gain : -2.05 dB
Peak : 0.896057
CRC32 hash (test run) : DD512882
CRC32 hash : DD512882
CRC32 hash (skip zero) : 23F88B28
AccurateRip signature : 0D570526
->Accurately ripped! (confidence 7)
Statistics
Read error : 0
Jitter error (maybe fixed) : 0
Retry sector count : 0
Damaged sector count : 0

Track 04
Filename : /XLD-rip/Aztec Camera - Original Album Series (1983-95) [FLAC] {2009 Rhino}/3 - Stray (1990)/04 - Over My Head.flac
Pre-gap length : 00:00:60

Track gain : 1.23 dB
Peak : 0.627899
CRC32 hash (test run) : 4E19DF8C
CRC32 hash : 4E19DF8C
CRC32 hash (skip zero) : 3FA64AFD
AccurateRip signature : 9C120F3C
->Accurately ripped! (confidence 7)
Statistics
Read error : 0
Jitter error (maybe fixed) : 0
Retry sector count : 0
Damaged sector count : 0

Track 05
Filename : /XLD-rip/Aztec Camera - Original Album Series (1983-95) [FLAC] {2009 Rhino}/3 - Stray (1990)/05 - Good Morning Britain.flac
Pre-gap length : 00:01:13

Track gain : -3.31 dB
Peak : 1.000000
CRC32 hash (test run) : 8640A8B3
CRC32 hash : 8640A8B3
CRC32 hash (skip zero) : 8F7086EF
AccurateRip signature : A9297E5D
->Accurately ripped! (confidence 7)
Statistics
Read error : 0
Jitter error (maybe fixed) : 0
Retry sector count : 0
Damaged sector count : 0

Track 06
Filename : /XLD-rip/Aztec Camera - Original Album Series (1983-95) [FLAC] {2009 Rhino}/3 - Stray (1990)/06 - How It Is.flac
Pre-gap length : 00:00:60

Track gain : -2.70 dB
Peak : 0.999969
CRC32 hash (test run) : A1C553B7
CRC32 hash : A1C553B7
CRC32 hash (skip zero) : 3849CAE0
AccurateRip signature : D665B3E7
->Accurately ripped! (confidence 7)
Statistics
Read error : 0
Jitter error (maybe fixed) : 0
Retry sector count : 0
Damaged sector count : 0

Track 07
Filename : /XLD-rip/Aztec Camera - Original Album Series (1983-95) [FLAC] {2009 Rhino}/3 - Stray (1990)/07 - The Gentle Kind.flac
Pre-gap length : 00:01:10

Track gain : -1.06 dB
Peak : 0.979858
CRC32 hash (test run) : BA0A72EF
CRC32 hash : BA0A72EF
CRC32 hash (skip zero) : 7A0CA7C0
AccurateRip signature : 89CA963F
->Accurately ripped! (confidence 7)
Statistics
Read error : 0
Jitter error (maybe fixed) : 0
Retry sector count : 0
Damaged sector count : 0

Track 08
Filename : /XLD-rip/Aztec Camera - Original Album Series (1983-95) [FLAC] {2009 Rhino}/3 - Stray (1990)/08 - Notting Hill Blues.flac
Pre-gap length : 00:01:12

Track gain : 0.40 dB
Peak : 0.877075
CRC32 hash (test run) : 6BCB32C3
CRC32 hash : 6BCB32C3
CRC32 hash (skip zero) : 7B9A1B4A
AccurateRip signature : 89D0D802
->Accurately ripped! (confidence 7)
Statistics
Read error : 0
Jitter error (maybe fixed) : 0
Retry sector count : 0
Damaged sector count : 0

Track 09
Filename : /XLD-rip/Aztec Camera - Original Album Series (1983-95) [FLAC] {2009 Rhino}/3 - Stray (1990)/09 - Song For A Friend.flac
Pre-gap length : 00:00:50

Track gain : -0.12 dB
Peak : 0.665924
CRC32 hash (test run) : 77B6E4D0
CRC32 hash : 77B6E4D0
CRC32 hash (skip zero) : 34600F53
AccurateRip signature : CBBC759E
->Accurately ripped! (confidence 7)
Statistics
Read error : 0
Jitter error (maybe fixed) : 0
Retry sector count : 0
Damaged sector count : 0

No errors occurred

End of status report


X Lossless Decoder version 20110228 (129.0)

XLD extraction logfile from 2011-03-04 15:58:59 +0100

Aztec Camera / Dreamland

Used drive : SONY DVD RW DW-D150A (revision 1.MD)

Ripper mode : XLD Secure Ripper
Disable audio cache : OK for the drive with a cache less than 1375KiB
Make use of C2 pointers : NO
Read offset correction : 48
Max retry count : 100
Gap status : Analyzed, Appended (except HTOA)

TOC of the extracted CD
Track | Start | Length | Start sector | End sector
––––––––––––––––––––––––––––-
1 | 00:00:00 | 04:56:55 | 0 | 22254
2 | 04:56:55 | 04:56:20 | 22255 | 44474
3 | 09:53:00 | 03:59:72 | 44475 | 62471
4 | 13:52:72 | 05:03:10 | 62472 | 85206
5 | 18:56:07 | 04:34:73 | 85207 | 105829
6 | 23:31:05 | 03:26:72 | 105830 | 121351
7 | 26:58:02 | 04:53:63 | 121352 | 143389
8 | 31:51:65 | 05:13:10 | 143390 | 166874
9 | 37:05:00 | 04:54:00 | 166875 | 188924
10 | 41:59:00 | 05:53:72 | 188925 | 215471
11 | 47:52:72 | 03:24:53 | 215472 | 230824

List of alternate offset correction values
# | Absolute | Relative | Confidence
–––––––––––––––––––––
1 | 1358 | 1310 | 13
2 | 1231 | 1183 | 2

AccurateRip Summary
Track 01 : OK (confidence 6)
Track 02 : OK (confidence 6)
Track 03 : OK (confidence 6)
Track 04 : OK (confidence 6)
Track 05 : OK (confidence 6)
Track 06 : OK (confidence 6)
Track 07 : OK (confidence 6)
Track 08 : OK (confidence 6)
Track 09 : OK (confidence 6)
Track 10 : OK (confidence 6)
Track 11 : OK (confidence 6)
->All tracks accurately ripped.

All Tracks
Album gain : -4.08 dB
Peak : 0.992981
Statistics
Read error : 0
Jitter error (maybe fixed) : 0
Retry sector count : 0
Damaged sector count : 0

Track 01
Filename : /XLD-rip/Aztec Camera - Original Album Series (1983-95) [FLAC] {2009 Rhino}/4 - Dreamland (1993)/01 - Birds.flac
Pre-gap length : 00:02:00

Track gain : -3.43 dB
Peak : 0.992981
CRC32 hash (test run) : 635B1D48
CRC32 hash : 635B1D48
CRC32 hash (skip zero) : 8502DAB5
AccurateRip signature : 9C91A3B7
->Accurately ripped! (confidence 6)
Statistics
Read error : 0
Jitter error (maybe fixed) : 0
Retry sector count : 0
Damaged sector count : 0

Track 02
Filename : /XLD-rip/Aztec Camera - Original Album Series (1983-95) [FLAC] {2009 Rhino}/4 - Dreamland (1993)/02 - Safe In Sorrow.flac
Pre-gap length : 00:00:03

Track gain : -2.14 dB
Peak : 0.992981
CRC32 hash (test run) : C3A15DB5
CRC32 hash : C3A15DB5
CRC32 hash (skip zero) : 0C893750
AccurateRip signature : AC49E7A9
->Accurately ripped! (confidence 6)
Statistics
Read error : 0
Jitter error (maybe fixed) : 0
Retry sector count : 0
Damaged sector count : 0

Track 03
Filename : /XLD-rip/Aztec Camera - Original Album Series (1983-95) [FLAC] {2009 Rhino}/4 - Dreamland (1993)/03 - Black Lucia.flac
Pre-gap length : 00:02:05

Track gain : -5.62 dB
Peak : 0.992981
CRC32 hash (test run) : D985F185
CRC32 hash : D985F185
CRC32 hash (skip zero) : F65CC37A
AccurateRip signature : E39819F0
->Accurately ripped! (confidence 6)
Statistics
Read error : 0
Jitter error (maybe fixed) : 0
Retry sector count : 0
Damaged sector count : 0

Track 04
Filename : /XLD-rip/Aztec Camera - Original Album Series (1983-95) [FLAC] {2009 Rhino}/4 - Dreamland (1993)/04 - Let Your Love Decide.flac

Track gain : -3.39 dB
Peak : 0.992981
CRC32 hash (test run) : B93BADC9
CRC32 hash : B93BADC9
CRC32 hash (skip zero) : 7C6C3D8D
AccurateRip signature : 09AF14E8
->Accurately ripped! (confidence 6)
Statistics
Read error : 0
Jitter error (maybe fixed) : 0
Retry sector count : 0
Damaged sector count : 0

Track 05
Filename : /XLD-rip/Aztec Camera - Original Album Series (1983-95) [FLAC] {2009 Rhino}/4 - Dreamland (1993)/05 - Spanish Horses.flac

Track gain : -3.74 dB
Peak : 0.992981
CRC32 hash (test run) : EE265D13
CRC32 hash : EE265D13
CRC32 hash (skip zero) : 9782D381
AccurateRip signature : D34678F9
->Accurately ripped! (confidence 6)
Statistics
Read error : 0
Jitter error (maybe fixed) : 0
Retry sector count : 0
Damaged sector count : 0

Track 06
Filename : /XLD-rip/Aztec Camera - Original Album Series (1983-95) [FLAC] {2009 Rhino}/4 - Dreamland (1993)/06 - Dream Sweet Dreams.flac
Pre-gap length : 00:00:02

Track gain : -4.62 dB
Peak : 0.992981
CRC32 hash (test run) : 4BD1EE62
CRC32 hash : 4BD1EE62
CRC32 hash (skip zero) : 05394EF2
AccurateRip signature : B8EE4297
->Accurately ripped! (confidence 6)
Statistics
Read error : 0
Jitter error (maybe fixed) : 0
Retry sector count : 0
Damaged sector count : 0

Track 07
Filename : /XLD-rip/Aztec Camera - Original Album Series (1983-95) [FLAC] {2009 Rhino}/4 - Dreamland (1993)/07 - Pianos And Clocks.flac

Track gain : -3.80 dB
Peak : 0.960968
CRC32 hash (test run) : 6A040761
CRC32 hash : 6A040761
CRC32 hash (skip zero) : F508F74A
AccurateRip signature : 56DF4AB0
->Accurately ripped! (confidence 6)
Statistics
Read error : 0
Jitter error (maybe fixed) : 0
Retry sector count : 0
Damaged sector count : 0

Track 08
Filename : /XLD-rip/Aztec Camera - Original Album Series (1983-95) [FLAC] {2009 Rhino}/4 - Dreamland (1993)/08 - Sister Ann.flac
Pre-gap length : 00:00:02

Track gain : -4.50 dB
Peak : 0.992981
CRC32 hash (test run) : B1D3090A
CRC32 hash : B1D3090A
CRC32 hash (skip zero) : 0112829F
AccurateRip signature : 1EA1B262
->Accurately ripped! (confidence 6)
Statistics
Read error : 0
Jitter error (maybe fixed) : 0
Retry sector count : 0
Damaged sector count : 0

Track 09
Filename : /XLD-rip/Aztec Camera - Original Album Series (1983-95) [FLAC] {2009 Rhino}/4 - Dreamland (1993)/09 - Vertigo.flac
Pre-gap length : 00:00:03

Track gain : -4.08 dB
Peak : 0.992981
CRC32 hash (test run) : 5A848B40
CRC32 hash : 5A848B40
CRC32 hash (skip zero) : C431EB10
AccurateRip signature : E55319EF
->Accurately ripped! (confidence 6)
Statistics
Read error : 0
Jitter error (maybe fixed) : 0
Retry sector count : 0
Damaged sector count : 0

Track 10
Filename : /XLD-rip/Aztec Camera - Original Album Series (1983-95) [FLAC] {2009 Rhino}/4 - Dreamland (1993)/10 - Valium Summer.flac
Pre-gap length : 00:00:03

Track gain : -3.67 dB
Peak : 0.992981
CRC32 hash (test run) : 6877D318
CRC32 hash : 6877D318
CRC32 hash (skip zero) : BE0B7124
AccurateRip signature : 845700FD
->Accurately ripped! (confidence 6)
Statistics
Read error : 0
Jitter error (maybe fixed) : 0
Retry sector count : 0
Damaged sector count : 0

Track 11
Filename : /XLD-rip/Aztec Camera - Original Album Series (1983-95) [FLAC] {2009 Rhino}/4 - Dreamland (1993)/11 - The Belle Of The Ball.flac

Track gain : -4.13 dB
Peak : 0.992981
CRC32 hash (test run) : 7D11338E
CRC32 hash : 7D11338E
CRC32 hash (skip zero) : B8BEBE01
AccurateRip signature : DE36265D
->Accurately ripped! (confidence 6)
Statistics
Read error : 0
Jitter error (maybe fixed) : 0
Retry sector count : 0
Damaged sector count : 0

No errors occurred

End of status report


X Lossless Decoder version 20110228 (129.0)

XLD extraction logfile from 2011-03-04 16:08:41 +0100

Aztec Camera / Frestonia

Used drive : SONY DVD RW DW-D150A (revision 1.MD)

Ripper mode : XLD Secure Ripper
Disable audio cache : OK for the drive with a cache less than 1375KiB
Make use of C2 pointers : NO
Read offset correction : 48
Max retry count : 100
Gap status : Analyzed, Appended (except HTOA)

TOC of the extracted CD
Track | Start | Length | Start sector | End sector
––––––––––––––––––––––––––––-
1 | 00:00:00 | 05:41:30 | 0 | 25604
2 | 05:41:30 | 04:28:55 | 25605 | 45759
3 | 10:10:10 | 05:19:10 | 45760 | 69694
4 | 15:29:20 | 03:43:42 | 69695 | 86461
5 | 19:12:62 | 04:22:13 | 86462 | 106124
6 | 23:35:00 | 07:10:02 | 106125 | 138376
7 | 30:45:02 | 04:50:58 | 138377 | 160184
8 | 35:35:60 | 04:09:57 | 160185 | 178916
9 | 39:45:42 | 04:23:65 | 178917 | 198706
10 | 44:09:32 | 04:21:28 | 198707 | 218309

List of alternate offset correction values
# | Absolute | Relative | Confidence
–––––––––––––––––––––
1 | 1376 | 1328 | 14

AccurateRip Summary
Track 01 : OK (confidence 6)
Track 02 : OK (confidence 6)
Track 03 : OK (confidence 6)
Track 04 : OK (confidence 6)
Track 05 : OK (confidence 6)
Track 06 : OK (confidence 6)
Track 07 : OK (confidence 6)
Track 08 : OK (confidence 6)
Track 09 : OK (confidence 6)
Track 10 : OK (confidence 7)
->All tracks accurately ripped.

All Tracks
Album gain : -6.02 dB
Peak : 0.999969
Statistics
Read error : 0
Jitter error (maybe fixed) : 0
Retry sector count : 0
Damaged sector count : 0

Track 01
Filename : /XLD-rip/Aztec Camera - Original Album Series (1983-95) [FLAC] {2009 Rhino}/5 - Frestonia (1995)/01 - Rainy Season.flac
Pre-gap length : 00:02:00

Track gain : -6.18 dB
Peak : 0.998322
CRC32 hash (test run) : 6C6AFD23
CRC32 hash : 6C6AFD23
CRC32 hash (skip zero) : D1E7038C
AccurateRip signature : 431B127C
->Accurately ripped! (confidence 6)
Statistics
Read error : 0
Jitter error (maybe fixed) : 0
Retry sector count : 0
Damaged sector count : 0

Track 02
Filename : /XLD-rip/Aztec Camera - Original Album Series (1983-95) [FLAC] {2009 Rhino}/5 - Frestonia (1995)/02 - Sun.flac
Pre-gap length : 00:00:03

Track gain : -6.43 dB
Peak : 0.999725
CRC32 hash (test run) : CEDF2F9C
CRC32 hash : CEDF2F9C
CRC32 hash (skip zero) : A3D7D90D
AccurateRip signature : B11BE360
->Accurately ripped! (confidence 6)
Statistics
Read error : 0
Jitter error (maybe fixed) : 0
Retry sector count : 0
Damaged sector count : 0

Track 03
Filename : /XLD-rip/Aztec Camera - Original Album Series (1983-95) [FLAC] {2009 Rhino}/5 - Frestonia (1995)/03 - Crazy.flac

Track gain : -5.85 dB
Peak : 0.993164
CRC32 hash (test run) : B8AE4DDF
CRC32 hash : B8AE4DDF
CRC32 hash (skip zero) : 43DCC715
AccurateRip signature : 5DE2F593
->Accurately ripped! (confidence 6)
Statistics
Read error : 0
Jitter error (maybe fixed) : 0
Retry sector count : 0
Damaged sector count : 0

Track 04
Filename : /XLD-rip/Aztec Camera - Original Album Series (1983-95) [FLAC] {2009 Rhino}/5 - Frestonia (1995)/04 - On The Avenue.flac
Pre-gap length : 00:00:03

Track gain : -1.73 dB
Peak : 0.936615
CRC32 hash (test run) : F6C6FDE2
CRC32 hash : F6C6FDE2
CRC32 hash (skip zero) : 1E54054B
AccurateRip signature : 8E5AC657
->Accurately ripped! (confidence 6)
Statistics
Read error : 0
Jitter error (maybe fixed) : 0
Retry sector count : 0
Damaged sector count : 0

Track 05
Filename : /XLD-rip/Aztec Camera - Original Album Series (1983-95) [FLAC] {2009 Rhino}/5 - Frestonia (1995)/05 - Imperfectly.flac

Track gain : -6.00 dB
Peak : 0.999451
CRC32 hash (test run) : 10E256E8
CRC32 hash : 10E256E8
CRC32 hash (skip zero) : 962E90AA
AccurateRip signature : DCA9CB03
->Accurately ripped! (confidence 6)
Statistics
Read error : 0
Jitter error (maybe fixed) : 0
Retry sector count : 0
Damaged sector count : 0

Track 06
Filename : /XLD-rip/Aztec Camera - Original Album Series (1983-95) [FLAC] {2009 Rhino}/5 - Frestonia (1995)/06 - Debutante.flac

Track gain : -5.46 dB
Peak : 0.999969
CRC32 hash (test run) : 856C31F4
CRC32 hash : 856C31F4
CRC32 hash (skip zero) : 5CB88473
AccurateRip signature : 3D20EA57
->Accurately ripped! (confidence 6)
Statistics
Read error : 0
Jitter error (maybe fixed) : 0
Retry sector count : 0
Damaged sector count : 0

Track 07
Filename : /XLD-rip/Aztec Camera - Original Album Series (1983-95) [FLAC] {2009 Rhino}/5 - Frestonia (1995)/07 - Beautiful Girl.flac

Track gain : -4.38 dB
Peak : 0.995758
CRC32 hash (test run) : 08D99329
CRC32 hash : 08D99329
CRC32 hash (skip zero) : 35724563
AccurateRip signature : BFC65046
->Accurately ripped! (confidence 6)
Statistics
Read error : 0
Jitter error (maybe fixed) : 0
Retry sector count : 0
Damaged sector count : 0

Track 08
Filename : /XLD-rip/Aztec Camera - Original Album Series (1983-95) [FLAC] {2009 Rhino}/5 - Frestonia (1995)/08 - Phenomenal World.flac
Pre-gap length : 00:00:03

Track gain : -7.26 dB
Peak : 0.999664
CRC32 hash (test run) : A4475750
CRC32 hash : A4475750
CRC32 hash (skip zero) : 1E76F065
AccurateRip signature : 0314311E
->Accurately ripped! (confidence 6)
Statistics
Read error : 0
Jitter error (maybe fixed) : 0
Retry sector count : 0
Damaged sector count : 0

Track 09
Filename : /XLD-rip/Aztec Camera - Original Album Series (1983-95) [FLAC] {2009 Rhino}/5 - Frestonia (1995)/09 - Method Of Love.flac
Pre-gap length : 00:01:60

Track gain : -5.95 dB
Peak : 0.993652
CRC32 hash (test run) : 330146A5
CRC32 hash : 330146A5
CRC32 hash (skip zero) : CC22A5E1
AccurateRip signature : 113877E3
->Accurately ripped! (confidence 6)
Statistics
Read error : 0
Jitter error (maybe fixed) : 0
Retry sector count : 0
Damaged sector count : 0

Track 10
Filename : /XLD-rip/Aztec Camera - Original Album Series (1983-95) [FLAC] {2009 Rhino}/5 - Frestonia (1995)/10 - Sunset.flac
Pre-gap length : 00:01:27

Track gain : -4.13 dB
Peak : 0.982635
CRC32 hash (test run) : 5AA20800
CRC32 hash : 5AA20800
CRC32 hash (skip zero) : F90BA788
AccurateRip signature : 320EC3ED
->Accurately ripped! (confidence 7)
Statistics
Read error : 0
Jitter error (maybe fixed) : 0
Retry sector count : 0
Damaged sector count : 0

No errors occurred

End of status report