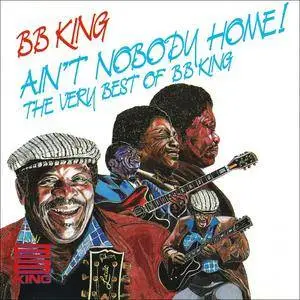 B.B. King - Ain't Nobody Home! The Very Best Of B.B. King (1989)
EAC Rip | FLAC: Image+Cue+Log | 414 Mb | MP3 CBR 320 kbps | 179 Mb | Scans | Time: 01:10:02
MCA Records | MCD 18222
Blues, Electric Blues, Rhythm & Blues
B.B. King: "AIN'T NOBODY HOME" contains some of my best recordings over the past 40 years. "Everyday I Have The Blues", and "Sweet Little Angel", were taken from my 1965 album "LIVE AT THE REGAL", which many music critics still think is one Of the best live albums ever recorded. And who am I to argue with that!
These songs were put together to appeal to my long time fans as well as my newer fans who began to listen to my records after I recorded "When Love Comes To Town" with U2 on tour in Arizona at the end of 1987 and which was released on U2's "Rattle and Hum" album last year.
Track Listing
01. Every Day I Have The Blues (Live) (02:43)
02. Ain't Nobody Home (03:38)
03. The Thrill Is Gone (05:26)
04. Inflation Blues (04:15)
05. Sweet Sixteen (Live) (04:18)
06. Rock Me Baby (Live) (03:58)
07. Caldonia (03:20)
08. Why I Sing The Blues (08:38)
09. Into The Night (04:13)
10. Don't Answer The Door (05:09)
11. Sweet Little Angel (Live) (04:14)
12. Please Love Me (03:02)
13. Nightlife / Please Send Someone To Love (04:32)
14. Paying The Cost To Be The Boss (02:35)
15. Darling You Know I Love You (04:47)
16. How Blue Can You Get (Live) (05:14)
Produced by
Andy McKaie
Exact Audio Copy V1.0 beta 6 from 9. April 2015

Отчёт EAC об извлечении, выполненном 28. августа 2016, 21:23

B.B. King / Ain't Nobody Home! The Very Best Of BB King

Дисковод: Optiarc DVD RW AD-7173A Adapter: 1 ID: 1

Режим чтения : Достоверность
Использование точного потока : Да
Отключение кэша аудио : Да
Использование указателей C2 : Нет

Коррекция смещения при чтении : 48
Способность читать области Lead-in и Lead-out : Нет
Заполнение пропущенных сэмплов тишиной : Да
Удаление блоков с тишиной в начале и конце : Нет
При вычислениях CRC использовались нулевые сэмплы : Да
Интерфейс : Встроенный Win32-интерфейс для Win NT/2000

Выходной формат : Пользовательский кодировщик
Выбранный битрейт : 1024 kBit/s
Качество : Высокий
Добавление ID3-тега : Нет
Утилита сжатия : C:\Program Files (x86)\Exact Audio Copy\FLAC\FLAC.EXE
Дополнительные параметры : -8 -V -T "ARTIST=%artist%" -T "ALBUM=%albumtitle%" -T "DATE=%year%" -T "GENRE=%genre%" -T "COMMENT=ripped by pmx222" %source%


TOC извлечённого CD

Трек | Старт | Длительность | Начальный сектор | Конечный сектор
––––––––––––––––––––––––––––––––––-
1 | 0:00.00 | 2:43.00 | 0 | 12224
2 | 2:43.00 | 3:37.65 | 12225 | 28564
3 | 6:20.65 | 5:25.50 | 28565 | 52989
4 | 11:46.40 | 4:14.68 | 52990 | 72107
5 | 16:01.33 | 4:17.55 | 72108 | 91437
6 | 20:19.13 | 3:58.15 | 91438 | 109302
7 | 24:17.28 | 3:19.70 | 109303 | 124297
8 | 27:37.23 | 8:37.42 | 124298 | 163114
9 | 36:14.65 | 4:13.20 | 163115 | 182109
10 | 40:28.10 | 5:08.63 | 182110 | 205272
11 | 45:36.73 | 4:13.45 | 205273 | 224292
12 | 49:50.43 | 3:01.70 | 224293 | 237937
13 | 52:52.38 | 4:32.05 | 237938 | 258342
14 | 57:24.43 | 2:34.52 | 258343 | 269944
15 | 59:59.20 | 4:47.15 | 269945 | 291484
16 | 64:46.35 | 5:14.25 | 291485 | 315059


Характеристики диапазона извлечения и сообщения об ошибках

Выбранный диапазон

Имя файла D:\pmx222\B.B. King - Ain't Nobody Home! The Very Best Of BB King.wav

Пиковый уровень 88.3 %
Скорость извлечения 8.0 X
Качество диапазона 99.9 %
CRC теста AA1097BF
CRC копии AA1097BF
Копирование… OK

Ошибок не произошло


AccurateRip: сводка

Трек 1 : извлечено точно (доверие 3) [4C0602C4] (AR v1)
Трек 2 : извлечено точно (доверие 4) [DA8ABB1E] (AR v1)
Трек 3 : извлечено точно (доверие 4) [EA5FB76E] (AR v1)
Трек 4 : извлечено точно (доверие 4) [618A2CA5] (AR v1)
Трек 5 : извлечено точно (доверие 4) [476566E0] (AR v1)
Трек 6 : извлечено точно (доверие 4) [F67168C8] (AR v1)
Трек 7 : извлечено точно (доверие 4) [7E6CB3EE] (AR v1)
Трек 8 : извлечено точно (доверие 4) [AFEBB5FA] (AR v1)
Трек 9 : извлечено точно (доверие 4) [18EF612C] (AR v1)
Трек 10 : извлечено точно (доверие 4) [20C594A0] (AR v1)
Трек 11 : извлечено точно (доверие 4) [6D6157C6] (AR v1)
Трек 12 : извлечено точно (доверие 4) [B3A3F065] (AR v1)
Трек 13 : извлечено точно (доверие 4) [53241F66] (AR v1)
Трек 14 : извлечено точно (доверие 3) [D2ECB954] (AR v1)
Трек 15 : извлечено точно (доверие 4) [62A0E5E7] (AR v1)
Трек 16 : извлечено точно (доверие 4) [1F0BD00C] (AR v1)

Все треки извлечены точно

Конец отчёта

–– CUETools DB Plugin V2.1.6

[CTDB TOCID: 6m50m3RppI3.LQPxxQ8Yb0bxe.U-] found
Submit result: 6m50m3RppI3.LQPxxQ8Yb0bxe.U- has been confirmed
Track | CTDB Status
1 | (23/23) Accurately ripped
2 | (23/23) Accurately ripped
3 | (23/23) Accurately ripped
4 | (23/23) Accurately ripped
5 | (22/23) Accurately ripped
6 | (23/23) Accurately ripped
7 | (23/23) Accurately ripped
8 | (23/23) Accurately ripped
9 | (22/23) Accurately ripped
10 | (22/23) Accurately ripped
11 | (23/23) Accurately ripped
12 | (22/23) Accurately ripped
13 | (23/23) Accurately ripped
14 | (23/23) Accurately ripped
15 | (23/23) Accurately ripped
16 | (21/23) Accurately ripped


==== Контрольная сумма отчёта 60884C405EE226CA664AAD36E5D5FB4954C66409B54430BCBCF7EE65CB3F0CB0 ====
Many thanks to the original uploader: рмх222