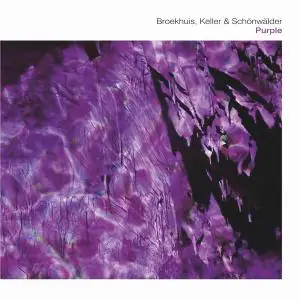 Broekhuis, Keller & Schonwalder - Purple (2019)
WEB FLAC (tracks) - 353 MB | Front cover
Genre: Electronic, Berlin School | RAR 3% Rec. | Label: Manikin Records
With "Purple" Bas Broekhuis, Detlef Keller and Mario Schönwälder present their sixth color album, and as with the four predecessors was on the last album (see "Yellow") a pertinent hint hidden in the last track. The music slides quite relaxed on "Purple", richly electronically instrumented, and usually backed by discreet rhythmic patterns and percussive lines. Pure, almost simple, the electronic tissues are kept, quite crystalline, so that here the album title is reflected, so it refers to the amethyst. A walk through a sparsely lit, lilac-colored cave world may also reflect this music. But, every listener, every listener will surely design other mental pictures while listening.
Like the other albums in the series, "Purple" offers a successful synthesis of retro-electronic sounds and more recent e-sound patterns. This time, the music spreads a quiet, almost relaxed atmosphere, but without falling into shallow climes, and without the voluminous sonority would have been lost.
Tracklist:
01. Purple Chapter One
02. Purple Chapter Two
03. Purple Chapter Three
04. Purple Chapter Four
05. Purple Chapter Five
Total time:
01:04:18

PERFORMER: auCDtect Task Manager, ver. 1.6.0 RC1 build 1.6.0.1
Copyright © 2008-2010 y-soft. All rights reserved

ANALYZER: auCDtect: CD records authenticity detector, version 0.8.2
Copyright © 2004 Oleg Berngardt. All rights reserved.
Copyright © 2004 Alexander Djourik. All rights reserved.


FILE: Broekhuis, Keller & Schönwälder - Purple - 05 Purple Chapter Five.flac
Size: 51075521 Hash: 5BCF5E2868565321AB5FAD6D68548DE0 Accuracy: -m0
Conclusion: CDDA 100%
Signature: AB0D079C812A67CCF809CC2BB3A3F90B588CA2C2
FILE: Broekhuis, Keller & Schönwälder - Purple - 04 Purple Chapter Four.flac
Size: 79462377 Hash: 41327B3D65ECA1E253496366533BE9A0 Accuracy: -m0
Conclusion: CDDA 58%
Signature: 836CE8C7363FC1C09B9F94CEFDD22E5A0D186F8D
FILE: Broekhuis, Keller & Schönwälder - Purple - 03 Purple Chapter Three.flac
Size: 41300208 Hash: FDFFB8EF112BC4EE063E263A09C4884E Accuracy: -m0
Conclusion: CDDA 100%
Signature: 233CBF3D71446D9991DF667926446FAECC1E1650
FILE: Broekhuis, Keller & Schönwälder - Purple - 02 Purple Chapter Two.flac
Size: 101636775 Hash: 9BF5407A715C822DCCBC7DB017472833 Accuracy: -m0
Conclusion: CDDA 99%
Signature: 05ABCCC437E590AE2388BB43B83B04C7923F93C7
FILE: Broekhuis, Keller & Schönwälder - Purple - 01 Purple Chapter One.flac
Size: 83905728 Hash: CDE221921DEC3260689882532691DEE3 Accuracy: -m0
Conclusion: CDDA 94%
Signature: E0474DFDA461730A63BC5AA39807C366177CAB95