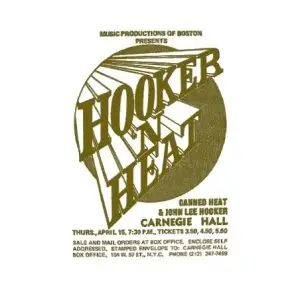 Canned Heat with John Lee Hooker - Carnegie Hall, New York City, NY (1971)
Rock, Blues | mp3 CBR 320 kbps | 46:51 min | Date: 1971-04-15 | 107 MB
CANNED HEAT WITH JOHN LEE HOOKER
Carnegie Hall, New York City, NY 1971-04-15
01. Framed
02. Let's Work Together
03. Introduction of John Lee Hooker
04. Hey Babe
05. Boogie Chillen no.2
06. Drum solo
07. Boogie Chillen no.2 ending
08. Introduction to Back Door Man
09. Back Door Man
Length: 46:51 min
Line Up:
Bob Hite - Vocals
Henry Vestine - lead guitar
Fito de la Parra - drums
Joel Scott Hill - vocals, guitar
Antonio de la Barreda - bass
John Lee Hooker - vocals
This is a very rare show that hasn't been traded much. It is one of the Hooker 'N Heat shows from the 1971 tour. Bob Hite dedicates "Framed" to Abbie Hoffman who is in the audience. It's an enthusiastic show with Vestine playing very well. Joel Scott addes some booming vocals to Back Door Man. This recording is a must for fans of Canned Heat, John Lee Hooker, and the blues.
No mirrors please. Thanks!