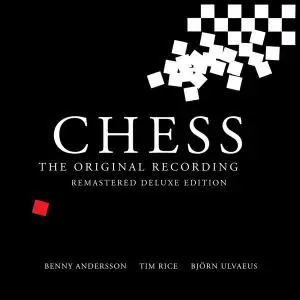 VA - Chess (The Original Recording / Remastered / Deluxe Edition) (2014)
WEB FLAC (tracks) - 627 MB | MP3 CBR 320 kbps - 238 MB
1:43:17 | Electronic, Rock, Pop, Stage & Screen, Pop Rock, Musical, Ballad | Label: Polar
Chess was the concept album written by Tim Rice and composed by Benny Andersson and Björn Ulvaeus, and it was something you might have expected from the lyricist who brought you Jesus Christ Superstar and Evita and the musical team that wrote the songs and made up the male half of ABBA. That is to say, it had a meaty scenario and lots of catchy, eclectic pop music. But unlike Rice's earlier concept albums, this one was not based on an existing story to provide the lyricist with a plot. Instead, he drew upon existing U.S. and U.S.S.R. tensions as seen through an international chess tournament.
But Rice's plot was convoluted, shot through with what seemed to be his real, more personal concerns – the negative effects of success and celebrity and the pain of divorce. In fact, the work was more interesting when such matters were being explored than when Rice was going on about international relations, and his most effective songs were the sad romantic ballads like "Heaven Help My Heart" and "I Know Him So Well" (which became a number one hit in the U.K.). Andersson and Ulvaeus were typically tuneful, even if their score was so eclectic it lacked unity. The album's other hit single, "One Night in Bangkok," sounded like M's "Pop Muzik," and in turn may have helped inspire Miss Saigon. "Nobody's Side," a vocal showcase for Elaine Paige, kept threatening to turn into an ABBA song, and you wished it would. Elsewhere, the team drew on everyone from Debussy to Pete Townshend, and from Richard Rodgers to Alfred Newman, the Hollywood movie composer. Chess was mounted successfully in the West End in 1986 but unsuccessfully on Broadway in 1988. In subsequent productions, Rice has revised the story, but Chess remained a deeply flawed work with some excellent songs and performances.
Tracklist
CD1-1 Merano 7:00
CD1-2 The Russian And Molokov / Where I Want To Be 6:23
CD1-3 The Opening Ceremony 9:20
CD1-4 Quartet (A Model Of Decorum And Tranquillity) 2:20
CD1-5 The American And Florence / Nobody's Side 5:28
CD1-6 Chess 5:47
CD1-7 Mountain Duet 4:44
CD1-8 Florence Quits 2:55
CD1-9 Embassy Lament 1:31
CD1-10 Anthem 3:03
CD2-1 Bangkok / One Night In Bangkok 5:02
CD2-2 Heaven Help My Heart 3:32
CD2-3 Argument 1:52
CD2-4 I Know Him So Well 4:16
CD2-5 The Deal (No Deal) 3:54
CD2-6 Pity The Child 5:32
CD2-7 Endgame 10:52
CD2-8 Epilogue: You And I / The Story Of Chess 10:37
Bonus Tracks:
CD2-9 Press Conference 4:35
CD2-10 Intro Mountain Duet (Der Kleine Franz) 1:54
CD2-11 Anthem (Instrumental Version) 2:55
–––––––––––-
DON'T MODIFY THIS FILE
–––––––––––-
PERFORMER: auCDtect Task Manager, ver. 1.6.0 RC1 build 1.6.0.1
Copyright © 2008-2010 y-soft. All rights reserved
http://y-soft.org
ANALYZER: auCDtect: CD records authenticity detector, version 0.8.2
Copyright © 2004 Oleg Berngardt. All rights reserved.
Copyright © 2004 Alexander Djourik. All rights reserved.
FILE: 11 - Anthem (Instrumental).flac
Size: 14057539 Hash: C3A392FF23460C91B1110DA06E6684F3 Accuracy: -m8
Conclusion: ???
Signature: 96B88F1567A8635FB570A914614F546FD8A3B649
FILE: 10 - Intro Mountain Duet (Der Kleine Franz).flac
Size: 8766847 Hash: CF8198380644CA445BCEE8907522F6A9 Accuracy: -m8
Conclusion: ???
Signature: A3D007046470A3950FA7492B6444BCB25B233C07
FILE: 09 - Press Conference.flac
Size: 29658035 Hash: 3C55F083B044FAA50CFF1AED674C31E1 Accuracy: -m8
Conclusion: CDDA 94%
Signature: 508B11B0E0F3CE72CE02FDCF4E4B15243CF94677
FILE: 08 - Epilogue_ You And I _ The Story Of Chess.flac
Size: 61932750 Hash: 9CDA3A128D7A7491253FD8AC1F7423CB Accuracy: -m8
Conclusion: CDDA 100%
Signature: 5E5A31008BC2F18BF8F172BE079E775E37D959CD
FILE: 07 - Endgame.flac
Size: 69832658 Hash: 059F5D3260C467ADF583D3EA5F0D1C70 Accuracy: -m8
Conclusion: CDDA 76%
Signature: E7DF80A5EFC89887E8DF53278922643635D8416B
FILE: 06 - Pity The Child.flac
Size: 38240319 Hash: FB866266A2BAFCE613789C25065F3D1E Accuracy: -m8
Conclusion: MPEG 93%
Signature: 01BF3CD382199C3045DA5AF61B025ACAE48C2EDA
FILE: 05 - The Deal (No Deal).flac
Size: 29616742 Hash: CC91801B3A8059A743F2103C4D16915D Accuracy: -m8
Conclusion: CDDA 100%
Signature: 06D5EE80548AB4DE957D84320929B571AF22612A
FILE: 04 - I Know Him So Well.flac
Size: 27334941 Hash: DFDB4F5058E770DC09E0C9940F804168 Accuracy: -m8
Conclusion: CDDA 49%
Signature: 6CB3B29231B476D304AE3143482600E46FC1A7E7
FILE: 03 - Argument.flac
Size: 12512502 Hash: 7473FF38E28FDB37FC9BD249FBAA594D Accuracy: -m8
Conclusion: MPEG 92%
Signature: 532F9A74B19D58801886EC9ED7E74C14A5E82239
FILE: 02 - Heaven Help My Heart.flac
Size: 21628994 Hash: 1CE00619B8C9AF96860FF026BF0A6D14 Accuracy: -m8
Conclusion: ???
Signature: 33B1F1459B9B04310DA82719E65D26BB9AEDA402
FILE: 01 - Bangkok _ One Night In Bangkok.flac
Size: 34456082 Hash: 2B68DA0B1F00486739CEB88918594029 Accuracy: -m8
Conclusion: CDDA 92%
Signature: 30AA8A32A67FA8F97937439495A6100593E84CDC
FILE: 10 - Anthem.flac
Size: 18869189 Hash: D62147C7D3AD6E136916D8B8AFAB6E77 Accuracy: -m8
Conclusion: MPEG 97%
Signature: 7286299C243FAA182C2D5371AA41E02CAD8B1341
FILE: 09 - Embassy Lament.flac
Size: 8922436 Hash: D316F9B906BD5F7FADAC9067502F2188 Accuracy: -m8
Conclusion: MPEG 100%
Signature: CD9B286D1F3544234C7CE88961847321A77586CA
FILE: 08 - Florence Quits.flac
Size: 19308895 Hash: EDA46F86F1BA66C23E7DF5E3C5BFEBF0 Accuracy: -m8
Conclusion: CDDA 100%
Signature: B5F6F8A0F2E2D461CB40358AE842BF503460A254
FILE: 07 - Mountain Duet.flac
Size: 29812282 Hash: 3E7F99269882B802D23B1E18F2CD7D7B Accuracy: -m8
Conclusion: MPEG 89%
Signature: 9A8C3ECA5A8C3A8244FA56CCB7C7E47D4259B49B
FILE: 06 - Chess.flac
Size: 34525839 Hash: BC592A0288F5310F6E9E8D67A76BCE27 Accuracy: -m8
Conclusion: MPEG 99%
Signature: B5B2888FF6364076A654DEFDAB81816A4CC9B66F
FILE: 05 - The American And Florence _ Nobody's Side.flac
Size: 36504865 Hash: F6C870E74A761EA9EDCC960DB713EB5F Accuracy: -m8
Conclusion: CDDA 87%
Signature: 93B9E1DD97478E3E64320295898C37B99275AE0B
FILE: 04 - Quartet (A Model Of Decorum And Tranquillity).flac
Size: 13771854 Hash: FB1135F9038DB3253BC26E9F022ADF4A Accuracy: -m8
Conclusion: MPEG 100%
Signature: 65C635D3D262F7A1C8C6DB09A42C91DD1B6363F4
FILE: 03 - Opening Ceremony.flac
Size: 63597035 Hash: 4BA1057AF1A2767E4299FDDEDAA4CF5F Accuracy: -m8
Conclusion: CDDA 100%
Signature: 8C1CFDFB44AF19E757CD27A26BE12912DF91D246
FILE: 02 - The Russian And Molokov _ Where I Want To Be.flac
Size: 37060874 Hash: 9AD281B27743803D247BFD3CF2D73652 Accuracy: -m8
Conclusion: MPEG 100%
Signature: 7EA69F179DBD4F0F293E0BD1C29779956006AB1D
FILE: 01 - Merano.flac
Size: 46946407 Hash: CDD841D6F567D60AE4C92FF060AACD13 Accuracy: -m8
Conclusion: CDDA 100%
Signature: 3DB39B486DD90CC70EDA290252D23BE561DEAAB5