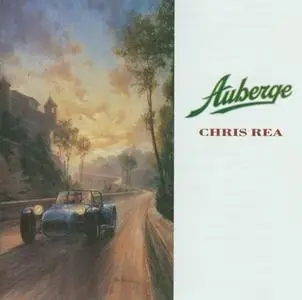 Chris Rea - Auberge (1991) [2CD Reissue 2019]
EAC Rip | FLAC (image+.cue+log) - 821 MB | MP3 CBR 320 kbps (LAME 3.93) - 296 MB | Covers - 104 MB
Genre: Blues Rock, Pop Rock | RAR 3% Rec. | Label: Magnet Records (0190295492182)
With a career spanning over 40 years and over 30 million album sales, Chris Rea's distinctive husky-gravel vocal and incredible body of work has seen him become one of the most loved solo artists the UK have ever produced. Each set of reissues comes with the original album fully remastered alongside a second disc of live performances, b-sides and previously unreleased versions of tracks from the accompanying album.
Auberge is the follow-up to Road to Hell, an ambitious, dark-toned album that found European and critical success. Auberge may not be as dark as its predecessor, but Rea seemingly can't sing a word without sharpening its flinty edges, making it a bit threatening. That said, his latest effort tempers that wariness with a mixture of cavalier spontaneity and sighing recall. It's the thoughts and feelings of a man on a meandering road trip, thinking over the things he's said and done. "Heaven" seems to recall a time when the afterlife was in reach, but it could just as easily be the song of someone who's finally found his way. The reggae-tinged "Every Second Counts" finds Rea adjusting his phrasing perfectly to the song's mellow upbeat, while the rousing title track and its accompanying set piece "Set Me Free" move from searching, tentative guitar noodlings into full-blown epics, sketching the album's story line with bluesy bottom end, blustering horns, backup singers, and Rea's own grainy vocal rumble. Auberge might be a bit tough to break into at first, like a road map that you just can't unfold, but that's because ambitious, rangy songwriting is going to take a few odd turns on its way to the scenic overlook where everything becomes clear. In Rea's case, that moment is summed up over the twisting guitar and swelling strings of "Gone Fishing." "You can waste a whole lifetime trying to be what you think is expected of you," he sings, and offers the simple act of casting a line as cure for life's wrong turns.
CD 1 Tracklist (Original Album):
01. Auberge
02. Gone Fishing
03. You're Not A Number
04. Heaven
05. Set Me Free
06. Red Shoes
07. Sing A Song of Love To Me
08. Every Second Counts
09. Looking For The Summer
10. And You My Love
11. The Mention Of Your Name
Total time:
54:41
CD 2 Tracklist (Additional Recordings):
01. Winter Song
02. Footprints In The Snow
03. Looking For The Summer (12" Remix)
04. Teach Me To Dance (B Side)
05. True To You
06. Josephine
07. Six Up (B Side)
08. Working On It (Live at NEC Birmingham 1991)
09. The Road To Hell (Live at NEC Birmingham 1991)
10. Theme From The Pantile Journal
11. Footprints In The Snow (Live In Paris 1991)
12. On The Beach (Live In Paris 1991 - Max Middleton Solo)
13. Just Passing Through (Live In Paris 1991)
14. Hudson's Dream
15. Auberge (Single Version)
Total time:
01:11:02
Exact Audio Copy V1.3 from 2. September 2016

Отчёт EAC об извлечении, выполненном 19. ноября 2019, 5:50

Chris Rea / Auberge - Disc 1

Дисковод: PLEXTOR DVDR PX-755A Adapter: 1 ID: 1

Режим чтения : Достоверность
Использование точного потока : Да
Отключение кэша аудио : Да
Использование указателей C2 : Нет

Коррекция смещения при чтении : 30
Способность читать области Lead-in и Lead-out : Нет
Заполнение пропущенных сэмплов тишиной : Да
Удаление блоков с тишиной в начале и конце : Нет
При вычислениях CRC использовались нулевые сэмплы : Да
Интерфейс : Встроенный Win32-интерфейс для Win NT/2000

Выходной формат : Пользовательский кодировщик
Выбранный битрейт : 128 kBit/s
Качество : Высокий
Добавление ID3-тега : Нет
Утилита сжатия : C:\Program Files (x86)\Exact Audio Copy\Flac\flac.exe
Дополнительные параметры : -V -8 -T "Date=%year%" -T "Genre=%genre%" %source%


TOC извлечённого CD

Трек | Старт | Длительность | Начальный сектор | Конечный сектор
––––––––––––––––––––––––––––––––––-
1 | 0:00.00 | 7:19.19 | 0 | 32943
2 | 7:19.19 | 4:41.43 | 32944 | 54061
3 | 12:00.62 | 5:00.20 | 54062 | 76581
4 | 17:01.07 | 4:12.58 | 76582 | 95539
5 | 21:13.65 | 6:55.34 | 95540 | 126698
6 | 28:09.24 | 3:54.48 | 126699 | 144296
7 | 32:03.72 | 3:34.57 | 144297 | 160403
8 | 35:38.54 | 5:08.38 | 160404 | 183541
9 | 40:47.17 | 5:03.36 | 183542 | 206302
10 | 45:50.53 | 5:29.08 | 206303 | 230985
11 | 51:19.61 | 3:21.00 | 230986 | 246060


Характеристики диапазона извлечения и сообщения об ошибках

Выбранный диапазон

Имя файла D:\РАЗДАЧА\Chris Rea - Auberge - 2019 (2CD)\Chris Rea - Auberge - Disc 1\Chris Rea - Auberge - Disc 1.wav

Пиковый уровень 94.8 %
Скорость извлечения 8.0 X
Качество диапазона 99.9 %
CRC теста 753A21C3
CRC копии 753A21C3
Копирование… OK

Ошибок не произошло


AccurateRip: сводка

Трек 1 отсутствует в базе данных
Трек 2 отсутствует в базе данных
Трек 3 отсутствует в базе данных
Трек 4 отсутствует в базе данных
Трек 5 отсутствует в базе данных
Трек 6 отсутствует в базе данных
Трек 7 отсутствует в базе данных
Трек 8 отсутствует в базе данных
Трек 9 отсутствует в базе данных
Трек 10 отсутствует в базе данных
Трек 11 отсутствует в базе данных

Ни одного трека нет в базе AccurateRip

Конец отчёта

–– CUETools DB Plugin V2.1.6

[CTDB TOCID: S5RmE32w6hk1xSIGDvbgAn3CqK0-] found
Submit result: S5RmE32w6hk1xSIGDvbgAn3CqK0- has been confirmed
Track | CTDB Status
1 | (13/13) Accurately ripped
2 | (13/13) Accurately ripped
3 | (13/13) Accurately ripped
4 | (13/13) Accurately ripped
5 | (13/13) Accurately ripped
6 | (13/13) Accurately ripped
7 | (13/13) Accurately ripped
8 | (13/13) Accurately ripped
9 | (13/13) Accurately ripped
10 | (13/13) Accurately ripped
11 | (13/13) Accurately ripped


==== Контрольная сумма отчёта 6A6E9CAC47371A990F3AA51A8093B31D608AC75B2E51AEB84124267C95EC8D90 ====
[CUETools log; Date: 20.11.2019 2:33:16; Version: 2.1.4]
[CTDB TOCID: S5RmE32w6hk1xSIGDvbgAn3CqK0-] found.
Track | CTDB Status
1 | (14/14) Accurately ripped
2 | (14/14) Accurately ripped
3 | (14/14) Accurately ripped
4 | (14/14) Accurately ripped
5 | (14/14) Accurately ripped
6 | (14/14) Accurately ripped
7 | (14/14) Accurately ripped
8 | (14/14) Accurately ripped
9 | (14/14) Accurately ripped
10 | (14/14) Accurately ripped
11 | (14/14) Accurately ripped
[AccurateRip ID: 0017c3ac-00ca8bee-830cd00b] disk not present in database.

Track Peak [ CRC32 ] [W/O NULL] [ LOG ]
– 94,8 [753A21C3] [B899EA39] CRC32
01 94,8 [B38428AE] [3689EFD8]
02 94,7 [40807D59] [60237E93]
03 94,8 [1B1DC56F] [BAC8DB88]
04 94,8 [A13E660E] [27996901]
05 94,8 [417AACBB] [6D7737AF]
06 94,8 [05F4E4D5] [9E276B68]
07 94,8 [299B695C] [225CB4B3]
08 94,8 [8FCB6092] [AE636DCE]
09 94,8 [6412A77B] [0D0A2509]
10 94,8 [081BA84A] [554470B2]
11 94,8 [8FE5D332] [CC5A57F4]
Exact Audio Copy V1.3 from 2. September 2016

Отчёт EAC об извлечении, выполненном 19. ноября 2019, 6:29

Chris Rea / Auberge - Disc 2

Дисковод: PLEXTOR DVDR PX-755A Adapter: 1 ID: 1

Режим чтения : Достоверность
Использование точного потока : Да
Отключение кэша аудио : Да
Использование указателей C2 : Нет

Коррекция смещения при чтении : 30
Способность читать области Lead-in и Lead-out : Нет
Заполнение пропущенных сэмплов тишиной : Да
Удаление блоков с тишиной в начале и конце : Нет
При вычислениях CRC использовались нулевые сэмплы : Да
Интерфейс : Встроенный Win32-интерфейс для Win NT/2000

Выходной формат : Пользовательский кодировщик
Выбранный битрейт : 128 kBit/s
Качество : Высокий
Добавление ID3-тега : Нет
Утилита сжатия : C:\Program Files (x86)\Exact Audio Copy\Flac\flac.exe
Дополнительные параметры : -V -8 -T "Date=%year%" -T "Genre=%genre%" %source%


TOC извлечённого CD

Трек | Старт | Длительность | Начальный сектор | Конечный сектор
––––––––––––––––––––––––––––––––––-
1 | 0:00.00 | 4:35.29 | 0 | 20653
2 | 4:35.29 | 4:20.67 | 20654 | 40220
3 | 8:56.21 | 3:52.51 | 40221 | 57671
4 | 12:48.72 | 4:06.27 | 57672 | 76148
5 | 16:55.24 | 3:58.31 | 76149 | 94029
6 | 20:53.55 | 4:34.72 | 94030 | 114651
7 | 25:28.52 | 4:07.54 | 114652 | 133230
8 | 29:36.31 | 6:28.35 | 133231 | 162365
9 | 36:04.66 | 6:47.37 | 162366 | 192927
10 | 42:52.28 | 4:10.58 | 192928 | 211735
11 | 47:03.11 | 4:34.49 | 211736 | 232334
12 | 51:37.60 | 4:31.54 | 232335 | 252713
13 | 56:09.39 | 6:10.44 | 252714 | 280507
14 | 62:20.08 | 3:58.04 | 280508 | 298361
15 | 66:18.12 | 4:43.66 | 298362 | 319652


Характеристики диапазона извлечения и сообщения об ошибках

Выбранный диапазон

Имя файла D:\РАЗДАЧА\Chris Rea - Auberge - 2019 (2CD)\Chris Rea - Auberge - Disc 2\Chris Rea - Auberge - Disc 2.wav

Пиковый уровень 94.9 %
Скорость извлечения 8.9 X
Качество диапазона 100.0 %
CRC теста E3396084
CRC копии E3396084
Копирование… OK

Ошибок не произошло


AccurateRip: сводка

Трек 1 отсутствует в базе данных
Трек 2 отсутствует в базе данных
Трек 3 отсутствует в базе данных
Трек 4 отсутствует в базе данных
Трек 5 отсутствует в базе данных
Трек 6 отсутствует в базе данных
Трек 7 отсутствует в базе данных
Трек 8 отсутствует в базе данных
Трек 9 отсутствует в базе данных
Трек 10 отсутствует в базе данных
Трек 11 отсутствует в базе данных
Трек 12 отсутствует в базе данных
Трек 13 отсутствует в базе данных
Трек 14 отсутствует в базе данных
Трек 15 отсутствует в базе данных

Ни одного трека нет в базе AccurateRip

Конец отчёта

–– CUETools DB Plugin V2.1.6

[CTDB TOCID: CHIRsK9Vgg_rttAbedZF9RN.Ldw-] found
Submit result: CHIRsK9Vgg_rttAbedZF9RN.Ldw- has been confirmed
Track | CTDB Status
1 | (12/12) Accurately ripped
2 | (12/12) Accurately ripped
3 | (12/12) Accurately ripped
4 | (12/12) Accurately ripped
5 | (12/12) Accurately ripped
6 | (12/12) Accurately ripped
7 | (12/12) Accurately ripped
8 | (12/12) Accurately ripped
9 | (12/12) Accurately ripped
10 | (12/12) Accurately ripped
11 | (12/12) Accurately ripped
12 | (12/12) Accurately ripped
13 | (12/12) Accurately ripped
14 | (12/12) Accurately ripped
15 | (12/12) Accurately ripped


==== Контрольная сумма отчёта 4716E0FED3BD0804D102B0D9897235549F285324BE1FE9C8E09433A471C826C8 ====
[CUETools log; Date: 20.11.2019 2:33:54; Version: 2.1.4]
[CTDB TOCID: CHIRsK9Vgg_rttAbedZF9RN.Ldw-] found.
Track | CTDB Status
1 | (13/13) Accurately ripped
2 | (13/13) Accurately ripped
3 | (13/13) Accurately ripped
4 | (13/13) Accurately ripped
5 | (13/13) Accurately ripped
6 | (13/13) Accurately ripped
7 | (13/13) Accurately ripped
8 | (13/13) Accurately ripped
9 | (13/13) Accurately ripped
10 | (13/13) Accurately ripped
11 | (13/13) Accurately ripped
12 | (13/13) Accurately ripped
13 | (13/13) Accurately ripped
14 | (13/13) Accurately ripped
15 | (13/13) Accurately ripped
[AccurateRip ID: 0025f3ab-01b31e77-df10a60f] disk not present in database.

Track Peak [ CRC32 ] [W/O NULL] [ LOG ]
– 94,9 [E3396084] [2DB175C2] CRC32
01 94,8 [B6992B11] [DF7205A9]
02 94,8 [B513107C] [6B6B5490]
03 85,0 [2BBEE343] [D7F90545]
04 94,8 [27AD6505] [BCC613F2]
05 94,8 [6EFDFB61] [45FFF7D9]
06 94,9 [0A5994A6] [BB27BEC6]
07 94,8 [F187BD23] [69EF26DC]
08 94,8 [9D601434] [36F62EA7]
09 94,8 [C867ABAE] [70C2B9D3]
10 94,6 [A2FFEED7] [84B95622]
11 94,8 [93E6DF0B] [33ED442D]
12 94,8 [ADB40826] [4398C38A]
13 94,8 [D0B2E6B3] [8C02A423]
14 89,7 [AC69D1BB] [051AB9D5]
15 87,9 [9B780059] [951A620B]
Thanks to
pishinSee also:
Chris Rea - The Road To Hell (1989) [2CD Reissue 2019]