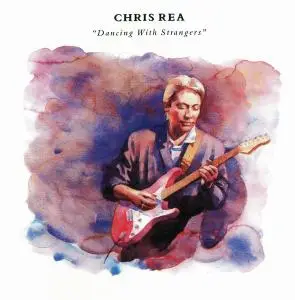 Chris Rea - Dancing With Strangers (1987) [2CD Reissue 2019]
EAC Rip | FLAC (image+.cue+log) - 832 MB | MP3 CBR 320 kbps (LAME 3.93) - 292 MB | Covers - 45 MB
Genre: Blues Rock, Pop Rock | RAR 3% Rec. | Label: Magnet Records (0190295492229)
With a career spanning over 40 years and over 30 million album sales, Chris Rea's distinctive husky-gravel vocal and incredible body of work has seen him become one of the most loved solo artists the UK have ever produced. Each set of reissues comes with the original album fully remastered alongside a second disc of live performances, b-sides and previously unreleased versions of tracks from the accompanying album.
In September 1987, 'Dancing With Strangers' was released and it became Rea's first major success in the UK, peaking at Number two. It went on to achieve Platinum selling status in the UK and was a huge global success. Singles from this album were 'Let's Dance', 'Loving You Again' 'Joys of Christmas' and 'Que Sera'.
CD 1 Tracklist (Original Album):
01. Joys Of Christmas
02. I Can't Dance To That
03. Windy Town
04. Gonna Buy a Hat
05. Curse of the Traveller
06. Let's Dance
07. Que Sera
08. Josie's Tune
09. Loving You Again
10. That Girl of Mine
11. September Blue
Total time:
49:15
CD 2 Tracklist (Additional Recordings):
01. Yes I Do (B Side)
02. Que Sera (Single Version, Re-recorded '88)
03. Se Sequi (B Side)
04. I'm Taking The Day Out (B Side)
05. I Can Hear Your Heartbeat (Extended Mix)
06. Loving You Again (Live Version)
07. Danielle's Breakfast (12" B Side)
08. On The Beach (Summer '88)
09. Rudolphs Rotor Arm (Previously unreleased
10. Smile (The Christmas EP)
11. I Don't Care Anymore (B Side)
12. Que Sera (Down Under Mix)
13. Donahue's Broken Wheel (B Side)
14. Let's Dance (The Remix)
15. Josephine (French Re-record B Side)
16. Footsteps In The Snow (The Christmas EP)
17. Driving Home For Christmas (Second Version) from 'New Light Through Old
Total time:
01:14:44
Exact Audio Copy V1.3 from 2. September 2016

Отчёт EAC об извлечении, выполненном 18. ноября 2019, 23:23

Chris Rea / Dancing With Strangers - Disc 1

Дисковод: PLEXTOR DVDR PX-755A Adapter: 1 ID: 1

Режим чтения : Достоверность
Использование точного потока : Да
Отключение кэша аудио : Да
Использование указателей C2 : Нет

Коррекция смещения при чтении : 30
Способность читать области Lead-in и Lead-out : Нет
Заполнение пропущенных сэмплов тишиной : Да
Удаление блоков с тишиной в начале и конце : Нет
При вычислениях CRC использовались нулевые сэмплы : Да
Интерфейс : Встроенный Win32-интерфейс для Win NT/2000

Выходной формат : Пользовательский кодировщик
Выбранный битрейт : 128 kBit/s
Качество : Высокий
Добавление ID3-тега : Нет
Утилита сжатия : C:\Program Files (x86)\Exact Audio Copy\Flac\flac.exe
Дополнительные параметры : -V -8 -T "Date=%year%" -T "Genre=%genre%" %source%


TOC извлечённого CD

Трек | Старт | Длительность | Начальный сектор | Конечный сектор
––––––––––––––––––––––––––––––––––-
1 | 0:00.00 | 5:15.02 | 0 | 23626
2 | 5:15.02 | 4:19.19 | 23627 | 43070
3 | 9:34.21 | 4:24.15 | 43071 | 62885
4 | 13:58.36 | 4:23.71 | 62886 | 82681
5 | 18:22.32 | 6:31.23 | 82682 | 112029
6 | 24:53.55 | 4:07.25 | 112030 | 130579
7 | 29:01.05 | 5:18.52 | 130580 | 154481
8 | 34:19.57 | 2:22.60 | 154482 | 165191
9 | 36:42.42 | 5:41.06 | 165192 | 190772
10 | 42:23.48 | 3:40.67 | 190773 | 207339
11 | 46:04.40 | 3:10.00 | 207340 | 221589


Характеристики диапазона извлечения и сообщения об ошибках

Выбранный диапазон

Имя файла D:\РАЗДАЧА\Chris Rea - Dancing With Strangers - 2019 (Japan 2CD)\Chris Rea - Dancing With Strangers - Disc 1\Chris Rea - Dancing With Strangers - Disc 1.wav

Пиковый уровень 94.9 %
Скорость извлечения 7.9 X
Качество диапазона 100.0 %
CRC теста 3F7AA262
CRC копии 3F7AA262
Копирование… OK

Ошибок не произошло


AccurateRip: сводка

Трек 1 отсутствует в базе данных
Трек 2 отсутствует в базе данных
Трек 3 отсутствует в базе данных
Трек 4 отсутствует в базе данных
Трек 5 отсутствует в базе данных
Трек 6 отсутствует в базе данных
Трек 7 отсутствует в базе данных
Трек 8 отсутствует в базе данных
Трек 9 отсутствует в базе данных
Трек 10 отсутствует в базе данных
Трек 11 отсутствует в базе данных

Ни одного трека нет в базе AccurateRip

Конец отчёта

–– CUETools DB Plugin V2.1.6

[CTDB TOCID: uvwkiwdWH5e5s7k0I7RFbFVAKPA-] found
Submit result: uvwkiwdWH5e5s7k0I7RFbFVAKPA- has been confirmed
Track | CTDB Status
1 | (10/10) Accurately ripped
2 | (10/10) Accurately ripped
3 | (10/10) Accurately ripped
4 | (10/10) Accurately ripped
5 | (10/10) Accurately ripped
6 | (10/10) Accurately ripped
7 | (10/10) Accurately ripped
8 | (10/10) Accurately ripped
9 | (10/10) Accurately ripped
10 | (10/10) Accurately ripped
11 | (10/10) Accurately ripped


==== Контрольная сумма отчёта E843957FD38FEAC8942557FAC2FD8E25F253EB03FFDE91EC6724E428A1B14825 ====
[CUETools log; Date: 20.11.2019 2:53:02; Version: 2.1.4]
[CTDB TOCID: uvwkiwdWH5e5s7k0I7RFbFVAKPA-] found.
Track | CTDB Status
1 | (11/11) Accurately ripped
2 | (11/11) Accurately ripped
3 | (11/11) Accurately ripped
4 | (11/11) Accurately ripped
5 | (11/11) Accurately ripped
6 | (11/11) Accurately ripped
7 | (11/11) Accurately ripped
8 | (11/11) Accurately ripped
9 | (11/11) Accurately ripped
10 | (11/11) Accurately ripped
11 | (11/11) Accurately ripped
[AccurateRip ID: 0015464d-00b71264-890b8a0b] disk not present in database.

Track Peak [ CRC32 ] [W/O NULL] [ LOG ]
– 94,9 [3F7AA262] [B02FB98F] CRC32
01 94,8 [745839E8] [CEBA4C7D]
02 94,8 [FF3B22BD] [673BEAD7]
03 94,8 [79F3C769] [00DE9764]
04 94,8 [E2E1CE6A] [3F3E5973]
05 94,8 [79ED5693] [45F66066]
06 94,8 [D8690721] [D9AF4CDB]
07 94,9 [5D2A85D0] [540E83EE]
08 46,9 [86824641] [F140EA75]
09 94,9 [90DE417C] [D5AE6C0C]
10 94,9 [8061FFCC] [4808F18A]
11 94,6 [11D87913] [5474EA31]
Exact Audio Copy V1.3 from 2. September 2016

Отчёт EAC об извлечении, выполненном 19. ноября 2019, 3:40

Chris Rea / Dancing With Strangers - Disc 2

Дисковод: PLEXTOR DVDR PX-755A Adapter: 1 ID: 1

Режим чтения : Достоверность
Использование точного потока : Да
Отключение кэша аудио : Да
Использование указателей C2 : Нет

Коррекция смещения при чтении : 30
Способность читать области Lead-in и Lead-out : Нет
Заполнение пропущенных сэмплов тишиной : Да
Удаление блоков с тишиной в начале и конце : Нет
При вычислениях CRC использовались нулевые сэмплы : Да
Интерфейс : Встроенный Win32-интерфейс для Win NT/2000

Выходной формат : Пользовательский кодировщик
Выбранный битрейт : 128 kBit/s
Качество : Высокий
Добавление ID3-тега : Нет
Утилита сжатия : C:\Program Files (x86)\Exact Audio Copy\Flac\flac.exe
Дополнительные параметры : -V -8 -T "Date=%year%" -T "Genre=%genre%" %source%


TOC извлечённого CD

Трек | Старт | Длительность | Начальный сектор | Конечный сектор
––––––––––––––––––––––––––––––––––-
1 | 0:00.00 | 3:23.21 | 0 | 15245
2 | 3:23.21 | 3:40.60 | 15246 | 31805
3 | 7:04.06 | 5:01.15 | 31806 | 54395
4 | 12:05.21 | 3:24.52 | 54396 | 69747
5 | 15:29.73 | 5:48.23 | 69748 | 95870
6 | 21:18.21 | 5:24.55 | 95871 | 120225
7 | 26:43.01 | 4:37.33 | 120226 | 141033
8 | 31:20.34 | 3:46.00 | 141034 | 157983
9 | 35:06.34 | 4:38.07 | 157984 | 178840
10 | 39:44.41 | 3:31.47 | 178841 | 194712
11 | 43:16.13 | 2:12.58 | 194713 | 204670
12 | 45:28.71 | 4:47.21 | 204671 | 226216
13 | 50:16.17 | 3:04.52 | 226217 | 240068
14 | 53:20.69 | 7:07.66 | 240069 | 272159
15 | 60:28.60 | 5:38.47 | 272160 | 297556
16 | 66:07.32 | 4:34.68 | 297557 | 318174
17 | 70:42.25 | 4:01.47 | 318175 | 336296


Характеристики диапазона извлечения и сообщения об ошибках

Выбранный диапазон

Имя файла D:\РАЗДАЧА\Chris Rea - Dancing With Strangers - 2019 (Japan 2CD)\Chris Rea - Dancing With Strangers - Disc 2\Chris Rea - Dancing With Strangers - Disc 2.wav

Пиковый уровень 94.9 %
Скорость извлечения 2.5 X
Качество диапазона 99.9 %
CRC теста 76AE6D5F
CRC копии 76AE6D5F
Копирование… OK

Ошибок не произошло


AccurateRip: сводка

Трек 1 отсутствует в базе данных
Трек 2 отсутствует в базе данных
Трек 3 отсутствует в базе данных
Трек 4 отсутствует в базе данных
Трек 5 отсутствует в базе данных
Трек 6 отсутствует в базе данных
Трек 7 отсутствует в базе данных
Трек 8 отсутствует в базе данных
Трек 9 отсутствует в базе данных
Трек 10 отсутствует в базе данных
Трек 11 отсутствует в базе данных
Трек 12 отсутствует в базе данных
Трек 13 отсутствует в базе данных
Трек 14 отсутствует в базе данных
Трек 15 отсутствует в базе данных
Трек 16 отсутствует в базе данных
Трек 17 отсутствует в базе данных

Ни одного трека нет в базе AccurateRip

Конец отчёта

–– CUETools DB Plugin V2.1.6

[CTDB TOCID: 3Luq0z_0GW4wCZztoDzgu4sgyOw-] found
Submit result: 3Luq0z_0GW4wCZztoDzgu4sgyOw- has been confirmed
Track | CTDB Status
1 | (10/10) Accurately ripped
2 | (10/10) Accurately ripped
3 | (10/10) Accurately ripped
4 | (10/10) Accurately ripped
5 | (10/10) Accurately ripped
6 | (10/10) Accurately ripped
7 | (10/10) Accurately ripped
8 | (10/10) Accurately ripped
9 | (10/10) Accurately ripped
10 | (10/10) Accurately ripped
11 | (10/10) Accurately ripped
12 | (10/10) Accurately ripped
13 | (10/10) Accurately ripped
14 | (10/10) Accurately ripped
15 | (10/10) Accurately ripped
16 | (10/10) Accurately ripped
17 | (10/10) Accurately ripped


==== Контрольная сумма отчёта 18321660CB135ABE41DE15AEC07107E02E19385CA45425B44F8CB5E56CE11F40 ====
[CUETools log; Date: 20.11.2019 2:54:02; Version: 2.1.4]
[CTDB TOCID: 3Luq0z_0GW4wCZztoDzgu4sgyOw-] found.
Track | CTDB Status
1 | (11/11) Accurately ripped
2 | (11/11) Accurately ripped
3 | (11/11) Accurately ripped
4 | (11/11) Accurately ripped
5 | (11/11) Accurately ripped
6 | (11/11) Accurately ripped
7 | (11/11) Accurately ripped
8 | (11/11) Accurately ripped
9 | (11/11) Accurately ripped
10 | (11/11) Accurately ripped
11 | (11/11) Accurately ripped
12 | (11/11) Accurately ripped
13 | (11/11) Accurately ripped
14 | (11/11) Accurately ripped
15 | (11/11) Accurately ripped
16 | (11/11) Accurately ripped
17 | (11/11) Accurately ripped
[AccurateRip ID: 002d1703-023e89a0-e6118311] disk not present in database.

Track Peak [ CRC32 ] [W/O NULL] [ LOG ]
– 94,9 [76AE6D5F] [2485DF64] CRC32
01 94,8 [5FBE5C81] [D2FAD206]
02 94,9 [7A8E2A11] [02B64055]
03 94,8 [1ACD8C8E] [D8F5B13E]
04 94,8 [4774791C] [F08D3F5E]
05 94,9 [BD8C87F6] [33DD2C8C]
06 94,8 [0552FB97] [A5FD2FB9]
07 94,8 [BDC6CDF1] [B73B7480]
08 94,9 [1D564A2F] [A2C11373]
09 82,5 [9A351182] [C4B1BC85]
10 94,8 [57759C1C] [6F922D91]
11 94,8 [F335F8EE] [5E58D49F]
12 94,8 [83F18EB7] [486318EC]
13 94,5 [76438A5C] [7CD4174A]
14 94,8 [CBBB89F0] [7CD33396]
15 94,8 [68A95426] [AF40BF64]
16 94,8 [6ABDD8F1] [0BFE024F]
17 94,8 [1E605825] [D70B03AD]
Thanks to
pishinSee also:
Chris Rea - The Road To Hell (1989) [2CD Reissue 2019]
Chris Rea - Auberge (1991) [2CD Reissue 2019]