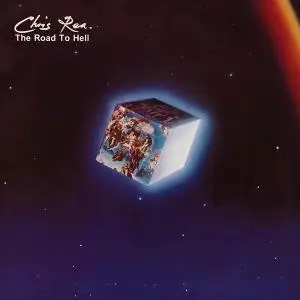 Chris Rea - The Road To Hell (1989) [2CD Reissue 2019]
EAC Rip | FLAC (image+.cue+log) - 816 MB | MP3 CBR 320 kbps (LAME 3.93) - 287 MB | Covers - 102 MB
Genre: Blues Rock, Pop Rock | RAR 3% Rec. | Label: Magnet Records (0190295492205)
With a career spanning over 40 years and over 30 million album sales, Chris Rea's distinctive husky-gravel vocal and incredible body of work has seen him become one of the most loved solo artists the UK have ever produced. Each set of reissues comes with the original album fully remastered alongside a second disc of live performances, b-sides and previously unreleased versions of tracks from the accompanying album.
The title only hints at the horror that lurks in this album's message. "Texas," "Looking for a Rainbow," and "You Must Be Evil" pick apart the atrocities of our society, while "Daytona" offers some much-needed tension release. A modern masterpiece.
CD 1 Tracklist (Original Album):
01. The Road to Hell (Part 1)
02. The Road to Hell (Part 2)
03. You Must Be Evil
04. Texas
05. Looking for a Rainbow
06. Your Warm and Tender Love
07. Daytona [0:05:06.18]
08. That's What They Always Say
09. I Just Wannna Be With You
10. Tell Me There's a Heaven
Total time:
51:03
CD 2 Tracklist (Additional Recording):
01. He Should Know Better (B Side)
02. That's What They Always Say (Rainbow Mix)
03. 1975
04. The Road To Hell (Parts 1 & 2) (Live at Wembley Arena, March 1990)
05. Working On It (Live at Wembley Arena, March 1990)
06. Let's Dance (Live at wembley Arena, March 1990)
07. Daytona (Live at the NEC, Birmingham, November 1991)
08. Working On It (Extended Mix - Michael Brauer)
09. Josephine (US version) (from New Light Through Old Windows)
10. Let's Dance (from New Light Through Old Windows)
11. You Must Be Evil (Live in Stuttgart 1991)
12. I Can Hear Your Heartbeat (from New Light Through Old Windows)
13. Working On It (from New Light Through Old Windows)
Total time:
01:10:46
Exact Audio Copy V1.3 from 2. September 2016

Отчёт EAC об извлечении, выполненном 19. ноября 2019, 7:06

Chris Rea / The Road To Hell - Disc 1

Дисковод: PLEXTOR DVDR PX-755A Adapter: 1 ID: 1

Режим чтения : Достоверность
Использование точного потока : Да
Отключение кэша аудио : Да
Использование указателей C2 : Нет

Коррекция смещения при чтении : 30
Способность читать области Lead-in и Lead-out : Нет
Заполнение пропущенных сэмплов тишиной : Да
Удаление блоков с тишиной в начале и конце : Нет
При вычислениях CRC использовались нулевые сэмплы : Да
Интерфейс : Встроенный Win32-интерфейс для Win NT/2000

Выходной формат : Пользовательский кодировщик
Выбранный битрейт : 128 kBit/s
Качество : Высокий
Добавление ID3-тега : Нет
Утилита сжатия : C:\Program Files (x86)\Exact Audio Copy\Flac\flac.exe
Дополнительные параметры : -V -8 -T "Date=%year%" -T "Genre=%genre%" %source%


TOC извлечённого CD

Трек | Старт | Длительность | Начальный сектор | Конечный сектор
––––––––––––––––––––––––––––––––––-
1 | 0:00.00 | 4:56.02 | 0 | 22201
2 | 4:56.02 | 4:32.38 | 22202 | 42639
3 | 9:28.40 | 4:23.22 | 42640 | 62386
4 | 13:51.62 | 5:11.18 | 62387 | 85729
5 | 19:03.05 | 8:06.06 | 85730 | 122185
6 | 27:09.11 | 4:33.67 | 122186 | 142727
7 | 31:43.03 | 5:06.18 | 142728 | 165695
8 | 36:49.21 | 4:27.64 | 165696 | 185784
9 | 41:17.10 | 3:41.37 | 185785 | 202396
10 | 44:58.47 | 6:04.49 | 202397 | 229745


Характеристики диапазона извлечения и сообщения об ошибках

Выбранный диапазон

Имя файла D:\РАЗДАЧА\Chris Rea - The Road To Hell - 2019 (2CD)\Chris Rea - The Road To Hell - Disc 1\Chris Rea - The Road To Hell - Disc 1.wav

Пиковый уровень 94.9 %
Скорость извлечения 7.6 X
Качество диапазона 100.0 %
CRC теста 2BE03E13
CRC копии 2BE03E13
Копирование… OK

Ошибок не произошло


AccurateRip: сводка

Трек 1 отсутствует в базе данных
Трек 2 отсутствует в базе данных
Трек 3 отсутствует в базе данных
Трек 4 отсутствует в базе данных
Трек 5 отсутствует в базе данных
Трек 6 отсутствует в базе данных
Трек 7 отсутствует в базе данных
Трек 8 отсутствует в базе данных
Трек 9 отсутствует в базе данных
Трек 10 отсутствует в базе данных

Ни одного трека нет в базе AccurateRip

Конец отчёта

–– CUETools DB Plugin V2.1.6

[CTDB TOCID: OpEToVnM1auBSAU9xVunh0GYsxw-] found
Submit result: OpEToVnM1auBSAU9xVunh0GYsxw- has been confirmed
Track | CTDB Status
1 | (11/11) Accurately ripped
2 | (11/11) Accurately ripped
3 | (11/11) Accurately ripped
4 | (11/11) Accurately ripped
5 | (11/11) Accurately ripped
6 | (11/11) Accurately ripped
7 | (11/11) Accurately ripped
8 | (11/11) Accurately ripped
9 | (11/11) Accurately ripped
10 | (11/11) Accurately ripped


==== Контрольная сумма отчёта FDD7015D2B24370DB621A16A2DDAD17785302EEEA664D327B0AEE86FBB8EA1F1 ====
[CUETools log; Date: 20.11.2019 1:57:25; Version: 2.1.4]
[CTDB TOCID: OpEToVnM1auBSAU9xVunh0GYsxw-] found.
Track | CTDB Status
1 | (12/12) Accurately ripped
2 | (12/12) Accurately ripped
3 | (12/12) Accurately ripped
4 | (12/12) Accurately ripped
5 | (12/12) Accurately ripped
6 | (12/12) Accurately ripped
7 | (12/12) Accurately ripped
8 | (12/12) Accurately ripped
9 | (12/12) Accurately ripped
10 | (12/12) Accurately ripped
[AccurateRip ID: 00133fb9-009a9858-790bf70a] disk not present in database.

Track Peak [ CRC32 ] [W/O NULL] [ LOG ]
– 94,9 [2BE03E13] [E2174A4A] CRC32
01 84,3 [F84B2C2E] [E06DAD2C]
02 94,8 [8CF35552] [44087B00]
03 94,9 [63D70394] [02F0FCA7]
04 94,8 [A1F6E7A5] [104276D1]
05 94,8 [F7AD88C3] [2530741B]
06 94,8 [D309B1F3] [E1A0DAC5]
07 94,9 [676423DB] [5EF55CE5]
08 94,9 [15F7F184] [38E9B08C]
09 94,8 [862C9119] [991F987F]
10 94,6 [5639E7CA] [22C2D99A]
Exact Audio Copy V1.3 from 2. September 2016

Отчёт EAC об извлечении, выполненном 19. ноября 2019, 8:01

Chris Rea / The Road To Hell - Disc 2

Дисковод: PLEXTOR DVDR PX-755A Adapter: 1 ID: 1

Режим чтения : Достоверность
Использование точного потока : Да
Отключение кэша аудио : Да
Использование указателей C2 : Нет

Коррекция смещения при чтении : 30
Способность читать области Lead-in и Lead-out : Нет
Заполнение пропущенных сэмплов тишиной : Да
Удаление блоков с тишиной в начале и конце : Нет
При вычислениях CRC использовались нулевые сэмплы : Да
Интерфейс : Встроенный Win32-интерфейс для Win NT/2000

Выходной формат : Пользовательский кодировщик
Выбранный битрейт : 128 kBit/s
Качество : Высокий
Добавление ID3-тега : Нет
Утилита сжатия : C:\Program Files (x86)\Exact Audio Copy\Flac\flac.exe
Дополнительные параметры : -V -8 -T "Date=%year%" -T "Genre=%genre%" %source%


TOC извлечённого CD

Трек | Старт | Длительность | Начальный сектор | Конечный сектор
––––––––––––––––––––––––––––––––––-
1 | 0:00.00 | 4:38.63 | 0 | 20912
2 | 4:38.63 | 6:43.07 | 20913 | 51144
3 | 11:21.70 | 4:39.28 | 51145 | 72097
4 | 16:01.23 | 7:01.60 | 72098 | 103732
5 | 23:03.08 | 6:26.68 | 103733 | 132750
6 | 29:30.01 | 7:34.48 | 132751 | 166848
7 | 37:04.49 | 6:38.13 | 166849 | 196711
8 | 43:42.62 | 5:56.11 | 196712 | 223422
9 | 49:38.73 | 4:17.74 | 223423 | 242771
10 | 53:56.72 | 4:16.74 | 242772 | 262045
11 | 58:13.71 | 4:38.43 | 262046 | 282938
12 | 62:52.39 | 3:27.10 | 282939 | 298473
13 | 66:19.49 | 4:26.62 | 298474 | 318485


Характеристики диапазона извлечения и сообщения об ошибках

Выбранный диапазон

Имя файла D:\РАЗДАЧА\Chris Rea - The Road To Hell - 2019 (2CD)\Chris Rea - The Road To Hell - Disc 2\Chris Rea - The Road To Hell - Disc 2.wav

Пиковый уровень 94.9 %
Скорость извлечения 8.8 X
Качество диапазона 100.0 %
CRC теста FE104F8B
CRC копии FE104F8B
Копирование… OK

Ошибок не произошло


AccurateRip: сводка

Трек 1 отсутствует в базе данных
Трек 2 отсутствует в базе данных
Трек 3 отсутствует в базе данных
Трек 4 отсутствует в базе данных
Трек 5 отсутствует в базе данных
Трек 6 отсутствует в базе данных
Трек 7 отсутствует в базе данных
Трек 8 отсутствует в базе данных
Трек 9 отсутствует в базе данных
Трек 10 отсутствует в базе данных
Трек 11 отсутствует в базе данных
Трек 12 отсутствует в базе данных
Трек 13 отсутствует в базе данных

Ни одного трека нет в базе AccurateRip

Конец отчёта

–– CUETools DB Plugin V2.1.6

[CTDB TOCID: ObZZEZh_m8pnDqzJmrvElQ7yyso-] found
Submit result: ObZZEZh_m8pnDqzJmrvElQ7yyso- has been confirmed
Track | CTDB Status
1 | (9/9) Accurately ripped
2 | (9/9) Accurately ripped
3 | (9/9) Accurately ripped
4 | (9/9) Accurately ripped
5 | (9/9) Accurately ripped
6 | (9/9) Accurately ripped
7 | (9/9) Accurately ripped
8 | (9/9) Accurately ripped
9 | (9/9) Accurately ripped
10 | (9/9) Accurately ripped
11 | (9/9) Accurately ripped
12 | (9/9) Accurately ripped
13 | (9/9) Accurately ripped


==== Контрольная сумма отчёта 0CF5579431EBFE4DB1FD1742A70352FDE0108FB84CF6EDED28E8BAEB6A83E348 ====
[CUETools log; Date: 20.11.2019 1:58:05; Version: 2.1.4]
[CTDB TOCID: ObZZEZh_m8pnDqzJmrvElQ7yyso-] found.
Track | CTDB Status
1 | (10/10) Accurately ripped
2 | (10/10) Accurately ripped
3 | (10/10) Accurately ripped
4 | (10/10) Accurately ripped
5 | (10/10) Accurately ripped
6 | (10/10) Accurately ripped
7 | (10/10) Accurately ripped
8 | (10/10) Accurately ripped
9 | (10/10) Accurately ripped
10 | (10/10) Accurately ripped
11 | (10/10) Accurately ripped
12 | (10/10) Accurately ripped
13 | (10/10) Accurately ripped
[AccurateRip ID: 002432f5-01680ad3-cd10960d] disk not present in database.

Track Peak [ CRC32 ] [W/O NULL] [ LOG ]
– 94,9 [FE104F8B] [ACDD53CF] CRC32
01 94,8 [385C66AF] [4E0B4482]
02 94,9 [5FF718AA] [3F0CF0A9]
03 94,8 [2637291F] [2BD145DE]
04 94,8 [DF1F0FE5] [B0EDA525]
05 94,8 [9F2D5D9A] [91476B28]
06 94,8 [ACF1A8FB] [F55FBD24]
07 94,8 [A674F387] [9D995C53]
08 94,8 [7838F420] [91702AB0]
09 94,8 [7C4C0DE4] [B1906896]
10 94,8 [9DE67AFC] [13E2777B]
11 94,8 [A27EEFD7] [30715ECE]
12 94,8 [D9E5BB50] [EA482838]
13 94,8 [FABC1B91] [DA429990]
Thanks to
pishin