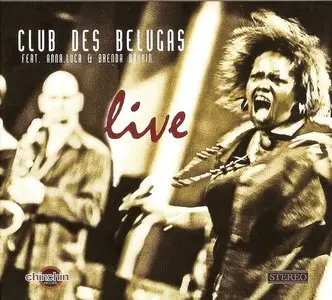 Club Des Belugas Feat. Anna.Luca & Brenda Boykin - Live (2010)
2CD | EAC Rip | FLAC (Img) + Cue + Log ~ 1,0 Gb | MP3 CBR320 ~ 367 Mb
Full Scans ~ 54 Mb | 01:18:07 + 01:14:19 | 5% Recovery
Vocal Jazz, Nu Jazz, Downtempo, Lounge | ChinChin Records #ac 2053
Club Des Belugas is one of the leading Nujazz projects in Europe, probably in the world combining contemporary European Lounge & Nujazz Styles with Brazilian Beats, Swing and American Black Soul of the fifties, sixties and seventies. Featuring guest appearances from Swedish vocalist Anna Luca and multi award winning Californian jazz impresario Brenda Boykin. Recorded at the Rex Theatre, Wuppertal 2010 and the Grillo Theatre Essen, Germany, June 19, 2009.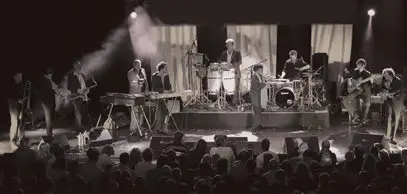 Club des Belugas started their career in 2002 with their first album "Caviar at 3 a.m.". In 2003 they released their 2nd album "Minority Tunes", which included the German Club Charts no.1 hits "hip hip chin chin" and "Gadda Rio". In 2006 Club des Belugas enriched the world of music with a real masterpiece called "apricoo soul". The 12" vinyl "Wildcats gotta move" reached German Club Charts #3 and stayed in the Top Ten for 8 weeks (march & april 2006). The included Club des Belugas Remix of Dean Martin's "Mambo Italiano" is the first worldwide legal remix of any Dean Martin track, authorized by Capitol/EMI and the Dean Martin Family themselves.

Tracks from Club des Belugas have been released on more than 4 Million CDs in total. Between June & September 2007 the Club des Belugas Quartet has performed 89 gigs in China. They released a special China Edition CD called "Best of Club des Belugas" in cooperation with the "Shangrila Hotels", "Moet & Chandon" and "La Perla". Since the end of 2007 Club des Belugas has performed more than 100 concerts all over Europe, also at Jazz festivals. The album Apricoo Soul has been chosen for "Best CD of the year 2006" and the album SWOP has been chosen for "Best CD of the year 2008".
***************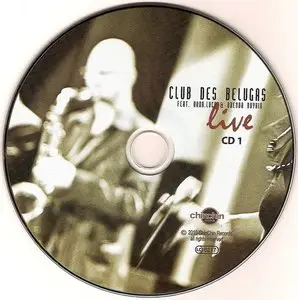 Track List CD1:
01. Wildcats Gotta Move [09:32]
02. It's a Beautiful Day [05:19]
03. Too Late [04:14]
04. Be my Lover [08:18]
05. Hard Swing Travellin Man [08:52]
06. My Hunger Hurts [05:09]
07. Passing on the Screen [05:27]
08. Dibidy Dop [08:08]
09. Cats 'n Boys [04:54]
10. The Road is Lonesome [04:14]
11. What is Jazz [06:49]
12. Nuthern like Thuthern [07:11]
Exact Audio Copy V0.99 prebeta 4 from 23. January 2008

Отчёт EAC об извлечении, выполненном 24. сентября 2011, 9:57

Club des Belugas / Live CD1 - feat.Anna Luca u.Brenda Boykin

Дисковод: PLEXTOR DVDR PX-880SA Adapter: 1 ID: 1

Режим чтения : Достоверность
Использование точного потока : Да
Отключение кэша аудио : Да
Использование указателей C2 : Нет

Коррекция смещения при чтении : 6
Способность читать области Lead-in и Lead-out : Нет
Заполнение пропущенных сэмплов тишиной : Да
Удаление блоков с тишиной в начале и конце : Нет
При вычислениях CRC использовались нулевые сэмплы : Да
Интерфейс : Встроенный Win32-интерфейс для Win NT/2000

Выходной формат : Пользовательский кодировщик
Выбранный битрейт : 1024 kBit/s
Качество : Высокий
Добавление ID3-тэга : Нет
Утилита сжатия : C:\Program Files\Exact Audio Copy\FLAC\FLAC.EXE
Дополнительные параметры : -6 -V -T "ARTIST=%a" -T "TITLE=%t" -T "ALBUM=%g" -T "DATE=%y" -T "TRACKNUMBER=%n" -T "GENRE=%m" -T "COMMENT=%e" %s -o %d


TOC извлечённого CD

Трек | Старт | Длительность | Начальный сектор | Конечный сектор
––––––––––––––––––––––––––––––––––-
1 | 0:00.00 | 9:34.29 | 0 | 43078
2 | 9:34.29 | 5:18.66 | 43079 | 66994
3 | 14:53.20 | 4:13.67 | 66995 | 86036
4 | 19:07.12 | 8:18.47 | 86037 | 123433
5 | 27:25.59 | 8:51.72 | 123434 | 163330
6 | 36:17.56 | 5:08.51 | 163331 | 186481
7 | 41:26.32 | 5:27.40 | 186482 | 211046
8 | 46:53.72 | 8:07.20 | 211047 | 247591
9 | 55:01.17 | 4:54.38 | 247592 | 269679
10 | 59:55.55 | 4:13.42 | 269680 | 288696
11 | 64:09.22 | 6:49.12 | 288697 | 319383
12 | 70:58.34 | 7:08.51 | 319384 | 351534


Характеристики диапазона извлечения и сообщения об ошибках

Выбранный диапазон

Имя файла J:\BitComet\Club des Belugas - Live (2010)(flac)\Club des Belugas - Live CD1 - feat.Anna Luca u.Brenda Boykin.wav

Пиковый уровень 96.6 %
Качество диапазона 100.0 %
CRC теста 07A94217
CRC копии 07A94217
Копирование… OK

Ошибок не произошло


AccurateRip: сводка

Трек 1 нет в базе данных
Трек 2 нет в базе данных
Трек 3 нет в базе данных
Трек 4 нет в базе данных
Трек 5 нет в базе данных
Трек 6 нет в базе данных
Трек 7 нет в базе данных
Трек 8 нет в базе данных
Трек 9 нет в базе данных
Трек 10 нет в базе данных
Трек 11 нет в базе данных
Трек 12 нет в базе данных

Ни одного трека нет в базе AccurateRip

Конец отчёта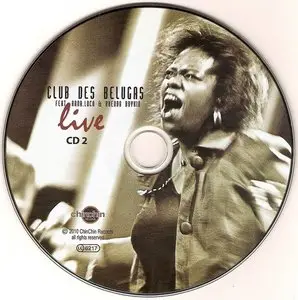 Track List CD2:
01. Peace will come with Sleep [06:59]
02. Take Three [05:01]
03. Kissez in Gallop [07:01]
04. Some like it Hot [05:56]
05. She said No [06:35]
06. Floating on Air [04:02]
07. Desperately Trying [04:32]
08. Chocolate & Chilli [06:03]
09. Kiss Me [06:21]
10. Love is in Town [05:42]
11. Glorious Beach Living [04:41]
12. Hip Hip Chin Chin [11:25]
Exact Audio Copy V0.99 prebeta 4 from 23. January 2008

Отчёт EAC об извлечении, выполненном 24. сентября 2011, 10:22

Club des Belugas / Live CD2 - feat.Anna Luca u.Brenda Boykin

Дисковод: PLEXTOR DVDR PX-880SA Adapter: 1 ID: 1

Режим чтения : Достоверность
Использование точного потока : Да
Отключение кэша аудио : Да
Использование указателей C2 : Нет

Коррекция смещения при чтении : 6
Способность читать области Lead-in и Lead-out : Нет
Заполнение пропущенных сэмплов тишиной : Да
Удаление блоков с тишиной в начале и конце : Нет
При вычислениях CRC использовались нулевые сэмплы : Да
Интерфейс : Встроенный Win32-интерфейс для Win NT/2000

Выходной формат : Пользовательский кодировщик
Выбранный битрейт : 1024 kBit/s
Качество : Высокий
Добавление ID3-тэга : Нет
Утилита сжатия : C:\Program Files\Exact Audio Copy\FLAC\FLAC.EXE
Дополнительные параметры : -6 -V -T "ARTIST=%a" -T "TITLE=%t" -T "ALBUM=%g" -T "DATE=%y" -T "TRACKNUMBER=%n" -T "GENRE=%m" -T "COMMENT=%e" %s -o %d


TOC извлечённого CD

Трек | Старт | Длительность | Начальный сектор | Конечный сектор
––––––––––––––––––––––––––––––––––-
1 | 0:00.00 | 7:01.45 | 0 | 31619
2 | 7:01.45 | 5:01.09 | 31620 | 54203
3 | 12:02.54 | 7:00.61 | 54204 | 85764
4 | 19:03.40 | 5:55.55 | 85765 | 112444
5 | 24:59.20 | 6:35.23 | 112445 | 142092
6 | 31:34.43 | 4:01.48 | 142093 | 160215
7 | 35:36.16 | 4:32.22 | 160216 | 180637
8 | 40:08.38 | 6:03.33 | 180638 | 207895
9 | 46:11.71 | 6:20.48 | 207896 | 236443
10 | 52:32.44 | 5:41.36 | 236444 | 262054
11 | 58:14.05 | 4:41.06 | 262055 | 283135
12 | 62:55.11 | 11:23.49 | 283136 | 334409


Характеристики диапазона извлечения и сообщения об ошибках

Выбранный диапазон

Имя файла J:\BitComet\Club des Belugas - Live (2010)(flac)\CD 2\Club des Belugas - Live CD2 - feat.Anna Luca u.Brenda Boykin.wav

Пиковый уровень 96.6 %
Качество диапазона 100.0 %
CRC теста 55E31D7D
CRC копии 55E31D7D
Копирование… OK

Ошибок не произошло


AccurateRip: сводка

Трек 1 нет в базе данных
Трек 2 нет в базе данных
Трек 3 нет в базе данных
Трек 4 нет в базе данных
Трек 5 нет в базе данных
Трек 6 нет в базе данных
Трек 7 нет в базе данных
Трек 8 нет в базе данных
Трек 9 нет в базе данных
Трек 10 нет в базе данных
Трек 11 нет в базе данных
Трек 12 нет в базе данных

Ни одного трека нет в базе AccurateRip

Конец отчёта