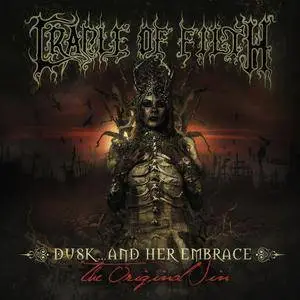 Cradle Of Filth - Dusk… And Her Embrace - The Original Sin (2016)
United Kingdom | MP3 CBR 320 Kbps | 162 MB
Symphonic Black Metal | Label : Cacophonous Records
This album contains the original recording of the band's second album from 1995 with the The Principle of Evil Made Flesh-lineup. Since the band did not like the result and the relationship with their then label (Cacophonous Records) got bad, they decided to not release it. Some members left Cradle of Filth to form The Blood Divine, while the rest plus new members recorded V empire… or Dark Faerytales in Phallustein, that was released instead of Dusk… and her Embrace via Cacophonous Records. In 1996 Music for Nations released the re-recorded version of Dusk… and her Embrace with the new lineup.
Tracklist :
1. Macabre, This Banquet
2. Nocturnal Supremacy
3. Heaven Torn Asunder
4. Dusk… and Her Embrace
5. A Gothic Romance
6. The Graveyard by Moonlight
7. Funeral in Carpathia
8. Beauty Slept in Sodom
9. The Haunted Shores of Avalon
10. Carmilla's Masque
11. A Gothic Romance (demo)
12. Nocturnal Supremacy (demo)
Total playing time 01:11:02