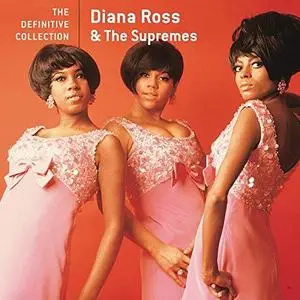 Diana Ross & The Supremes - The Definitive Collection (2008/2019)
FLAC tracks / MP3 320 kbps | 00:51:08 | 123 / 356 Mb
Genre: Soul, Jazz / Label: Uni/Motown
The Supremes, like most of Motown's impressive roster of artists, were essentially geared and groomed to produce great singles, and thanks to the brilliant Holland-Dozier-Holland songwriting team, that's exactly what the Supremes did between 1961 and 1969. A dozen of the group's singles hit number one on the pop charts, an amazing achievement, and with songs like "Come See About Me," "Back in My Arms Again," "My World Is Empty Without You," and "You Can't Hurry Love," to name just a few, it's easy to hear why. This 18-track collection boils everything down to the essential singles, and for most listeners, it'll be all they will ever need.
Track List:
01. The Supremes - Where Did Our Love Go
02. The Supremes - Baby Love
03. The Supremes - Come See About Me
04. The Supremes - Stop! In The Name Of Love
05. The Supremes - Back In My Arms Again
06. The Supremes - Nothing But Heartaches (Single Version)
07. The Supremes - I Hear A Symphony
08. The Supremes - My World Is Empty Without You
09. The Supremes - Love Is Like An Itching In My Heart
10. The Supremes - You Can't Hurry Love
11. The Supremes - You Keep Me Hangin' On
12. The Supremes - Love Is Here And Now You're Gone
13. The Supremes - The Happening
14. Diana Ross - Reflections (feat. The Supremes)
15. Diana Ross - Love Child (feat. The Supremes)
16. Diana Ross - I'm Livin' In Shame (feat. The Supremes)
17. Diana Ross & The Supremes - I'm Gonna Make You Love Me (feat. The Temptations)
18. Diana Ross - Someday We'll Be Together (feat. The Supremes)
ANALYZER: auCDtect: CD records authenticity detector, version 0.8.2
Copyright © 2004 Oleg Berngardt. All rights reserved.
Copyright © 2004 Alexander Djourik. All rights reserved.


FILE: 01. The Supremes - Where Did Our Love Go.flac
Size: 17868405 Hash: B92D6DAEAAAF7B1F8AC79DE3B1E5DC57 Accuracy: -m40
Conclusion: CDDA 100%
Signature: B7C19B50A18871EECDD94DA6286F48BA1FBB1AB6
FILE: 02. The Supremes - Baby Love.flac
Size: 18763496 Hash: EA52E12B2C404A6656FCE57FD083B481 Accuracy: -m40
Conclusion: CDDA 100%
Signature: DC624E6D2E472A7411A1BB2BAA61464F49DEBFEA
FILE: 03. The Supremes - Come See About Me.flac
Size: 19209323 Hash: 3EF55869738C778F6167E886B6E3C714 Accuracy: -m40
Conclusion: CDDA 100%
Signature: 55BB4D26911F4AEE4FA67DFFA44978DDCE90CFD3
FILE: 04. The Supremes - Stop! In The Name Of Love.flac
Size: 20622805 Hash: C296D356B51D9960E39183BC15079662 Accuracy: -m40
Conclusion: CDDA 100%
Signature: 2BB3D8A26DCA6DC468D1792ACCC40CEF6731705F
FILE: 05. The Supremes - Back In My Arms Again.flac
Size: 21298217 Hash: E34F716E5436FE1F96A0B775B028C806 Accuracy: -m40
Conclusion: CDDA 100%
Signature: 9F94E8AF9EBED5A4C962C81568B0FFD30A92DE1B
FILE: 06. The Supremes - Nothing But Heartaches (Single Version).flac
Size: 21611805 Hash: 88B6F5DFE770581BC526258E925A17D0 Accuracy: -m40
Conclusion: CDDA 100%
Signature: 5E07127723392D62A5F2668D0BFE087AEBF1397D
FILE: 07. The Supremes - I Hear A Symphony.flac
Size: 19503440 Hash: C8B88AA77C89AE0073B56F394B9BA19F Accuracy: -m40
Conclusion: CDDA 99%
Signature: 763CAF0D8C9606591EA065E7EBCD3A1CBFAA6E95
FILE: 08. The Supremes - My World Is Empty Without You.flac
Size: 18326185 Hash: FE6B68308AEE3C3144F1737793EFD741 Accuracy: -m40
Conclusion: CDDA 100%
Signature: 9ABCC95C8C68F5BD4386C45FF73C16D3F06A58B2
FILE: 09. The Supremes - Love Is Like An Itching In My Heart.flac
Size: 21328599 Hash: ECA4C5F8D507FD99D4521AC534F69513 Accuracy: -m40
Conclusion: CDDA 100%
Signature: D597237F9E142E129642B7636AD6EF22F332700D
FILE: 10. The Supremes - You Can't Hurry Love.flac
Size: 21042146 Hash: CF26357C42CD3228FDC81E2F9134805E Accuracy: -m40
Conclusion: CDDA 100%
Signature: 7C488EA3085F32FAAA3CA9C8E5E34D50FA89BC97
FILE: 11. The Supremes - You Keep Me Hangin' On.flac
Size: 19564732 Hash: 71F9180F9B2648C87122190AA3E3631B Accuracy: -m40
Conclusion: CDDA 100%
Signature: 4FA123ED7D01AFB2B70BCDCECF0FE9B4331398BF
FILE: 12. The Supremes - Love Is Here And Now You're Gone.flac
Size: 20760604 Hash: 7F21E85C294D537DC4B14F128861C468 Accuracy: -m40
Conclusion: CDDA 100%
Signature: BE05320125EBEEAF61978723E122B5110B2ECDF8
FILE: 13. The Supremes - The Happening.flac
Size: 21124939 Hash: 3A2F3B72F6DBC7B2EA5D431F507E24B3 Accuracy: -m40
Conclusion: CDDA 100%
Signature: 2FF15B699CEA87F7F8F30453AD36B0D6C3E75D02
FILE: 14. Diana Ross - Reflections (feat. The Supremes).flac
Size: 20019191 Hash: 417307D909B6C45F8BB3520CA8DA6C4C Accuracy: -m40
Conclusion: CDDA 100%
Signature: 66B5710B0C33076DB03104553EB7BA85981F020A
FILE: 15. Diana Ross - Love Child (feat. The Supremes).flac
Size: 21531400 Hash: E55DB26B03C9681C3428243044C9C741 Accuracy: -m40
Conclusion: CDDA 100%
Signature: 943DA39C9BA9F039AED09028C54792F99E2DCC05
FILE: 16. Diana Ross - I'm Livin' In Shame (feat. The Supremes).flac
Size: 22018055 Hash: D7FEFCA6862D250A9D827A7627EC7DAA Accuracy: -m40
Conclusion: CDDA 100%
Signature: DDE44BCEB1F7785A33469432847220B04DCB99F1
FILE: 17. Diana Ross & The Supremes - I'm Gonna Make You Love Me (feat. The Temptations).flac
Size: 22727265 Hash: B1B6387C4E72BBBCB238783C540E17D1 Accuracy: -m40
Conclusion: CDDA 100%
Signature: F71BF1934380B3221BCB2DBF32617E6080BB97F3
FILE: 18. Diana Ross - Someday We'll Be Together (feat. The Supremes).flac
Size: 25757495 Hash: DCD66E842FE3B189BE6D36747EBE44D5 Accuracy: -m40
Conclusion: CDDA 99%
Signature: 2C1E38875094011CF1AFA9298064756FC2CF33F0