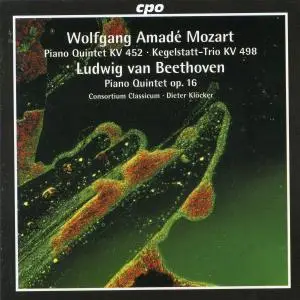 Dieter Klöcker - Mozart & Beethoven: Chamber Works (2005)
WEB FLAC (tracks) - 281 MB | Tracks: 9 | 59:32 min
Style: Classical | Label: CPO
As recordings of Mozart and Beethoven's woodwind chamber music with piano are concerned, they don't get any better than this one by the Consortium Classicum with pianist Werner Genuit recorded in 1978 and 1981. Played on period instruments, the Consortium's performance is more piquant in tone but mellower in sonority than modern instrument performances. But the Consortium's accomplished playing and virtuoso ensemble is comparable to the finest modern instrument performances and its style and grace surpass all but the very best of them.
Both Mozart's E flat major Piano Quintet and Beethoven's E flat major Piano Quintet modeled on it receive performances from the Consortium that are at once polished and pastoral, deep and delightful, integrated and individualistic. But the best performance here is of Mozart's Kegelstatt-Trio, a performance as warmly lyrical and charmingly witty as the piece itself. While older listeners may favor the Jörg Demus recording with soloists from the Berlin Philharmonic from the '60s and younger listeners may prefer the Murray Perahia recordings with soloists from the English Chamber Orchestra from the '90s, listeners of any age looking for superlative performances of three of the most popular pieces of woodwind chamber music with piano from the High Classical period could do no better than these. CPO's digital remastering of the late stereo EMI originals is warm and vivid.
Tracklist:
01. Piano Quintet in E-Flat Major, K. 452: I. Largo - Allegro moderato
02. Piano Quintet in E-Flat Major, K. 452: II. Larghetto
03. Piano Quintet in E-Flat Major, K. 452: III. Allegretto
04. Piano Quintet in E-Flat Major, Op. 16: I. Grave - Allegro ma non troppo
05. Piano Quintet in E-Flat Major, Op. 16: II. Andante cantabile
06. Piano Quintet in E-Flat Major, Op. 16: III. Rondo. Allegro ma non troppo
07. Piano Trio in E-Flat Major, K. 498 "Kegelstatt": I. Andante
08. Piano Trio in E-Flat Major, K. 498 "Kegelstatt": II. Menuetto
09. Piano Trio in E-Flat Major, K. 498 "Kegelstatt": III. Allegretto

FILE: 01. Piano Quintet in E-Flat Major, K. 452_ I. Largo - Allegro moderato.flac
Size: 44912970 Hash: 593BEC5D6D062521C55218DBAA616C90 Accuracy: -m0
Conclusion: CDDA 100%
Signature: 3C1935FCA1A8C27166E014806B7DB0C660722B14
FILE: 02. Piano Quintet in E-Flat Major, K. 452_ II. Larghetto.flac
Size: 29635620 Hash: E9A1977F3AA5EC4939392D38C60F08CA Accuracy: -m0
Conclusion: CDDA 100%
Signature: 5446146C2FC230356B1618960224FBCCF3574CA1
FILE: 03. Piano Quintet in E-Flat Major, K. 452_ III. Allegretto.flac
Size: 24713220 Hash: 307881BBE20313E21B27A796F14BA1BB Accuracy: -m0
Conclusion: CDDA 100%
Signature: D2AEA5D7BC8DD0E0F6555A234EE2E00CD6DFBA9C
FILE: 04. Piano Quintet in E-Flat Major, Op. 16_ I. Grave - Allegro ma non troppo.flac
Size: 57882629 Hash: 0B8880CB4320F163D2D56B6225B56A75 Accuracy: -m0
Conclusion: CDDA 100%
Signature: 532C940D80C2D468E141733E8CCB20C71AF2658C
FILE: 05. Piano Quintet in E-Flat Major, Op. 16_ II. Andante cantabile.flac
Size: 32876062 Hash: 4EC570E6CE3D0C8F77413095AEC7C9CB Accuracy: -m0
Conclusion: CDDA 100%
Signature: 2C26A154DD88C87F067568C51687D99690CA9E3B
FILE: 06. Piano Quintet in E-Flat Major, Op. 16_ III. Rondo. Allegro ma non troppo.flac
Size: 24390790 Hash: 192A3913B00BD7C569BE2CDC5707EF0F Accuracy: -m0
Conclusion: CDDA 100%
Signature: EB9275AEBE67763F56BB563989681356AF875BF2
FILE: 07. Piano Trio in E-Flat Major, K. 498 _Kegelstatt__ I. Andante.flac
Size: 23301929 Hash: AF5255260564A563625C8EF0808D98BA Accuracy: -m0
Conclusion: CDDA 99%
Signature: 91232F2C83262F4C6BEAB1E180E68A77532D8652
FILE: 08. Piano Trio in E-Flat Major, K. 498 _Kegelstatt__ II. Menuetto.flac
Size: 22973327 Hash: FE331462D816B28291513F378570EFD8 Accuracy: -m0
Conclusion: CDDA 100%
Signature: C39EAE10A49F5656656ECFC8DB7055BD878F713F
FILE: 09. Piano Trio in E-Flat Major, K. 498 _Kegelstatt__ III. Allegretto.flac
Size: 34091241 Hash: AEE24ADBEF3B96DA1650CA98D57736C5 Accuracy: -m0
Conclusion: CDDA 94%
Signature: F3552D502CE9A97561DDA4F1DFF3195567D147BE