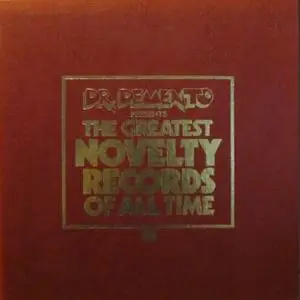 VA - Dr. Demento Presents: The Greatest Novelty Records of All Time (Limited Edition) (1985)
FLAC (tracks) - 1.2 GB | MP3 CBR 320 kbps - 560 MB
3:54:17 | Novelty, Comedy, Humor, Parody, Country | Label: Rhino
Barret Eugene "Barry" Hansen (born April 2, 1941) better known as Dr. Demento, is an American radio broadcaster and record collector specializing in novelty songs, comedy, and strange or unusual recordings dating from the early days of phonograph records to the present. Hansen created the Demento persona in 1970 while working at Los Angeles station KPPC-FM. He played "Transfusion" by Nervous Norvus on the radio, and DJ "The Obscene" Steven Clean said that Hansen had to be "demented" to play it, and the name stuck. His weekly show went into syndication in 1974] and was syndicated by the Westwood One Radio Network from 1978 to 1992. Broadcast syndication of the show ended on June 6, 2010, but the show continues to be produced weekly in an online version.
Hansen has a degree in ethnomusicology and has written magazine articles and liner notes on recording artists outside of the novelty genre. He is credited with introducing new generations of listeners to artists of the early and middle 20th century whom they might not have otherwise discovered, such as Harry McClintock, Spike Jones, Benny Bell, Yogi Yorgesson, Stan Freberg, and Tom Lehrer, as well as with bringing parodist "Weird Al" Yankovic to national attention
Tracklist
Volume I: The 40s (And Before)
A1 – The Okeh Laughing Record
A2 – Groucho Marx – Hooray For Captain Spaulding
A3 – Jimmy Durante – Inka Dinka Doo
A4 – Cab Calloway – Minnie The Moocher
A5 – Billy Costello – I'm Popeye The Sailor Man
A6 – Kay Kyser – Three Little Fishes
A7 – The Hoosier Hot Shots – I Like Bananas Because They Have No Bones
B1 – Spike Jones – Cocktails For Two
B2 – Arthur Godfrey – Too Fat Polka
B3 – Lonzo & Oscar – I'm My Own Grandpa
B4 – Tex Williams – Smoke, Smoke, Smoke (That Cigarette)
B5 – Benny Bell & Paul Wynn – Shaving Cream
B6 – Larry Vincent – The Freckle Song
B7 – Felix Figueroa – Pico And Sepulveda
Volume II: The 1950s
C1 – Sheb Wooley – The Purple People Eater
C2 – Nervous Norvus – Transfusion
C3 – Buchanan & Goodman – Flying Saucer
C4 – Homer & Jethro – The Battle Of Kookamonga
C5 – The Cadets – Stranded In The Jungle
C6 – Bob McFadden & Dor – The Mummy
C7 – Spencer & Spencer – Russian Bandstand
D1 – Phil Harris – The Thing
D2 – Tom Lehrer – Masochism Tango
D3 – Stan Freberg – Little Blue Riding Hood
D4 – Jerry Lewis – Sunday Driving
D5 – Jackie Gleason – One Of These Days
D6 – Ruth Wallis – The Dinghy Song
D7 – Kay Thompson – Eloise
Volume III: The 1960s
E1 – Lonnie Donegan – Does Your Chewing Gum Lose Its Flavour (On The Bedpost Overnight)
E2 – Brian Hyland – Itsy Bitsy Teenie Weenie Yellow Polka Dot Bikini
E3 – The Ran-Dells – Martian Hop
E4 – The Hollywood Argyles – Alley-Oop
E5 – Ray Stevens – Gitarzan
E6 – The Trashmen – Surfin' Bird
E7 – Allan Sherman – Hello Mudduh, Hello Fadduh!
F1 – Bobby (Boris) Pickett – Monster Mash
F2 – Larry Verne – Mr. Custer
F3 – Napoleon XIV – They're Coming To Take Me Away, Ha-Haaa!
F4 – Dr. West's Medicine Show & Junk Band – The Eggplant That Ate Chicago
F5 – Rusty Warren – Bounce Your Boobies
F6 – Tiny Tim – Tip-Toe Thru' The Tulips With Me
F7 – Tom Lehrer – So Long, Mom (A Song For World War III)
Volume IV: The 1970s
G1 – Randy Newman – Short People
G2 – Larry Groce – Junk Food Junkie
G3 – "Weird Al" Yankovic – My Bologna
G4 – Barnes & Barnes – Fish Heads
G5 – Shel Silverstein – Sarah Cynthia Sylvia Stout Would Not Take The Garbage Out
G6 – Rose And The Arrangement – The Cockroach That Ate Cincinnati
G7 – Fred Blassie – Pencil Neck Geek
H1 – The Rocky Horror Picture Show – Time Warp
H2 – Steve Martin – King Tut
H3 – Cheech & Chong – Earache My Eye (feat. Alice Bowie)
H4 – Hank, Stu, Dave & Hank – My Dead Dog Rover
H5 – Loudon Wainwright III – Dead Skunk
H6 – Ogden Edsl – Dead Puppies
Volume V: The 1980s
I1 – "Weird Al" Yankovic – Eat It
I2 – Stevens & Grdnic – Fast Food
I3 – Jump 'N The Saddle – The Curly Shuffle
I4 – Bruce Springstone – Bedrock Rap-Meet The Flintstones
I5 – Julie Brown – The Homecoming Queen's Got A Gun
I6 – Travesty Ltd. – Rock 'N' Roll Doctor
J1 – Rodney Dangerfield – Rappin' Rodney
J2 – Marvin The Paranoid Android – Marvin I Love You
J3 – Bryan Bowers – The Scotsman
J4 – "Weird Al" Yankovic – Another One Rides The Bus
J5 – Bob & Doug McKenzie – Take Off
J6 – Tom "T-Bone" Stankus – Existential Blues
Volume VI: Christmas
K1 – Spike Jones – All I Want For Christmas Is My Two Front Teeth
K2 – Allan Sherman – The Twelve Days Of Christmas
K3 – Gayla Peevey – I Want A Hippopotamus For Christmas
K4 – Dickie Goodman – Santa And The Satellite
K5 – Tom Lehrer – A Christmas Carol
K6 – Stan Freberg – Green Christmas
L1 – Elmo & Patsy – Grandma Got Run Over By A Reindeer
L2 – Yogi Yorgesson – I Yust Go Nuts At Christmas
L3 – Stan Freberg – Nuttin' For Christmas
L4 – The Three Stooges – Wreck The Halls With Boughs Of Holly
L5 – Wild Man Fischer & Dr. Demento – I'm A Christmas Tree
L6 – Cheech & Chong – Santa Claus And His Old Lady
–––––––––––-
DON'T MODIFY THIS FILE
–––––––––––-
PERFORMER: auCDtect Task Manager, ver. 1.6.0 RC1 build 1.6.0.1
Copyright © 2008-2010 y-soft. All rights reserved
http://y-soft.org
ANALYZER: auCDtect: CD records authenticity detector, version 0.8.2
Copyright © 2004 Oleg Berngardt. All rights reserved.
Copyright © 2004 Alexander Djourik. All rights reserved.
FILE: 12 - Santa Claus And His Old Lady.flac
Size: 37068223 Hash: 6AD58A6ED9551D78F4B9CC9912BB9ACE Accuracy: -m8
Conclusion: CDDA 100%
Signature: C2171DF5DCDC960547A2CC973BAD6776979C586F
FILE: 11 - I'm A Christmas Tree.flac
Size: 6643015 Hash: 07D7A1032397F34CDC95840C1DBF29F2 Accuracy: -m8
Conclusion: CDDA 100%
Signature: 6312B3AEE9C394D17382E157C5C626A14DE5ACC4
FILE: 10 - Wreck The Halls With Boughs Of Holly.flac
Size: 14094232 Hash: E8196D74A534A87FBB3DAC48E5995623 Accuracy: -m8
Conclusion: CDDA 100%
Signature: D84D6AB320F36990945CBD2B7F02113F5B03EFF6
FILE: 09 - Nuttin' For Christmas.flac
Size: 15001720 Hash: 8E1AD67FFB3F078E1457EF875979C4D9 Accuracy: -m8
Conclusion: CDDA 100%
Signature: C9B516561AD2D2FE9BCDDE8ABAF3685BF7321767
FILE: 08 - I Yust Go Nuts At Christmas.flac
Size: 17521231 Hash: E58ACCADCA119E159D146FFCEF059A43 Accuracy: -m8
Conclusion: CDDA 99%
Signature: BF821187A8E475724069C1113A58001E48F54346
FILE: 07 - Grandma Got Run Over By A Reindeer.flac
Size: 22534016 Hash: 55244666561E3F776E73F4F6D250B9C7 Accuracy: -m8
Conclusion: CDDA 100%
Signature: EED1D28BB51265011F89E3AFAEA397311593BF0C
FILE: 06 - Green Christmas.flac
Size: 41882744 Hash: B051B340C0CE93C1AD9D2FD234932BBD Accuracy: -m8
Conclusion: CDDA 100%
Signature: A824D349BF589CAABBE317B2B234DE5DA04CC0B6
FILE: 05 - A Christmas Carol.flac
Size: 10505492 Hash: 05E71037E71F03E09D610653ADDB1E45 Accuracy: -m8
Conclusion: CDDA 100%
Signature: 30F5428F36FB7C419F7063E324447218EA7E357B
FILE: 04 - Santa And The Satellite.flac
Size: 16862657 Hash: 792B2E5F03E90DB21AE2E425D0626A1C Accuracy: -m8
Conclusion: CDDA 100%
Signature: A5DEFF893D1C618F7F03BB540E4FD35729A25469
FILE: 03 - I Want A Hippopotamus For Christmas.flac
Size: 15380449 Hash: 3C1EAA76F434286DB103EFBFF28E8F95 Accuracy: -m8
Conclusion: CDDA 100%
Signature: 99759C9ED6FD853E4ED2DE4490AE6F7DFB1F3528
FILE: 02 - The Twelve Days Of Christmas.flac
Size: 19844871 Hash: FADEFEF6825DEA9D232C7143769896BD Accuracy: -m8
Conclusion: CDDA 99%
Signature: 0E47C7616413FA5B490F72C7462095F22CC49132
FILE: 01 - All I Want For Christmas Is My Two Front Teeth.flac
Size: 15495173 Hash: 64D9C028C6AE0183743A254ABAE5F7A5 Accuracy: -m8
Conclusion: CDDA 100%
Signature: 7E7F8E5CFB05132ECD6C80FF3981414CF963D32D
FILE: 12 - Existential Blues.flac
Size: 33431108 Hash: 5EEF203122FE4EE685BB399313C0EF12 Accuracy: -m8
Conclusion: CDDA 100%
Signature: 9C9864425836F7BDE9FDEF1853D2AD5984346B44
FILE: 11 - Take Off.flac
Size: 28252552 Hash: 58308FD8EB80B62E8D711C21F9926B22 Accuracy: -m8
Conclusion: CDDA 100%
Signature: 99EEED44D0773DA01B5415FE22C5AC1E967A5881
FILE: 10 - Another One Rides The Bus.flac
Size: 15341862 Hash: 70272C940CCBB2B3E243C1C3F4CA39DB Accuracy: -m8
Conclusion: CDDA 100%
Signature: 17723DBE8CC77AD33ECAAC28FEB3E485537108B6
FILE: 09 - The Scotsman.flac
Size: 14252255 Hash: 0C008EFAAE2508EE1E285688B4B4D173 Accuracy: -m8
Conclusion: CDDA 100%
Signature: 1C889215CF8029CC504554B07BF9CE2738BE7031
FILE: 08 - Marvin I Love You.flac
Size: 25866326 Hash: 5CCA71CB826FB8068F77AD7209DFB169 Accuracy: -m8
Conclusion: CDDA 100%
Signature: A3F983E9D96BA818AAF65633017C92AD28F336B8
FILE: 07 - Rappin' Rodney.flac
Size: 34228249 Hash: 5780C8806709A6233ECB133FA8024189 Accuracy: -m8
Conclusion: CDDA 100%
Signature: 8140568D1BBE94A7088039BF98FB459BDA3FAEEB
FILE: 06 - Rock 'N' Roll Doctor.flac
Size: 17370766 Hash: 1C6132A5EE10840A4C43B4BC97F1362A Accuracy: -m8
Conclusion: CDDA 100%
Signature: E47FD0CB6679DA3021EB84C6EBABB76E30CA52EC
FILE: 05 - The Homecoming Queen's Got A Gun.flac
Size: 29907243 Hash: 3B360B4DDD155BD9E8F5BF2CC7521DA3 Accuracy: -m8
Conclusion: CDDA 100%
Signature: 975826B5C1BE07A398F39F571C9985BEEBB4D79F
FILE: 04 - Bedrock Rap-Meet The Flintstones.flac
Size: 20347286 Hash: 1EC4E746AC724680027FACFDD9E31D4D Accuracy: -m8
Conclusion: CDDA 100%
Signature: 2D95403B770B7BB3B0DE25EFCDECFF49246C4284
FILE: 03 - The Curly Shuffle.flac
Size: 18150873 Hash: E44C9A1EC808087BA8C82DBE0B9592D9 Accuracy: -m8
Conclusion: CDDA 100%
Signature: 3F7B1C0F30AFCE3E834DCFC09C9EA4A2DFB999E8
FILE: 02 - Fast Food.flac
Size: 13491126 Hash: B70B23DD0C81D4B8D1D94E7929650096 Accuracy: -m8
Conclusion: CDDA 100%
Signature: 449AD538C66FA1C31A3E00144E8C95C6100A5198
FILE: 01 - Eat It.flac
Size: 22071600 Hash: 2BF6A983FE2B7B0509081B26283638B7 Accuracy: -m8
Conclusion: CDDA 100%
Signature: 3B084F515039895F3533C179D88DC80A604C2455
FILE: 13 - Dead Puppies.flac
Size: 12759166 Hash: 1510B644F9C0790F46136C7572C5ED5F Accuracy: -m8
Conclusion: CDDA 99%
Signature: 01FF7BC081BBA80498103B01F350570F9D47558A
FILE: 12 - Dead Skunk.flac
Size: 18414865 Hash: 89BA235DACB692FF082A7871E15651CE Accuracy: -m8
Conclusion: CDDA 100%
Signature: D6436FC143A975B4A951FC515082A287C1CFC9E1
FILE: 11 - My Dead Dog Rover.flac
Size: 14193043 Hash: 15FEAD5762645290B13A6BA39859F0FD Accuracy: -m8
Conclusion: CDDA 100%
Signature: 58DF8D4BDBAE1B7C1B6E3A3456A2843531920C8C
FILE: 10 - Earache My Eye.flac
Size: 31571923 Hash: FDAB796698DF1D83678683A09CB6FA68 Accuracy: -m8
Conclusion: CDDA 100%
Signature: D21DB648E40995012DADF2084C779628459D5CE2
FILE: 09 - King Tut.flac
Size: 14495201 Hash: 4CC8AE2064EB1D5653F0CFF8CC955357 Accuracy: -m8
Conclusion: CDDA 100%
Signature: C6060A0675B853415404BE0EC65C65AF1560F75A
FILE: 08 - Time Warp.flac
Size: 21369016 Hash: B24F72BDFFF29AA2B5A9FA35969DAD33 Accuracy: -m8
Conclusion: CDDA 100%
Signature: 5612DD9E4701DB668D6FF41E64C8594A492C8024
FILE: 07 - Pencil Neck Geek.flac
Size: 21695388 Hash: CDF52BE1FBAC34D77CDBB11054377938 Accuracy: -m8
Conclusion: CDDA 100%
Signature: 6A7C3A695030AE161C6255CDBC79D9A5566B3F2D
FILE: 06 - The Cockroach That Ate Cincinnati.flac
Size: 13475630 Hash: CBE9CDE58EC97B7028523C35136E7DD1 Accuracy: -m8
Conclusion: CDDA 100%
Signature: 9B24C054C66425CD11913803C0158F46130477B7
FILE: 05 - Sarah Cynthia Sylvia Stout Would Not Take The Garbage Out.flac
Size: 14455403 Hash: 1BFD3CE015008CAFA51D6D2CC3A8996E Accuracy: -m8
Conclusion: CDDA 100%
Signature: 13475944F865D9427DB0D23FEFDE86E968F6D164
FILE: 04 - Fish Heads.flac
Size: 16531888 Hash: D7ECAD8D6EBCB3C5EF69EE3C563A1D40 Accuracy: -m8
Conclusion: CDDA 100%
Signature: 04175859CF476873F5AE15920863FAF253C43556
FILE: 03 - My Bologna.flac
Size: 13980539 Hash: C4025C80765D296972EA76C0560B10FE Accuracy: -m8
Conclusion: CDDA 100%
Signature: 82967A5A6BAA4770E472856CCFE601070183FE27
FILE: 02 - Junk Food Junkie.flac
Size: 19132536 Hash: DACF0B48CC8B3279B893F87C4F38FCBB Accuracy: -m8
Conclusion: CDDA 100%
Signature: 240B52B230CBE852D23576007E266AC75DCDA966
FILE: 01 - Short People.flac
Size: 17179958 Hash: AD3CF53824DFB2761014114E068C15B1 Accuracy: -m8
Conclusion: CDDA 100%
Signature: 07A07F705B49CE2CCD84B82C12F02707C157822B
FILE: 14 - So Long, Mom (A Song For World War III).flac
Size: 9091230 Hash: B988942649A6B5A7A97539D7E3CBF95A Accuracy: -m8
Conclusion: CDDA 100%
Signature: F6B2EAD4D84ED1CC4A95B98C322EC0D5987F1666
FILE: 13 - Tip-Toe Thru' The Tulips With Me.flac
Size: 10647733 Hash: 5B68E2F6B82598751D4EBC2F65C9E7D6 Accuracy: -m8
Conclusion: CDDA 100%
Signature: 21788B97A40F5F561A2876EDCB08B10C0C401423
FILE: 12 - Bounce Your Boobies.flac
Size: 19365805 Hash: 9DEA2560D68ABDACAC6A85AA12B1EAA2 Accuracy: -m8
Conclusion: CDDA 99%
Signature: E2DCD005F6DF22398A11D550A115D697A5FFF8B2
FILE: 11 - The Eggplant That Ate Chicago.flac
Size: 19643995 Hash: CD5E6C664C33BB85D48EF93B955DEDD1 Accuracy: -m8
Conclusion: CDDA 94%
Signature: CA9B14A22D83663306E7EA60BED76B3B2A8A8ECB
FILE: 10 - They're Coming To Take Me Away, Ha-Haaa!.flac
Size: 15411211 Hash: AFE5F4FD6A60584D66477F6CEE8F16FA Accuracy: -m8
Conclusion: CDDA 100%
Signature: F5358BB4E6E5006ABC6B60F9D75182CB0CE16992
FILE: 09 - Mr. Custer.flac
Size: 19411052 Hash: 123C578D63CE0E7BD4C58D37FD5E53EC Accuracy: -m8
Conclusion: CDDA 100%
Signature: 1E6AC047AA326CC82701AC09F816243929FC59B4
FILE: 08 - Monster Mash.flac
Size: 19142594 Hash: 4398440E2C5B8395B3CFE56332712B1D Accuracy: -m8
Conclusion: CDDA 100%
Signature: A976D4CB40C4F0FAC14A87B72354359D53EB641B
FILE: 07 - Hello Mudduh, Hello Fadduh!.flac
Size: 16760434 Hash: F8874B89C8E1C759D3D6EAD511F039E3 Accuracy: -m8
Conclusion: CDDA 100%
Signature: F74C14FBE827DFA506811016DA4A7567EE77CB2D
FILE: 06 - Surfin' Bird.flac
Size: 16657839 Hash: D2D78A5CDFC827A81A0788AF1762FE76 Accuracy: -m8
Conclusion: CDDA 100%
Signature: 790A7F61E109F7C35D86CFF01084C97FB573DBFC
FILE: 05 - Gitarzan.flac
Size: 21280237 Hash: 205466F0A3D34585292C8042103E15FF Accuracy: -m8
Conclusion: CDDA 99%
Signature: 78FAB4A2A1364A0951971C4D1D55C9C92105FEB9
FILE: 04 - Alley-Oop.flac
Size: 18228814 Hash: 9F17DDFDF0B6294E75C80AFEA6E1D6E4 Accuracy: -m8
Conclusion: CDDA 100%
Signature: 44D1D6925E198E08E5724CD0BDFABC629F9A0609
FILE: 03 - Martian Hop.flac
Size: 14205821 Hash: 45305CAB5EC3200D4D74D11C43393420 Accuracy: -m8
Conclusion: CDDA 100%
Signature: 9A9ADF07F8B632F5289609EAF3879739BE3E81CA
FILE: 02 - Itsy Bitsy Teenie Weenie Yellow Polka Dot Bikini.flac
Size: 13145585 Hash: A41A97C571EFAF2B7904D670998B493F Accuracy: -m8
Conclusion: CDDA 100%
Signature: 452B6DDFB5D862DC15168410EE8152FC293EF45E
FILE: 01 - Does Your Chewing Gum Lose Its Flavour (On The Bedpost Overnight).flac
Size: 13268877 Hash: DAB6F9CF810FD855B0C07D5FC383DCA7 Accuracy: -m8
Conclusion: CDDA 100%
Signature: 3D7C2401521DF086779FA4EB8427D54BF47D4C31
FILE: 14 - Eloise.flac
Size: 11184165 Hash: 9F2209C76F582A974FEFDCE92FBAFED4 Accuracy: -m8
Conclusion: CDDA 100%
Signature: 694FE0A0C6224E3E8464F5C5CE3BEABF55741D61
FILE: 13 - The Dinghy Song.flac
Size: 16348549 Hash: 755DDAF89574FF1A2362DFE7AFACF04D Accuracy: -m8
Conclusion: CDDA 99%
Signature: D93656BDF71C7B2B809EF3264807033D5E0F3070
FILE: 12 - One Of These Days.flac
Size: 16655778 Hash: 932C514B903D09AECA213C496BC0B11B Accuracy: -m8
Conclusion: CDDA 100%
Signature: B33E41D0FB8038778FEC529EB528932ABF53101D
FILE: 11 - Sunday Driving.flac
Size: 14666450 Hash: A571BC4340F1615D29323179EDDACDD1 Accuracy: -m8
Conclusion: CDDA 99%
Signature: 2361049BC910F1AA28151732FA3414F58D03DF5B
FILE: 10 - Little Blue Riding Hood.flac
Size: 18047899 Hash: FCC048840B115BA8E107563F0127C461 Accuracy: -m8
Conclusion: CDDA 100%
Signature: A830946AF053E2E7A7CA1AC807BB04981355F239
FILE: 09 - Masochism Tango.flac
Size: 16555020 Hash: 52B5FBC9180991A5349F0829527FD7E4 Accuracy: -m8
Conclusion: CDDA 100%
Signature: D30A4254CB43AD07D84B790D9C694F51BC5C27F3
FILE: 08 - The Thing.flac
Size: 13132612 Hash: 54278197345B7DA51A12DF4341E95001 Accuracy: -m8
Conclusion: CDDA 100%
Signature: A827F317842154AB74F87C24AF6E7903CAFA29A0
FILE: 07 - Russian Bandstand.flac
Size: 13012842 Hash: 57386B049C40861A825BBA4DD525A14A Accuracy: -m8
Conclusion: CDDA 100%
Signature: C3DE79F799FCFA87F405B9B9D9B8C3AD3928BA5E
FILE: 06 - The Mummy.flac
Size: 11557738 Hash: 12B5DE10C0E81C5D99824B7166B87A33 Accuracy: -m8
Conclusion: CDDA 100%
Signature: D52DF967FE93AC88FD472B89FA6B7B2B353AD815
FILE: 05 - Stranded In The Jungle.flac
Size: 20127431 Hash: 7A553D08915BC30FAC6D48C65434FDCE Accuracy: -m8
Conclusion: CDDA 100%
Signature: 6F4532458F47BB7E616E4D8940FFFCBECA511CAA
FILE: 04 - The Battle Of Kookamonga.flac
Size: 15523363 Hash: 77DC7654A8ECC54F57E41F93CB6B1DEA Accuracy: -m8
Conclusion: CDDA 100%
Signature: 9D8EC2B2E7230EF48BBAE52808EB9F86D55E9A0D
FILE: 03 - Flying Saucer.flac
Size: 20046285 Hash: 22149011184C4813D4235A72C686175E Accuracy: -m8
Conclusion: CDDA 100%
Signature: 748088D72C79144BC32BB7039CE481FC0420C68B
FILE: 02 - Transfusion.flac
Size: 13580497 Hash: BCC58247AAE0F342D7ECFA72CCF8A702 Accuracy: -m8
Conclusion: CDDA 100%
Signature: 9AC8D8F7A544B5A7503B213D02A893FD7DF2422C
FILE: 01 - The Purple People Eater.flac
Size: 12529918 Hash: BC3C58B1C94E64AD0207DE35EE23B26C Accuracy: -m8
Conclusion: CDDA 100%
Signature: 72752A41BB537717DBB127F73AF755B5E08EEE9C
FILE: 14 - Pico And Sepulveda.flac
Size: 7192642 Hash: 150B6A3EA5F96EC0C6C9DC2924AAB540 Accuracy: -m8
Conclusion: CDDA 100%
Signature: 782A4ABABC99D53CAC446939CDA8AF872E1343EC
FILE: 13 - The Freckle Song.flac
Size: 7909802 Hash: B1E8C1403483D72B9E2C2C73300AFA91 Accuracy: -m8
Conclusion: CDDA 100%
Signature: EAA69D65C7C713C2A0476A46C2800E68EC4173DB
FILE: 12 - Shaving Cream.flac
Size: 7341408 Hash: 5B3547FE647146F6F28CFA68C7AD7311 Accuracy: -m8
Conclusion: CDDA 100%
Signature: 9C23DB93E699C3A8AECBE7077ED46715EE84309A
FILE: 11 - Smoke, Smoke, Smoke (That Cigarette).flac
Size: 8772627 Hash: D409440F5C67E859C59952C8A9E8659C Accuracy: -m8
Conclusion: CDDA 100%
Signature: E63D221958D6EEBAEE797FB74004C051088587E9
FILE: 10 - I'm My Own Grandpa.flac
Size: 8620302 Hash: 308DF6DFF3B69026A4B67A8461257CCA Accuracy: -m8
Conclusion: CDDA 100%
Signature: 805C493494C71321449C60526C55BA9EEB4989E8
FILE: 09 - Too Fat Polka.flac
Size: 9102596 Hash: D158689CF036BD1811DB5E03B934E700 Accuracy: -m8
Conclusion: CDDA 100%
Signature: 6DB91597FA05C2E477254EE520285DD93CF3853F
FILE: 08 - Cocktails For Two.flac
Size: 8120916 Hash: B54CD824C4E5DC9C6059532768C62C09 Accuracy: -m8
Conclusion: CDDA 99%
Signature: 503EA19EA49DCFC5A92E4CDBF09D327E7F37A281
FILE: 07 - I Like Bananas Because They Have No Bones.flac
Size: 8837772 Hash: 4220E06B73BDF0592E1EAF9A1C12CC5D Accuracy: -m8
Conclusion: CDDA 100%
Signature: D64E8AAE75C78145A33BA1CF904A8679DE24BD82
FILE: 06 - Three Little Fishes.flac
Size: 8408696 Hash: 3AEA5420AC29C70F3F72800B7795E304 Accuracy: -m8
Conclusion: CDDA 100%
Signature: A220ED62FC1148F3055A2A9013F815E0AF99AFF5
FILE: 05 - I'm Popeye The Sailor Man.flac
Size: 6830779 Hash: DB02F477DDBABE51691EBC07609D403B Accuracy: -m8
Conclusion: CDDA 99%
Signature: 72D00994176A454F83AB913B9061FA6FDC992FE6
FILE: 04 - Minnie The Moocher.flac
Size: 8777487 Hash: 5CC769461462072809AE79FADC6BEAE4 Accuracy: -m8
Conclusion: CDDA 100%
Signature: 0280BF0BC4E287063A5AEE91FA6B2A0981C78949
FILE: 03 - Inka Dinka Doo.flac
Size: 4892258 Hash: 8A52A4E828A849B50411C37FAC171266 Accuracy: -m8
Conclusion: CDDA 100%
Signature: B76D21F9AB99DFD196D224379A3159837C742324
FILE: 02 - Hooray For Captain Spaulding.flac
Size: 8093801 Hash: E7EE3E6263E22C8FFE212BB39199867C Accuracy: -m8
Conclusion: CDDA 99%
Signature: 491B6F658B76888B76AEBBE781903D0BC841993D
FILE: 01 - The Okeh Laughing Record.flac
Size: 5959849 Hash: 2D218B6AF3AADF4D0CAB19C80BF5C2FE Accuracy: -m8
Conclusion: CDDA 99%
Signature: 9ADF2CE15FC953D251AB57DA3B170797889C2A82