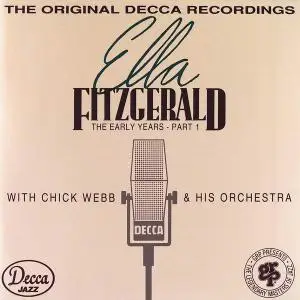 Ella Fitzgerald - The Early Years - Part 1 [Recorded 1935-1938] (1992)
EAC Rip | FLAC (image+.cue+log) - 339 MB | MP3 CBR 320 kbps (LAME 3.93) - 302 MB | Covers - 30 MB
Genre: Vocal Jazz | RAR 3% Rec. | Label: Decca/GRP Records (GRD-2-618)
This two-CD set contains 43 of the best recordings that Ella Fitzgerald recorded during her apprentice period with Chick Webb's Orchestra. Although only 16 years old at the time of her recording debut, she already had a strong and likable voice. She would not learn to really scat sing until the mid-'40s but, on the strength of "A-Tisket, A-Tasket," by 1938 Fitzgerald was one of the most popular of all the big-band singers. This set, which only contains a few examples of the Webb Orchestra's instrumental powers, is highlighted by "I'll Chase the Blues Away," "Sing Me a Swing Song," "You'll Have to Swing It," "Organ Grinder's Swing," "If Dreams Come True" and "You Can't Be Mine."
CD 1 Tracklist:
01. I'll Chase The Blues Away
02. Love And Kisses
03. Rhythm And Romance
04. Under The Spell Of The Blues
05. When I Get Low I Get High
06. Sing Me A Swing Song (And Let Me Dance)
07. A Little Bit Later On
08. Love, You're Just A Laugh
09. You'll Have To Swing It (Mr. Paganini)
10. Vote For Mr. Rhythm
11. My Last Affair
12. Organ Grinder's Swing
13. Shine
14. Darktown Strutters' Ball
15. Oh, Yes, Take Another Guess
16. You Showed Me The Way
17. Cryin' Mood
18. If You Ever Should Leave
19. Everyone's Wrong But Me
20. Just A Simple Melody
21. I Got A Guy
Total time:
01:01:14
CD 2 Tracklist:
01. Rock It For Me
02. I Want To Be Happy
03. The Dipsy Doodle
04. If Dreams Come True
05. Hallelujah!
06. Bei Mir Bist Du Schoen
07. It's My Turn Now
08. It's Wonderful
09. I Was Doing All Right
10. A-Tisket, A-Tasket
11. Heart Of Mine
12. I'm Just A Jitterbug
13. You Can't Be Mine (And Someone Else's, Too)
14. If You Only Knew
15. Pack Up Your Sins And Go To The Devil
16. McPherson Is Rehearsin' (To Swing)
17. Everybody Step
18. Wacky Dust
19. Strictly From Dixie
20. F. D. R. Jones
21. It's Foxy
22. I Found My Yellow Basket
Total time:
01:07:01
EAC extraction logfile from 9. June 2007, 9:52 for CD
Ella Fitzgerald / Ella Fitzgerarld: The Early Years - Part 1 (Disc 1)

Used drive : LITE-ON CD-ROM LTN-527T Adapter: 1 ID: 1
Read mode : Secure with NO C2, accurate stream, disable cache
Read offset correction : 12
Overread into Lead-In and Lead-Out : Yes

Used output format : C:\Program Files\Monkey's Audio\MAC.exe (Monkey's Audio Lossless Encoder)
High Lossless Compression

Other options :
Fill up missing offset samples with silence : Yes
Delete leading and trailing silent blocks : No
Installed external ASPI interface


Range status and errors
Selected range
Filename F:\Win-Rar\Ella Fitzgerald - The Early Years Part I(1935-38 Decca)[APE Full Scans]\CD 1\Ella Fitzgerald - Ella Fitzgerarld The Early Years - Part 1 (Disc 1).wav.wav

Peak level 100.0 %
Range quality 100.0 %
CRC 80B579F3
Copy OK

No errors occured

End of status report
[CUETools log; Date: 09.02.2019 16:57:33; Version: 2.1.4]
[CTDB TOCID: 5CS5MlEoy0M4UQGVO.43y_sfThw-] found.
Track | CTDB Status
1 | (3/3) Accurately ripped
2 | (3/3) Accurately ripped
3 | (3/3) Accurately ripped
4 | (3/3) Accurately ripped
5 | (3/3) Accurately ripped
6 | (3/3) Accurately ripped
7 | (3/3) Accurately ripped
8 | (3/3) Accurately ripped
9 | (3/3) Accurately ripped
10 | (3/3) Accurately ripped
11 | (3/3) Accurately ripped
12 | (3/3) Accurately ripped
13 | (3/3) Accurately ripped
14 | (3/3) Accurately ripped
15 | (3/3) Accurately ripped
16 | (3/3) Accurately ripped
17 | (3/3) Accurately ripped
18 | (3/3) Accurately ripped
19 | (3/3) Accurately ripped
20 | (3/3) Accurately ripped
21 | (3/3) Accurately ripped
[AccurateRip ID: 002dad47-02bcdb37-2b0e5a15] found.
Track [ CRC | V2 ] Status
01 [dd3d55d3|b702ad5e] (0+1/1) Accurately ripped
02 [d91c98c5|58cc7bd4] (0+1/1) Accurately ripped
03 [b082db43|cbaa4c20] (0+1/1) Accurately ripped
04 [f79ca1e5|0cf45199] (0+1/1) Accurately ripped
05 [3931b623|40692ff8] (0+1/1) Accurately ripped
06 [3c9194ff|4d0274ed] (1+1/2) Accurately ripped
07 [e324074e|130b3865] (0+1/1) Accurately ripped
08 [9fb0cd13|d215c3d5] (0+1/1) Accurately ripped
09 [470a3a09|f1bc8854] (0+1/1) Accurately ripped
10 [5267f563|0f6c386c] (0+1/1) Accurately ripped
11 [0e22f2e1|717ebbf0] (0+1/1) Accurately ripped
12 [932b4942|1ee55670] (0+1/1) Accurately ripped
13 [e7647a63|fba7deed] (0+1/1) Accurately ripped
14 [911322e3|3a6d11e4] (0+1/1) Accurately ripped
15 [40c76adf|cdc6239c] (0+1/1) Accurately ripped
16 [4231c155|ded8f98b] (0+1/1) Accurately ripped
17 [23043111|9824ed93] (0+1/1) Accurately ripped
18 [c525d668|94334882] (0+1/1) Accurately ripped
19 [a2a35155|67902b8a] (0+1/1) Accurately ripped
20 [a0ab8034|2bd4d7b2] (0+1/1) Accurately ripped
21 [82a7e010|493736ca] (0+1/1) Accurately ripped

Track Peak [ CRC32 ] [W/O NULL] [ LOG ]
– 100,0 [80B579F3] [856B8E44] CRC32
01 100,0 [09AFE4CA] [310A3774]
02 99,5 [A0BC6A07] [E1CB688C]
03 100,0 [831D3576] [28813665]
04 100,0 [A4751A3C] [8A02DF56]
05 97,2 [B686328F] [A12E5DC7]
06 99,7 [9171C1D5] [552E57BD]
07 100,0 [CBAB0C79] [54353941]
08 93,7 [C417AA10] [1F1D2ED7]
09 100,0 [EBD37F90] [085F6264]
10 95,8 [DEB2FC11] [301E7AE1]
11 94,4 [F470899D] [BDC6421A]
12 100,0 [E04F88FB] [14FB2FDA]
13 99,6 [655BC832] [89707B01]
14 100,0 [F954F0E0] [FB02440E]
15 100,0 [883C8FDD] [DF1BE48D]
16 91,9 [20D4247F] [87AA2AE0]
17 96,5 [DF064395] [0FD039B7]
18 98,1 [4EE255A8] [7B746581]
19 93,9 [459D08B3] [6B5C0901]
20 96,9 [66B27399] [200C79ED]
21 94,4 [59AA92D1] [001F6556]
EAC extraction logfile from 9. June 2007, 10:37 for CD
Ella Fitzgerald / Ella Fitzgerald: The Early Years - Part 1 (Disc 2)

Used drive : LITE-ON CD-ROM LTN-527T Adapter: 1 ID: 1
Read mode : Secure with NO C2, accurate stream, disable cache
Read offset correction : 12
Overread into Lead-In and Lead-Out : Yes

Used output format : C:\Program Files\Monkey's Audio\MAC.exe (Monkey's Audio Lossless Encoder)
High Lossless Compression

Other options :
Fill up missing offset samples with silence : Yes
Delete leading and trailing silent blocks : No
Installed external ASPI interface


Range status and errors
Selected range
Filename F:\Win-Rar\Ella Fitzgerald - The Early Years Part I(1935-38 Decca)[APE Full Scans]\CD 2\Ella Fitzgerald - Ella Fitzgerald The Early Years - Part 1 (Disc 2).wav.wav

Peak level 100.0 %
Range quality 99.9 %
CRC 4211C903
Copy OK

No errors occured

End of status report
[CUETools log; Date: 09.02.2019 17:02:03; Version: 2.1.4]
[CTDB TOCID: mXFd7s.PDQL5WtgWgo9t423mSnk-] found.
Track | CTDB Status
1 | (3/3) Accurately ripped
2 | (3/3) Accurately ripped
3 | (3/3) Accurately ripped
4 | (3/3) Accurately ripped
5 | (3/3) Accurately ripped
6 | (3/3) Accurately ripped
7 | (3/3) Accurately ripped
8 | (3/3) Accurately ripped
9 | (3/3) Accurately ripped
10 | (3/3) Accurately ripped
11 | (3/3) Accurately ripped
12 | (3/3) Accurately ripped
13 | (3/3) Accurately ripped
14 | (3/3) Accurately ripped
15 | (3/3) Accurately ripped
16 | (3/3) Accurately ripped
17 | (3/3) Accurately ripped
18 | (3/3) Accurately ripped
19 | (3/3) Accurately ripped
20 | (3/3) Accurately ripped
21 | (3/3) Accurately ripped
22 | (3/3) Accurately ripped
[AccurateRip ID: 0036ef59-03645c43-4d0fb416] found.
Track [ CRC | V2 ] Status
01 [cfac25a6|98f39b4d] (0+1/1) Accurately ripped
02 [4bf1bc21|0235fa9f] (0+1/1) Accurately ripped
03 [bef952b1|6013cba8] (0+1/1) Accurately ripped
04 [a11d34d4|c1d489cb] (0+1/1) Accurately ripped
05 [e3eacf6f|8ee35cb2] (0+1/1) Accurately ripped
06 [a06e11dd|9f2c6591] (0+1/1) Accurately ripped
07 [ec5175d5|51fee745] (0+1/1) Accurately ripped
08 [cd90ade8|e980a19d] (0+1/1) Accurately ripped
09 [6b5c97e1|5a473234] (0+1/1) Accurately ripped
10 [d9207ad1|dce616c6] (0+1/1) Accurately ripped
11 [d8179b14|55fa90e7] (0+1/1) Accurately ripped
12 [248c228e|d55c8e7b] (0+1/1) Accurately ripped
13 [8a32ec9d|61baa2d0] (0+1/1) Accurately ripped
14 [9a0138c4|2d219c0e] (0+1/1) Accurately ripped
15 [d3a74ecb|f2f92ed4] (0+1/1) Accurately ripped
16 [2d3488d8|4612811f] (0+1/1) Accurately ripped
17 [e517ba08|d29d7e46] (0+1/1) Accurately ripped
18 [28257e32|c5644841] (0+1/1) Accurately ripped
19 [4fe57a3c|2c8b63f8] (0+1/1) Accurately ripped
20 [1c24968a|ff9ee694] (0+1/1) Accurately ripped
21 [3c29b667|41bcecd8] (0+1/1) Accurately ripped
22 [67146dfe|1766cf12] (0+1/1) Accurately ripped

Track Peak [ CRC32 ] [W/O NULL] [ LOG ]
– 100,0 [4211C903] [6BAA3D78] CRC32
01 78,2 [D59D64E4] [F8E7C95F]
02 100,0 [4B72B07D] [821CB10E]
03 85,1 [A2B83F02] [5D53E098]
04 100,0 [AEB4455A] [17A83A3A]
05 100,0 [95DBCE2D] [ECA27562]
06 100,0 [A2BE90A6] [F453DA2F]
07 99,0 [D5F2AA14] [5043ED2F]
08 100,0 [CFED2E7C] [E9A61851]
09 97,4 [22E26AF9] [A2F544CF]
10 79,4 [E13A29D4] [AB39CA47]
11 81,8 [47BA5BF8] [F3B7BD8C]
12 88,5 [DE7A2AD9] [9BD28086]
13 98,3 [C3F9D3C1] [33696FFF]
14 99,4 [0BC7D3E4] [A407AAF9]
15 97,4 [F4BEB61C] [8E4555AA]
16 86,4 [2C943098] [2CCEC4CE]
17 86,3 [6A431BA4] [8FAAC502]
18 92,1 [73319456] [ABD7B443]
19 100,0 [BD51547C] [02025982]
20 100,0 [F60546DE] [8CC9D286]
21 95,3 [7D0416BE] [E330218D]
22 96,2 [860B6A5B] [235E7CDF]
Thanks to
MazeppaSee also: