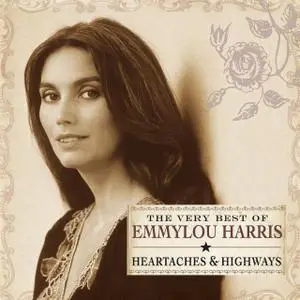 Emmylou Harris - The Very Best Of Emmylou Harris (2005)
WEB | FLAC (tracks) - 491 MB | 01:11:26
Genre: Country, Folk, Pop, Rock | Label: Rhino
Emmylou Harris is an artist whose body of work is so consistently strong one could almost pull 20 songs at random from her catalog, string them together, and end up with a pretty listenable disc – which suggests that the real choices in putting together a "best of Emmylou" album has as much to do with what not to include as what should be on hand. Harris herself helped compile The Very Best of Emmylou Harris: Heartaches & Highways, and while the album certainly doesn't avoid Harris' chart successes, she seems less interested in creating a definitive hits collection than in tracing her journey from the sweet, sad-voiced girl who sang with Gram Parsons to the gifted and thoughtful artist who has lately crafted such mid-career masterpieces as Wrecking Ball and Red Dirt Girl. While the album isn't sequenced in a strictly chronological fashion, the results faithfully trace Harris' subtle but clear stylistic evolution while also offering plenty of evidence that she's perhaps the most naturally gifted song stylist to emerge in country music since the 1970s, able to swing from the honky tonk spirit of "Two More Bottles of Wine" to the rueful losers tale of "Pancho and Lefty" to the gospel passion of "Calling My Children Home" without missing a step. Her superb taste in collaborative musicians, songwriters, and duet partners is also clearly evident throughout, and while the surfaces of later tracks such as "Orphan Girl" and "Michelangelo" may have a different feel, the depth and clarity of Harris' voice and the singular beauty of her creative vision lend this material all the commonality one could need. (And the album's one new track, "The Connection," suggests there's plenty more where all this came from.) If you're looking for an introduction to Emmylou Harris' broad and remarkable body of work, The Very Best of Emmylou Harris: Heartaches & Highways is a strong starting point, and if you simply want to hear 75 minutes of superb music, this fills the bill on that score as well.
Track List:
01. Love Hurts (With Gram Parsons) 03:40
02. Boulder To Birmingham 03:34
03. Making Believe 03:37
04. Pancho And Lefty 04:50
05. One Of These Days 03:04
06. (Lost His Love) On Our Last Date (Live) 03:32
07. Born To Run 03:45
08. Beneath Still Waters 03:44
09. If I Could Only Win Your Love 02:36
10. Together Again 03:54
11. That Lovin' You Feelin' Again (With Roy Orbison) 04:10
12. To Know Him Is To Love Him (With Dolly Parton & Linda Ronstadt) 03:51
13. Two More Bottles Of Wine 03:07
14. Wayfaring Stranger 03:27
15. Calling My Children Home [0:03:10
16. Green Pastures 03:11
17. Orphan Girl 03:16
18. Michaelangelo 05:14
19. Here I Am 03:49
20. The Connection 05:29
–––––––––––-
DON'T MODIFY THIS FILE
–––––––––––-
PERFORMER: auCDtect Task Manager, ver. 1.6.0 RC1 build 1.6.0.1
Copyright © 2008-2010 y-soft. All rights reserved
http://y-soft.org
ANALYZER: auCDtect: CD records authenticity detector, version 0.8.2
Copyright © 2004 Oleg Berngardt. All rights reserved.
Copyright © 2004 Alexander Djourik. All rights reserved.
FILE: 1 Love Hurts (Remastered Version).flac
Size: 25722852 Hash: F936A36CFD9C81BFF099C40F246ACBA5 Accuracy: -m0
Conclusion: CDDA 100%
Signature: 509843CD769E3B1B322E02D728CC9F473B3FD910
FILE: 10 Together Again (Remastered Version).flac
Size: 25659074 Hash: 9CB3AC55D9FD574098251C5FD95BB7D4 Accuracy: -m0
Conclusion: CDDA 100%
Signature: 95A2E29ACC7EAC3AE1BC70AB6B435D9EF6FE844C
FILE: 11 That Lovin' You Feelin' Again (Remastered Version) (feat. Roy Orbison).flac
Size: 30181039 Hash: CFD7440A64D481134215A234D94A63D6 Accuracy: -m0
Conclusion: CDDA 99%
Signature: 21D50C01887AF65443EFE8135CD50E3DC702296B
FILE: 12 To Know Him Is to Love Him (Remastered Version) (feat. Dolly Parton & Linda Ronstadt).flac
Size: 24045717 Hash: 2AFC1BC0A769189A7FD33361891297FD Accuracy: -m0
Conclusion: CDDA 100%
Signature: 076B62CA08F25AB652AA9E8D4EFBDF2E7F3A1FA3
FILE: 13 Two More Bottles of Wine (Remastered Version).flac
Size: 20946123 Hash: F3B2636C64D5DBA6C27CB15CDF3DC69F Accuracy: -m0
Conclusion: CDDA 100%
Signature: 85D9B552B45A674A4B2883B4A5036C68CE1175A2
FILE: 14 Wayfaring Stranger (Remastered Version).flac
Size: 20265486 Hash: C00CC5BF5CDFF1E99FCA0E9D09FD18E0 Accuracy: -m0
Conclusion: CDDA 100%
Signature: DB92D14E92EF7D508D21482F7610C52939C3A62D
FILE: 15 Calling My Childern Home (Live) [Remastered Version].flac
Size: 18868860 Hash: 6F6FFB5C62A8FC74F9F245839A79D4D9 Accuracy: -m0
Conclusion: CDDA 100%
Signature: B8B37FBC840ED0BAD32D1398817E5A4EF3D5727B
FILE: 16 Orphan Girl (Remastered Version).flac
Size: 24191651 Hash: 3E8FC2F399D2C47A548B9C5F24B56FC9 Accuracy: -m0
Conclusion: CDDA 100%
Signature: C061EEC3C4E01B8AC2DAF3CDB94DA4C7C32CC1DA
FILE: 17 Michelangelo (Remastered Version).flac
Size: 31986401 Hash: 3099332B7333B092A93ED7635B7D9937 Accuracy: -m0
Conclusion: CDDA 100%
Signature: 1BC10AF91820A663902198D1E3AA8468B1861774
FILE: 18 Here I Am (Remastered Version).flac
Size: 26675872 Hash: BCE9714082E3DC112B3D021272630AB3 Accuracy: -m0
Conclusion: CDDA 100%
Signature: C46FADE6FC06A3CF3E65A0E3F19A7E00CEA95FA2
FILE: 19 The Connection.flac
Size: 34421922 Hash: F6678C09D7B0E1B2AB2B3AEFD29E9CA6 Accuracy: -m0
Conclusion: CDDA 100%
Signature: 7F3C50F74076265F5707F465FDAB2F99A858C7C5
FILE: 2 Boulder To Birmingham (Remastered Version).flac
Size: 21712592 Hash: 5445FE7E692F2F757E6997EEA943705D Accuracy: -m0
Conclusion: CDDA 100%
Signature: 6B6C8188AAC951F8078578899BF7C453CB7256BF
FILE: 3 Making Believe (Remastered Version).flac
Size: 22983622 Hash: BA8DA6A3A83DAC228FB93C35097EE078 Accuracy: -m0
Conclusion: CDDA 100%
Signature: D891239E28E4D324EA8A7BAAAA48AE54B60C86E5
FILE: 4 Pancho & Lefty.flac
Size: 32316496 Hash: C39B9BA196E3E5A5B71DB64EF4C12F34 Accuracy: -m0
Conclusion: CDDA 100%
Signature: 4466440D3846C7C34D27BCC0A6B579165228963A
FILE: 5 One Of These Days (Remastered Version).flac
Size: 18666067 Hash: ADC113C0404B4C8BF7ECE5BB3ADD52C6 Accuracy: -m0
Conclusion: CDDA 100%
Signature: E3315191C762FFB8AEE0934F431108CF7D1558F6
FILE: 6 (Lost His Love) On Our Last Date (Remastered Live Version).flac
Size: 23846107 Hash: A84215C3C8A0AA4EFE3EFF1A30104B2C Accuracy: -m0
Conclusion: CDDA 100%
Signature: AC38D09675358B5A66B95AEE5C04634D17DABDA5
FILE: 7 Born to Run (Remastered Version).flac
Size: 24849959 Hash: 473720866EAA043619BAF1DDED70CE12 Accuracy: -m0
Conclusion: CDDA 100%
Signature: B0E3CDA94BC7FE8F6B1FD0F982A59E4E6A4707E7
FILE: 8 Beneath Still Waters (Remastered Version).flac
Size: 23987807 Hash: 0DA9D420BA0B2EA7E86BB821DC7532E6 Accuracy: -m0
Conclusion: CDDA 100%
Signature: 1F4D1185DEEC2A86D947EFCE8319FAD7CDC36BDA
FILE: 9 If I Could Only Win Your Love (Remastered Version) (feat. Herb Pedersen).flac
Size: 17211873 Hash: D9CFA031A93F0058A00EDE62B2B7282F Accuracy: -m0
Conclusion: CDDA 100%
Signature: 658A641C93FF7C735277FC2A3B414323F1976EFA
Download: