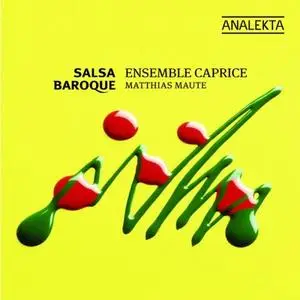 Ensemble Caprice & Matthias Maute - Salsa Baroque (2019)
FLAC tracks | 01:01:14 | 274 Mb
Genre: Classical / Label: Analekta
Under the artistic direction of Matthias Maute, Ensemble Caprice is renowned for its innovative interpretations of baroque music. Their previous CDs Vivaldi & Baroque Gypsies (AN 29912) and Telemann & Baroque Gypsies (AN 29919) have been extremely successful. Here they turn their attention to the fiery and passionate music of South America, music with a unique character.
Track List:
01. Collection Flores De Música, 1706-1709/ Chacona
02. Hanacpachap Cussicuinin
03. Collection Flores De Música, 1706-1709/ Differenzias Sobre La Gayta
04. Tleycantimo Choquiliya
05. Collection Flores De Música, 1706-1709/ Xácara
06. Los Coflades De La Estleya
07. Collection Flores De Música, 1706-1709/ Pasacalles De 2o Tono
08. Yo Soy La Locura (Excerpt From Ballet DeLla Follie)
09. Pastorale/ I. Allegro
10. Pastorale/ II. Piva
11. Pastorale/ III. Pastorale
12. Collection Truxillo Del Perú II, C. 1780
13. Battalia Imperiale/ I. Battalia Imperiale
14. Battalia Imperiale/ II. Battalia Dolorosa
15. Battalia Imperiale/ III. Battalia Furiosa
16. Tarará
17. Collection Flores De Música, 1706-1709/ Tremblante Estilo Italiano
18. Xicochi Conetzintle
19. Marizapalos
20. La Jotta
21. Collection Flores De Música, 1706-1709/ Discurso Con Ecos
22. Convidando Está La Noche
ANALYZER: auCDtect: CD records authenticity detector, version 0.8.2
Copyright © 2004 Oleg Berngardt. All rights reserved.
Copyright © 2004 Alexander Djourik. All rights reserved.


FILE: 01 - Collection Flores de música, 1706-1709 - Chacona.flac
Size: 14190383 Hash: 6F6EA513AC9D73D3C9CF68F219F9D7E6 Accuracy: -m40
Conclusion: CDDA 99%
Signature: C1293BC6B42817E0C7B1A764EB77B29DAA83A344
FILE: 02 - Hanacpachap cussicuinin.flac
Size: 17150313 Hash: B2CFBD7A33FD95279B4B00A1F0873E7F Accuracy: -m40
Conclusion: CDDA 42%
Signature: 3919CC31D0889BB49F4482A200AD0034993F9D7D
FILE: 03 - Collection Flores de música, 1706-1709 - Differenzias sobre la Gayta.flac
Size: 22832080 Hash: 69B2C93987CBD795EF6A6E671829BC2D Accuracy: -m40
Conclusion: CDDA 100%
Signature: 7E24AA0383C8F7B1490DBDD967E4C816B05D70AD
FILE: 04 - Tleycantimo choquiliya.flac
Size: 20297201 Hash: E8FF5E88F2CEFE08516E48773A71EC15 Accuracy: -m40
Conclusion: CDDA 99%
Signature: 9ADD7D5BB360D5B8D2DA8980712C42ED8875F997
FILE: 05 - Collection Flores de música, 1706-1709 - Xácara.flac
Size: 10686549 Hash: FF9733E8BE2757DBB1C94117B2224653 Accuracy: -m40
Conclusion: CDDA 99%
Signature: 0D3DBF4A3AFFF585C51E0E7B5879D43F0CBC9CBF
FILE: 06 - Los coflades de la estleya.flac
Size: 22520795 Hash: D8B283A8228C4E85F5157327B0A78DA6 Accuracy: -m40
Conclusion: CDDA 100%
Signature: 7591A9F6068E666318BA2FADA43399088148B94A
FILE: 07 - Collection Flores de música, 1706-1709 - Pasacalles de 2o tono.flac
Size: 11555275 Hash: 7B4470E0DC22FF63A17AF7F795AC2B00 Accuracy: -m40
Conclusion: CDDA 100%
Signature: 526EDD41127F9339DB360A010C16F485759BD937
FILE: 08 - Yo soy la locura (excerpt from Ballet de la follie).flac
Size: 19030630 Hash: 6DF8B391AC126A517F54BF5C787E21A8 Accuracy: -m40
Conclusion: CDDA 100%
Signature: 6E988B4871A4453BA1C892A62DB1986DD28154EC
FILE: 09 - Pastorale - I. Allegro.flac
Size: 5571689 Hash: 41ECB3B1666F3FD19B0F3B1A8B867FE2 Accuracy: -m40
Conclusion: CDDA 99%
Signature: C19AFFEAD8A42FF68911178C5CB40AE500B33363
FILE: 10 - Pastorale - II. Piva.flac
Size: 1900108 Hash: 6B82F72EC51E55F009893CABA1BDA917 Accuracy: -m40
Conclusion: CDDA 99%
Signature: 7D13D0814D2D400AA2247435C88C6F35E8C23DA6
FILE: 11 - Pastorale - III. Pastorale.flac
Size: 6428837 Hash: 6974DAA808386C329BAF7AA3F170B034 Accuracy: -m40
Conclusion: CDDA 100%
Signature: 1293CA1D8A758102C679023AA759AF6145111E08
FILE: 12 - Collection Truxillo del Perú II, c. 1780.flac
Size: 12547718 Hash: 4E6D115A9F62A67C6B88566A1636EFED Accuracy: -m40
Conclusion: CDDA 100%
Signature: BD7D392B2AF5CB4E7762F95FF396E0813EFD10DE
FILE: 13 - Battalia imperiale - I. Battalia imperiale.flac
Size: 6491746 Hash: 2169EFB52A7FAD8F5EEAEAC065F93C8D Accuracy: -m40
Conclusion: CDDA 100%
Signature: 23E825D3E3C18B6AA75E0DBABE768592CF6824B0
FILE: 14 - Battalia imperiale - II. Battalia dolorosa.flac
Size: 4113490 Hash: 2B0C122EDDD650A8030A329804844995 Accuracy: -m40
Conclusion: CDDA 100%
Signature: 5EB75B3E488B5B2E2FE05AC1DA37FC37AD083AD8
FILE: 15 - Battalia imperiale - III. Battalia furiosa.flac
Size: 7481729 Hash: 4CFC2BDEB9634A7FAD8E3943160F1209 Accuracy: -m40
Conclusion: CDDA 100%
Signature: CE04390B3523884203D3670B7A7E48158843E893
FILE: 16 - Tarará.flac
Size: 7402262 Hash: 39B70358F4FC845AE37AD19AB5F3835F Accuracy: -m40
Conclusion: CDDA 100%
Signature: A7C45852E924442F21F3E1561F96921139984632
FILE: 17 - Collection Flores de música, 1706-1709 - Tremblante estilo italiano.flac
Size: 11964137 Hash: 6E8821E6572D874BB4179B77EF7AAAA8 Accuracy: -m40
Conclusion: CDDA 100%
Signature: 19B342DBA23F336CF1771A811354AF20576A0107
FILE: 18 - Xicochi Conetzintle.flac
Size: 7161778 Hash: 940E7FB3F366ADEE71DDB2B9E59CBB1B Accuracy: -m40
Conclusion: CDDA 100%
Signature: B0380B521215F8384180BB98A73B9D806FE974AE
FILE: 19 - Marizapalos.flac
Size: 12852454 Hash: 861085935FB1CE1E8DE5FCBA8C812A1D Accuracy: -m40
Conclusion: CDDA 100%
Signature: B1F8685E2B94CBA5F53FC923D206E37053A9B50C
FILE: 20 - La Jotta.flac
Size: 19279446 Hash: A187B6AA511C7842D273B883E25B5C90 Accuracy: -m40
Conclusion: CDDA 100%
Signature: 2B12DACA1705311E2BE30A9AD9F227463FA1C4AE
FILE: 21 - Collection Flores de música, 1706-1709 - Discurso con ecos.flac
Size: 27707254 Hash: 9DEFF8CB726553D0C10BF1FF46053F7D Accuracy: -m40
Conclusion: CDDA 76%
Signature: 9B2E7E8135DCDC9F55CD6619A9A60E9FF189516C
FILE: 22 - Convidando está la noche.flac
Size: 18583693 Hash: 79ED300D110F28DBC778D7525E79C68D Accuracy: -m40
Conclusion: CDDA 100%
Signature: 4597BFF74CAA19750160E728EBC574D0C7712976