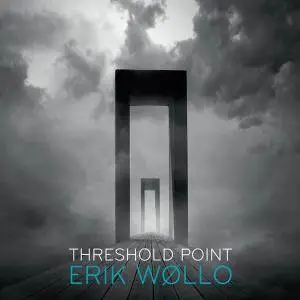 Erik Wollo - Threshold Point (2018)
WEB FLAC (tracks) - 298 MB | MP3 CBR 320 kbps (LAME 3.93) - 144 MB | Front cover
Genre: Electronic, Ambient | RAR 3% Rec. | Label: Projekt Records
Norwegian sound-artist Erik Wøllo's 23rd album delivers a collection of carefully crafted compositions: introspective, yet melodic electronic music. It is pensive and reflective upon passing and transition; several sequencer-driven pieces contrast with surrounding dreamlike ambient soundscapes. Wøllo's mood is contemplative and expressively intense, capturing an authentic moment in time. Threshold is defined as a magnitude or intensity that must be exceeded for a certain reaction, phenomenon, result, or condition to occur or be manifested.
Wøllo offers a calm, otherworldly and self-contained sound on Threshold Point. This release possesses a quieter nature then his previous Different Spaces album; it's somewhat more reserved and withdrawn.
A reflection on changing states, passing a threshold, evolving into something new, this is a musical expression where the melody and the accompaniment merge to create an equilibrium of sound, as if watching something stopped in a camera frame.
With Threshold Point, Erik Wøllo has conjured a remarkably visceral electronic album. It's a dynamic collection of earthy, hypnotic, and pulsating soundtextures; the work of a passionate artist at the forefront of the electronic music genre.
Tracklist:
01. Behind the Clouds
02. Traverse
03. Arches
04. Mosaic of Time I - Route Diverge
05. Mosaic of Time II - Threshold Point
06. Ravel Peak
07. Mosaic of Time III - Hidden Path
08. Eon
09. Mosaic of Time IV - Bridge Crossing
Total time:
01:33:00

PERFORMER: auCDtect Task Manager, ver. 1.6.0 RC1 build 1.6.0.1
Copyright © 2008-2010 y-soft. All rights reserved

ANALYZER: auCDtect: CD records authenticity detector, version 0.8.2
Copyright © 2004 Oleg Berngardt. All rights reserved.
Copyright © 2004 Alexander Djourik. All rights reserved.


FILE: 09 Erik Wollo - Mosaic of Time IV - Bridge Crossing.flac
Size: 37462654 Hash: 9F3126493DBED1197DEDD1176C5BFD2A Accuracy: -m0
Conclusion: CDDA 99%
Signature: 13FDD951D37E7A0A1D89E27945CC67D45B10422C
FILE: 08 Erik Wollo - Eon.flac
Size: 31381559 Hash: D700D541C8721451E7643358B2123C7D Accuracy: -m0
Conclusion: CDDA 100%
Signature: AFE9F5DC8050EA38B2371E9855909D1B3232DDBC
FILE: 07 Erik Wollo - Mosaic of Time III - Hidden Path.flac
Size: 40939281 Hash: 077E2390822FA52AFDAE53FB21507890 Accuracy: -m0
Conclusion: CDDA 100%
Signature: F4BD2EADA4B17E177EDBE3100F232E89913CCD74
FILE: 06 Erik Wollo - Ravel Peak.flac
Size: 18888643 Hash: 657C4E96BEB41E3CF1B85ACC9B4BBD8F Accuracy: -m0
Conclusion: CDDA 100%
Signature: 4F3159B155D6A43FC6553C666BCA072B7DE6D431
FILE: 05 Erik Wollo - Mosaic of Time II - Threshold Point.flac
Size: 45735519 Hash: 666569530164E0AB7EE9DCF496792B6D Accuracy: -m0
Conclusion: CDDA 100%
Signature: 3140143B7C6A445A933DA56227817990D1FC74C7
FILE: 04 Erik Wollo - Mosaic of Time I - Route Diverge.flac
Size: 36907024 Hash: D3822C07B72F18ECBD76BF1C16A0829B Accuracy: -m0
Conclusion: CDDA 99%
Signature: 101535E7A49FADA1D017E0D574D141C30AB383B7
FILE: 03 Erik Wollo - Arches.flac
Size: 26242137 Hash: 8AEE128572056BA7E44800B0063D4C1B Accuracy: -m0
Conclusion: CDDA 100%
Signature: 6D08143CE395EFC671A1D9500458659E805BE4B2
FILE: 02 Erik Wollo - Traverse.flac
Size: 48921398 Hash: 1782C7E795C37CF49E3FD70D8512A1BE Accuracy: -m0
Conclusion: CDDA 100%
Signature: A3460543DD45A42AF0C07161F4BC37E36DF41601
FILE: 01 Erik Wollo - Behind the Clouds.flac
Size: 17429440 Hash: 5BD0A1F2358940F3AAFEF00457228005 Accuracy: -m0
Conclusion: CDDA 99%
Signature: D11680FDA8C25DF06A7D8EA0482F3A1342C573E4
See also: