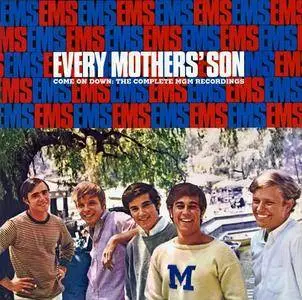 Every Mother's Son - Come On Down: The Complete MGM Recordings (2012)
XLD | FLAC (Tracks) +cue, log, artworks - 412 MB | MP3 CBR 320 kbps - 144 MB | 00:59:09
Rock, Classic Rock, Psychedelic Pop, Oldies | Label: Now Sounds | Release Year: 2012
Digitally remastered collection from the 60s Pop band. Every Mother's Son, best known for their Summer of Love Top 10 hit "Come on Down to My Boat Baby", was born in Greenwich Village in the spring of 1966. Brothers Larry and Dennis Larden decided to fuse their folk background with rock elements, adding organist Bruce Milner, bassist Schuyler Larsen, and drummer Christopher Augustine to the mix to create a fantastic, Monkees/Turtles-esque pop outfit. Included here are their two Wes Farrell-produced, 1967 LPs: Every Mother's Son and Every Mother's Son's Back, the latter of which was even more creatively ambitious than their debut and has never before been issued on CD until NOW! Also included is their only non-LP single, "No One Knows". The 16-page, full-color booklet includes rare, previously-unpublished photos, and extensive liner notes featuring the participation of original band members.
TRACKLIST
01. Come on Down to My Boat
02. I Won't
03. For Brandy
04. Didn't She Lie
05. What Became of Mary
06. Ain't It a Drag
07. Allison Dozer
08. I Believe in You
09. Ain't No Use
10. Sittin' Here (Peter's Tune)
11. Come Here Queenie
12. Rainflowers
13. Another Day, Another Song
14. Dolls in the Clock
15. I May Be Right
16. Only Child
17. I'd Rather Be Right Than Wrong
18. Sally (Life Story #3)
19. Pony with the Golden Mane
20. The Proper Four Leaf Clover
21. Put Your Mind at Ease
22. Larry's Birthday Party
23. No One Knows (Mono 45)
X Lossless Decoder version 20151214 (149.1)

XLD extraction logfile from 2016-09-12 13:12:39 -0400

Every Mother's Son / Come on Down: The Complete MGM Recordings

Used drive : (null) (null) (revision (null))
Media type : Pressed CD

Ripper mode : XLD Secure Ripper
Disable audio cache : OK for the drive with a cache less than 1375KiB
Make use of C2 pointers : NO
Read offset correction : 6
Max retry count : 100
Gap status : Analyzed, Appended (except HTOA)

TOC of the extracted CD
Track | Start | Length | Start sector | End sector
––––––––––––––––––––––––––––-
1 | 00:00:00 | 02:35:60 | 0 | 11684
2 | 02:35:60 | 02:29:71 | 11685 | 22930
3 | 05:05:56 | 02:36:14 | 22931 | 34644
4 | 07:41:70 | 02:07:73 | 34645 | 44242
5 | 09:49:68 | 03:08:35 | 44243 | 58377
6 | 12:58:28 | 02:22:32 | 58378 | 69059
7 | 15:20:60 | 02:59:26 | 69060 | 82510
8 | 18:20:11 | 02:33:24 | 82511 | 94009
9 | 20:53:35 | 02:36:13 | 94010 | 105722
10 | 23:29:48 | 02:47:55 | 105723 | 118302
11 | 26:17:28 | 02:47:68 | 118303 | 130895
12 | 29:05:21 | 02:13:28 | 130896 | 140898
13 | 31:18:49 | 02:06:28 | 140899 | 150376
14 | 33:25:02 | 02:10:39 | 150377 | 160165
15 | 35:35:41 | 02:37:69 | 160166 | 172009
16 | 38:13:35 | 02:37:56 | 172010 | 183840
17 | 40:51:16 | 02:05:20 | 183841 | 193235
18 | 42:56:36 | 02:27:34 | 193236 | 204294
19 | 45:23:70 | 02:09:66 | 204295 | 214035
20 | 47:33:61 | 02:38:31 | 214036 | 225916
21 | 50:12:17 | 02:36:69 | 225917 | 237685
22 | 52:49:11 | 03:12:04 | 237686 | 252089
23 | 56:01:15 | 02:58:74 | 252090 | 265513

AccurateRip Summary (DiscID: 00306864-03247acc-370dd417)
Track 01 : OK (v2, confidence 5/5)
Track 02 : OK (v2, confidence 5/5)
Track 03 : OK (v2, confidence 5/5)
Track 04 : OK (v2, confidence 5/5)
Track 05 : OK (v2, confidence 5/5)
Track 06 : OK (v2, confidence 5/5)
Track 07 : OK (v2, confidence 5/5)
Track 08 : OK (v2, confidence 5/5)
Track 09 : OK (v2, confidence 5/5)
Track 10 : OK (v2, confidence 5/5)
Track 11 : OK (v2, confidence 5/5)
Track 12 : OK (v2, confidence 5/5)
Track 13 : OK (v2, confidence 5/5)
Track 14 : OK (v2, confidence 5/5)
Track 15 : OK (v2, confidence 5/5)
Track 16 : OK (v2, confidence 5/5)
Track 17 : OK (v2, confidence 5/5)
Track 18 : OK (v2, confidence 5/5)
Track 19 : OK (v2, confidence 5/5)
Track 20 : OK (v2, confidence 5/5)
Track 21 : OK (v2, confidence 5/5)
Track 22 : OK (v2, confidence 5/5)
Track 23 : OK (v2, confidence 6/6)
->All tracks accurately ripped.

All Tracks
Album gain : -5.68 dB
Peak : 0.965942
Statistics
Read error : 0
Jitter error (maybe fixed) : 0
Retry sector count : 0
Damaged sector count : 0

Track 01
Filename : /Volumes/Master/XLD Rips/Every Mother's Son - Come on Down: The Complete MGM Recordings [ALAC]/01 - Come on Down to My Boat.m4a
/Volumes/Master/XLD Rips/Every Mother's Son - Come on Down: The Complete MGM Recordings [FLAC]/01 - Come on Down to My Boat.flac
Pre-gap length : 00:02:00

Track gain : -5.98 dB
Peak : 0.962036
CRC32 hash (test run) : CCF5B376
CRC32 hash : CCF5B376
CRC32 hash (skip zero) : 88140556
AccurateRip v1 signature : A8265B09
AccurateRip v2 signature : 99777F32
->Accurately ripped (v2, confidence 5/5)
Statistics
Read error : 0
Jitter error (maybe fixed) : 0
Retry sector count : 0
Damaged sector count : 0

Track 02
Filename : /Volumes/Master/XLD Rips/Every Mother's Son - Come on Down: The Complete MGM Recordings [ALAC]/02 - I Won't.m4a
/Volumes/Master/XLD Rips/Every Mother's Son - Come on Down: The Complete MGM Recordings [FLAC]/02 - I Won't.flac
Pre-gap length : 00:02:00

Track gain : -5.29 dB
Peak : 0.841400
CRC32 hash (test run) : 6C98F4CD
CRC32 hash : 6C98F4CD
CRC32 hash (skip zero) : 08B9BEEE
AccurateRip v1 signature : 7970D77C
AccurateRip v2 signature : C958094A
->Accurately ripped (v2, confidence 5/5)
Statistics
Read error : 0
Jitter error (maybe fixed) : 0
Retry sector count : 0
Damaged sector count : 0

Track 03
Filename : /Volumes/Master/XLD Rips/Every Mother's Son - Come on Down: The Complete MGM Recordings [ALAC]/03 - For Brandy.m4a
/Volumes/Master/XLD Rips/Every Mother's Son - Come on Down: The Complete MGM Recordings [FLAC]/03 - For Brandy.flac
Pre-gap length : 00:01:50

Track gain : -5.81 dB
Peak : 0.807800
CRC32 hash (test run) : 47B335DE
CRC32 hash : 47B335DE
CRC32 hash (skip zero) : 38F06EDF
AccurateRip v1 signature : C4A2E5B3
AccurateRip v2 signature : B4E63BF9
->Accurately ripped (v2, confidence 5/5)
Statistics
Read error : 0
Jitter error (maybe fixed) : 0
Retry sector count : 0
Damaged sector count : 0

Track 04
Filename : /Volumes/Master/XLD Rips/Every Mother's Son - Come on Down: The Complete MGM Recordings [ALAC]/04 - Didn't She Lie.m4a
/Volumes/Master/XLD Rips/Every Mother's Son - Come on Down: The Complete MGM Recordings [FLAC]/04 - Didn't She Lie.flac
Pre-gap length : 00:02:00

Track gain : -5.65 dB
Peak : 0.902100
CRC32 hash (test run) : 044AE75C
CRC32 hash : 044AE75C
CRC32 hash (skip zero) : 81E926F2
AccurateRip v1 signature : 59292782
AccurateRip v2 signature : A4F343E5
->Accurately ripped (v2, confidence 5/5)
Statistics
Read error : 0
Jitter error (maybe fixed) : 0
Retry sector count : 0
Damaged sector count : 0

Track 05
Filename : /Volumes/Master/XLD Rips/Every Mother's Son - Come on Down: The Complete MGM Recordings [ALAC]/05 - What Became of Mary.m4a
/Volumes/Master/XLD Rips/Every Mother's Son - Come on Down: The Complete MGM Recordings [FLAC]/05 - What Became of Mary.flac
Pre-gap length : 00:02:00

Track gain : -4.94 dB
Peak : 0.965942
CRC32 hash (test run) : 19205B09
CRC32 hash : 19205B09
CRC32 hash (skip zero) : 6AB3BD4A
AccurateRip v1 signature : C3757B15
AccurateRip v2 signature : 033E364C
->Accurately ripped (v2, confidence 5/5)
Statistics
Read error : 0
Jitter error (maybe fixed) : 0
Retry sector count : 0
Damaged sector count : 0

Track 06
Filename : /Volumes/Master/XLD Rips/Every Mother's Son - Come on Down: The Complete MGM Recordings [ALAC]/06 - Ain't It a Drag.m4a
/Volumes/Master/XLD Rips/Every Mother's Son - Come on Down: The Complete MGM Recordings [FLAC]/06 - Ain't It a Drag.flac
Pre-gap length : 00:02:38

Track gain : -5.76 dB
Peak : 0.965942
CRC32 hash (test run) : 305DB791
CRC32 hash : 305DB791
CRC32 hash (skip zero) : 2BD8B21A
AccurateRip v1 signature : 05D4901D
AccurateRip v2 signature : 62A6CC3A
->Accurately ripped (v2, confidence 5/5)
Statistics
Read error : 0
Jitter error (maybe fixed) : 0
Retry sector count : 0
Damaged sector count : 0

Track 07
Filename : /Volumes/Master/XLD Rips/Every Mother's Son - Come on Down: The Complete MGM Recordings [ALAC]/07 - Allison Dozer.m4a
/Volumes/Master/XLD Rips/Every Mother's Son - Come on Down: The Complete MGM Recordings [FLAC]/07 - Allison Dozer.flac
Pre-gap length : 00:02:00

Track gain : -5.88 dB
Peak : 0.819702
CRC32 hash (test run) : A4606631
CRC32 hash : A4606631
CRC32 hash (skip zero) : 4EBD504E
AccurateRip v1 signature : B78CDF05
AccurateRip v2 signature : FA62BA93
->Accurately ripped (v2, confidence 5/5)
Statistics
Read error : 0
Jitter error (maybe fixed) : 0
Retry sector count : 0
Damaged sector count : 0

Track 08
Filename : /Volumes/Master/XLD Rips/Every Mother's Son - Come on Down: The Complete MGM Recordings [ALAC]/08 - I Believe in You.m4a
/Volumes/Master/XLD Rips/Every Mother's Son - Come on Down: The Complete MGM Recordings [FLAC]/08 - I Believe in You.flac
Pre-gap length : 00:02:00

Track gain : -5.85 dB
Peak : 0.892456
CRC32 hash (test run) : A862E64B
CRC32 hash : A862E64B
CRC32 hash (skip zero) : 961F93FA
AccurateRip v1 signature : C696C9D4
AccurateRip v2 signature : B0EF2B12
->Accurately ripped (v2, confidence 5/5)
Statistics
Read error : 0
Jitter error (maybe fixed) : 0
Retry sector count : 0
Damaged sector count : 0

Track 09
Filename : /Volumes/Master/XLD Rips/Every Mother's Son - Come on Down: The Complete MGM Recordings [ALAC]/09 - Ain't No Use.m4a
/Volumes/Master/XLD Rips/Every Mother's Son - Come on Down: The Complete MGM Recordings [FLAC]/09 - Ain't No Use.flac
Pre-gap length : 00:02:00

Track gain : -5.36 dB
Peak : 0.780731
CRC32 hash (test run) : E3305304
CRC32 hash : E3305304
CRC32 hash (skip zero) : DD66F936
AccurateRip v1 signature : 771AF6CA
AccurateRip v2 signature : 872D2C16
->Accurately ripped (v2, confidence 5/5)
Statistics
Read error : 0
Jitter error (maybe fixed) : 0
Retry sector count : 0
Damaged sector count : 0

Track 10
Filename : /Volumes/Master/XLD Rips/Every Mother's Son - Come on Down: The Complete MGM Recordings [ALAC]/10 - Sittin' Here (Peter's Tune).m4a
/Volumes/Master/XLD Rips/Every Mother's Son - Come on Down: The Complete MGM Recordings [FLAC]/10 - Sittin' Here (Peter's Tune).flac
Pre-gap length : 00:02:25

Track gain : -5.88 dB
Peak : 0.817688
CRC32 hash (test run) : 953427AC
CRC32 hash : 953427AC
CRC32 hash (skip zero) : 9FC9211E
AccurateRip v1 signature : 435D6260
AccurateRip v2 signature : 124D9A1A
->Accurately ripped (v2, confidence 5/5)
Statistics
Read error : 0
Jitter error (maybe fixed) : 0
Retry sector count : 0
Damaged sector count : 0

Track 11
Filename : /Volumes/Master/XLD Rips/Every Mother's Son - Come on Down: The Complete MGM Recordings [ALAC]/11 - Come on Queenie.m4a
/Volumes/Master/XLD Rips/Every Mother's Son - Come on Down: The Complete MGM Recordings [FLAC]/11 - Come on Queenie.flac
Pre-gap length : 00:02:00

Track gain : -6.22 dB
Peak : 0.819458
CRC32 hash (test run) : B034C185
CRC32 hash : B034C185
CRC32 hash (skip zero) : CB0BA954
AccurateRip v1 signature : E6C9695F
AccurateRip v2 signature : 99D762D4
->Accurately ripped (v2, confidence 5/5)
Statistics
Read error : 0
Jitter error (maybe fixed) : 0
Retry sector count : 0
Damaged sector count : 0

Track 12
Filename : /Volumes/Master/XLD Rips/Every Mother's Son - Come on Down: The Complete MGM Recordings [ALAC]/12 - Rainflowers.m4a
/Volumes/Master/XLD Rips/Every Mother's Son - Come on Down: The Complete MGM Recordings [FLAC]/12 - Rainflowers.flac
Pre-gap length : 00:03:00

Track gain : -5.98 dB
Peak : 0.818756
CRC32 hash (test run) : 98D91B0B
CRC32 hash : 98D91B0B
CRC32 hash (skip zero) : 8A7D9CAA
AccurateRip v1 signature : 7C969309
AccurateRip v2 signature : E385230E
->Accurately ripped (v2, confidence 5/5)
Statistics
Read error : 0
Jitter error (maybe fixed) : 0
Retry sector count : 0
Damaged sector count : 0

Track 13
Filename : /Volumes/Master/XLD Rips/Every Mother's Son - Come on Down: The Complete MGM Recordings [ALAC]/13 - Another Day, Another Song.m4a
/Volumes/Master/XLD Rips/Every Mother's Son - Come on Down: The Complete MGM Recordings [FLAC]/13 - Another Day, Another Song.flac
Pre-gap length : 00:02:00

Track gain : -5.49 dB
Peak : 0.918976
CRC32 hash (test run) : 877B621A
CRC32 hash : 877B621A
CRC32 hash (skip zero) : CDCF6F9C
AccurateRip v1 signature : FDD643B9
AccurateRip v2 signature : B454101B
->Accurately ripped (v2, confidence 5/5)
Statistics
Read error : 0
Jitter error (maybe fixed) : 0
Retry sector count : 0
Damaged sector count : 0

Track 14
Filename : /Volumes/Master/XLD Rips/Every Mother's Son - Come on Down: The Complete MGM Recordings [ALAC]/14 - Dolls in the Clock.m4a
/Volumes/Master/XLD Rips/Every Mother's Son - Come on Down: The Complete MGM Recordings [FLAC]/14 - Dolls in the Clock.flac
Pre-gap length : 00:02:00

Track gain : -5.32 dB
Peak : 0.819519
CRC32 hash (test run) : CE0AD502
CRC32 hash : CE0AD502
CRC32 hash (skip zero) : D44CFBD5
AccurateRip v1 signature : CD783415
AccurateRip v2 signature : 378BAC1A
->Accurately ripped (v2, confidence 5/5)
Statistics
Read error : 0
Jitter error (maybe fixed) : 0
Retry sector count : 0
Damaged sector count : 0

Track 15
Filename : /Volumes/Master/XLD Rips/Every Mother's Son - Come on Down: The Complete MGM Recordings [ALAC]/15 - I May Be Right.m4a
/Volumes/Master/XLD Rips/Every Mother's Son - Come on Down: The Complete MGM Recordings [FLAC]/15 - I May Be Right.flac
Pre-gap length : 00:02:25

Track gain : -4.06 dB
Peak : 0.820343
CRC32 hash (test run) : BC6ABD63
CRC32 hash : BC6ABD63
CRC32 hash (skip zero) : 6C7F3821
AccurateRip v1 signature : 54C01F5E
AccurateRip v2 signature : C85DF280
->Accurately ripped (v2, confidence 5/5)
Statistics
Read error : 0
Jitter error (maybe fixed) : 0
Retry sector count : 0
Damaged sector count : 0

Track 16
Filename : /Volumes/Master/XLD Rips/Every Mother's Son - Come on Down: The Complete MGM Recordings [ALAC]/16 - Only Child.m4a
/Volumes/Master/XLD Rips/Every Mother's Son - Come on Down: The Complete MGM Recordings [FLAC]/16 - Only Child.flac
Pre-gap length : 00:02:25

Track gain : -5.62 dB
Peak : 0.954926
CRC32 hash (test run) : EAD248D0
CRC32 hash : EAD248D0
CRC32 hash (skip zero) : 45A47A7F
AccurateRip v1 signature : E8B349EB
AccurateRip v2 signature : E2E354CE
->Accurately ripped (v2, confidence 5/5)
Statistics
Read error : 0
Jitter error (maybe fixed) : 0
Retry sector count : 0
Damaged sector count : 0

Track 17
Filename : /Volumes/Master/XLD Rips/Every Mother's Son - Come on Down: The Complete MGM Recordings [ALAC]/17 - I'd Rather Be Right Than Wrong.m4a
/Volumes/Master/XLD Rips/Every Mother's Son - Come on Down: The Complete MGM Recordings [FLAC]/17 - I'd Rather Be Right Than Wrong.flac
Pre-gap length : 00:02:00

Track gain : -6.02 dB
Peak : 0.879364
CRC32 hash (test run) : D68C42A5
CRC32 hash : D68C42A5
CRC32 hash (skip zero) : A32CF6F2
AccurateRip v1 signature : 6C298B19
AccurateRip v2 signature : 6D97A80F
->Accurately ripped (v2, confidence 5/5)
Statistics
Read error : 0
Jitter error (maybe fixed) : 0
Retry sector count : 0
Damaged sector count : 0

Track 18
Filename : /Volumes/Master/XLD Rips/Every Mother's Son - Come on Down: The Complete MGM Recordings [ALAC]/18 - Sally (Life Story #3).m4a
/Volumes/Master/XLD Rips/Every Mother's Son - Come on Down: The Complete MGM Recordings [FLAC]/18 - Sally (Life Story #3).flac
Pre-gap length : 00:02:38

Track gain : -5.74 dB
Peak : 0.891418
CRC32 hash (test run) : 45A4800D
CRC32 hash : 45A4800D
CRC32 hash (skip zero) : 8ED94571
AccurateRip v1 signature : 201CC9C7
AccurateRip v2 signature : 778F996D
->Accurately ripped (v2, confidence 5/5)
Statistics
Read error : 0
Jitter error (maybe fixed) : 0
Retry sector count : 0
Damaged sector count : 0

Track 19
Filename : /Volumes/Master/XLD Rips/Every Mother's Son - Come on Down: The Complete MGM Recordings [ALAC]/19 - Pony with the Golden Mane.m4a
/Volumes/Master/XLD Rips/Every Mother's Son - Come on Down: The Complete MGM Recordings [FLAC]/19 - Pony with the Golden Mane.flac
Pre-gap length : 00:02:38

Track gain : -5.58 dB
Peak : 0.869507
CRC32 hash (test run) : E2873AAD
CRC32 hash : E2873AAD
CRC32 hash (skip zero) : DC6E2464
AccurateRip v1 signature : A493DA3D
AccurateRip v2 signature : 226CA921
->Accurately ripped (v2, confidence 5/5)
Statistics
Read error : 0
Jitter error (maybe fixed) : 0
Retry sector count : 0
Damaged sector count : 0

Track 20
Filename : /Volumes/Master/XLD Rips/Every Mother's Son - Come on Down: The Complete MGM Recordings [ALAC]/20 - The Proper Four Leaf Clover.m4a
/Volumes/Master/XLD Rips/Every Mother's Son - Come on Down: The Complete MGM Recordings [FLAC]/20 - The Proper Four Leaf Clover.flac
Pre-gap length : 00:02:00

Track gain : -5.33 dB
Peak : 0.894012
CRC32 hash (test run) : 46004C91
CRC32 hash : 46004C91
CRC32 hash (skip zero) : 1A099392
AccurateRip v1 signature : 8D47D1C6
AccurateRip v2 signature : FBA29C10
->Accurately ripped (v2, confidence 5/5)
Statistics
Read error : 0
Jitter error (maybe fixed) : 0
Retry sector count : 0
Damaged sector count : 0

Track 21
Filename : /Volumes/Master/XLD Rips/Every Mother's Son - Come on Down: The Complete MGM Recordings [ALAC]/21 - Put Your Mind at Ease.m4a
/Volumes/Master/XLD Rips/Every Mother's Son - Come on Down: The Complete MGM Recordings [FLAC]/21 - Put Your Mind at Ease.flac
Pre-gap length : 00:02:25

Track gain : -5.98 dB
Peak : 0.860016
CRC32 hash (test run) : 7E04A55E
CRC32 hash : 7E04A55E
CRC32 hash (skip zero) : B60A0BDB
AccurateRip v1 signature : C2E1838E
AccurateRip v2 signature : DDF798A0
->Accurately ripped (v2, confidence 5/5)
Statistics
Read error : 0
Jitter error (maybe fixed) : 0
Retry sector count : 0
Damaged sector count : 0

Track 22
Filename : /Volumes/Master/XLD Rips/Every Mother's Son - Come on Down: The Complete MGM Recordings [ALAC]/22 - Lary's Birthday Party.m4a
/Volumes/Master/XLD Rips/Every Mother's Son - Come on Down: The Complete MGM Recordings [FLAC]/22 - Lary's Birthday Party.flac
Pre-gap length : 00:02:25

Track gain : -4.34 dB
Peak : 0.880280
CRC32 hash (test run) : 67BBA1B1
CRC32 hash : 67BBA1B1
CRC32 hash (skip zero) : FEDA8279
AccurateRip v1 signature : 8F59351C
AccurateRip v2 signature : 78B84576
->Accurately ripped (v2, confidence 5/5)
Statistics
Read error : 0
Jitter error (maybe fixed) : 0
Retry sector count : 0
Damaged sector count : 0

Track 23
Filename : /Volumes/Master/XLD Rips/Every Mother's Son - Come on Down: The Complete MGM Recordings [ALAC]/23 - No One Knows (Mono 45).m4a
/Volumes/Master/XLD Rips/Every Mother's Son - Come on Down: The Complete MGM Recordings [FLAC]/23 - No One Knows (Mono 45).flac
Pre-gap length : 00:02:00

Track gain : -6.38 dB
Peak : 0.871216
CRC32 hash (test run) : FA48F533
CRC32 hash : FA48F533
CRC32 hash (skip zero) : ED507D6C
AccurateRip v1 signature : 99A9CC27
AccurateRip v2 signature : 4FF992BD
->Accurately ripped (v2, confidence 6/6)
Statistics
Read error : 0
Jitter error (maybe fixed) : 0
Retry sector count : 0
Damaged sector count : 0

No errors occurred

End of status report

––-BEGIN XLD SIGNATURE––-
RlwU6XfMXVXRsxbqIMREbWmzbG2EX7OdanHwrUFE1ddensSzE26JHS3FfL4a3dclZ7kT.GzzRoT.aPMzEVQoaBJvmXn1lu3rxzCW7Uu
––-END XLD SIGNATURE––-
All thanks go to the original releaser