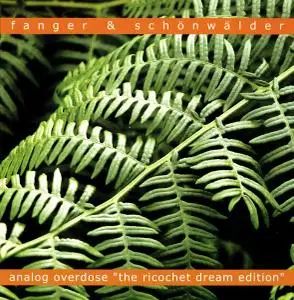 Fanger & Schonwalder - Analog Overdose (2004)
EAC Rip | FLAC (tracks+.cue+log) - 795 MB | MP3 CBR 320 kbps (LAME 3.93) - 370 MB | Covers - 15 MB
Genre: Electronic, Berlin School, Ambient | RAR 3% Rec. | Label: Ricochet Dream (rd007)
Thomas Fanger and Mario Schönwälder from the famous Manikin label play wonderful Berlin School Retro electronic music similar to Klaus Schulze and Tangerine Dream. Bas Broekhuis adds drums on the last track. Some very long and contemplative tracks on this 2CD set.
CD 1 Tracklist:
01. Electronic Mirrors Chapters II-IV
02. Encore
03. Liquid Tape 6
04. Ems No. 1
05. Liquid Tape 3 (Sentimental Live Loops)
Total time:
01:18:12
CD 2 Tracklist:
01. Liquid Tape 4 (The Liquid Art)
02. Liquid Tape 5
03. 10 P.M. At Bad Sulza
Total time:
01:19:03
Exact Audio Copy V1.0 beta 2 from 29. April 2011

Отчёт EAC об извлечении, выполненном 1. июня 2011, 16:39

Fanger & Schönwälder / analog overdose "the ricochet dream edition" disc_01

Дисковод: PIONEER DVD-RW DVR-212 Adapter: 0 ID: 0

Режим чтения : Достоверность
Использование точного потока : Да
Отключение кэша аудио : Да
Использование указателей C2 : Нет

Коррекция смещения при чтении : 48
Способность читать области Lead-in и Lead-out : Нет
Заполнение пропущенных сэмплов тишиной : Да
Удаление блоков с тишиной в начале и конце : Нет
При вычислениях CRC использовались нулевые сэмплы : Да
Интерфейс : Встроенный Win32-интерфейс для Win NT/2000
Обработка зазоров : Добавлено к предыдущему треку

Выходной формат : Пользовательский кодировщик
Выбранный битрейт : 768 kBit/s
Качество : Высокий
Добавление ID3-тега : Да
Утилита сжатия : C:\Program Files\Exact Audio Copy\FLAC\FLAC.EXE
Дополнительные параметры : -8 -V -T "ARTIST=%artist%" -T "TITLE=%title%" -T "ALBUM=%albumtitle%" -T "DATE=%year%" -T "TRACKNUMBER=%tracknr%" -T "GENRE=%genre%" -T "COMMENT=%comment%" -T "BAND=%albuminterpret%" -T "COMPOSER=%composer%" %haslyrics%–tag-from-


TOC извлечённого CD

Трек | Старт | Длительность | Начальный сектор | Конечный сектор
––––––––––––––––––––––––––––––––––-
1 | 0:00.00 | 28:07.45 | 0 | 126569
2 | 28:07.45 | 23:25.07 | 126570 | 231951
3 | 51:32.52 | 2:51.29 | 231952 | 244805
4 | 54:24.06 | 4:01.05 | 244806 | 262885
5 | 58:25.11 | 19:47.27 | 262886 | 351937


Трек 1

Имя файла d:\analog overdose ''the ricochet dream edition''\1\01. electronic mirrors Ch. II-IV.wav

Длина предзазора 0:00:02.00

Пиковый уровень 95.9 %
Скорость извлечения 6.5 X
Качество трека 100.0 %
CRC копии B5779250
Точное извлечение (достоверность 4) [ABE20BED] (AR v1)
Копирование… OK

Трек 2

Имя файла d:\analog overdose ''the ricochet dream edition''\1\02. encore.wav

Пиковый уровень 100.0 %
Скорость извлечения 8.5 X
Качество трека 100.0 %
CRC копии 5EAE7614
Точное извлечение (достоверность 4) [B78E9DCE] (AR v1)
Копирование… OK

Трек 3

Имя файла d:\analog overdose ''the ricochet dream edition''\1\03. liquid tape 6.wav

Пиковый уровень 43.2 %
Скорость извлечения 6.0 X
Качество трека 100.0 %
CRC копии 4405B08C
Точное извлечение (достоверность 4) [5606500B] (AR v1)
Копирование… OK

Трек 4

Имя файла d:\analog overdose ''the ricochet dream edition''\1\04. ems no.1.wav

Пиковый уровень 39.8 %
Скорость извлечения 8.9 X
Качество трека 100.0 %
CRC копии EE508705
Точное извлечение (достоверность 4) [AE22A5DD] (AR v1)
Копирование… OK

Трек 5

Имя файла d:\analog overdose ''the ricochet dream edition''\1\05. liquid tape 3 (sentimental).wav

Пиковый уровень 79.4 %
Скорость извлечения 10.6 X
Качество трека 100.0 %
CRC копии 88BEA11F
Точное извлечение (достоверность 4) [88623721] (AR v1)
Копирование… OK


Все треки извлечены точно

Ошибок не произошло

Конец отчёта
[CUETools log; Date: 26.03.2021 0:23:35; Version: 2.1.4]
[CTDB TOCID: vKqLPoHq3wWHzNQJl1D.Au6PPmE-] found.
Track | CTDB Status
1 | (10/10) Accurately ripped
2 | (10/10) Accurately ripped
3 | (10/10) Accurately ripped
4 | (10/10) Accurately ripped
5 | (10/10) Accurately ripped
[AccurateRip ID: 00129668-0051b327-4a125405] found.
Track [ CRC | V2 ] Status
01 [abe20bed|475a2c2c] (04+07/11) Accurately ripped
02 [b78e9dce|637dc26a] (04+07/11) Accurately ripped
03 [5606500b|99c81d50] (04+06/10) Accurately ripped
04 [ae22a5dd|f262e7aa] (04+07/11) Accurately ripped
05 [88623721|7ca41f43] (04+07/11) Accurately ripped

Track Peak [ CRC32 ] [W/O NULL] [ LOG ]
– 100,0 [EDBE4E32] [CA175FF3]
01 95,9 [B5779250] [8507197C] CRC32
02 100,0 [5EAE7614] [C1F7494D] CRC32
03 43,2 [4405B08C] [B8B809E8] CRC32
04 39,8 [EE508705] [CD6323C1] CRC32
05 79,4 [88BEA11F] [81621D9E] CRC32
Exact Audio Copy V1.0 beta 2 from 29. April 2011

Отчёт EAC об извлечении, выполненном 1. июня 2011, 17:00

fanger & schönwälder / analog overdose "the ricochet dream edition" disc_02

Дисковод: PIONEER DVD-RW DVR-212 Adapter: 0 ID: 0

Режим чтения : Достоверность
Использование точного потока : Да
Отключение кэша аудио : Да
Использование указателей C2 : Нет

Коррекция смещения при чтении : 48
Способность читать области Lead-in и Lead-out : Нет
Заполнение пропущенных сэмплов тишиной : Да
Удаление блоков с тишиной в начале и конце : Нет
При вычислениях CRC использовались нулевые сэмплы : Да
Интерфейс : Встроенный Win32-интерфейс для Win NT/2000
Обработка зазоров : Добавлено к предыдущему треку

Выходной формат : Пользовательский кодировщик
Выбранный битрейт : 768 kBit/s
Качество : Высокий
Добавление ID3-тега : Да
Утилита сжатия : C:\Program Files\Exact Audio Copy\FLAC\FLAC.EXE
Дополнительные параметры : -8 -V -T "ARTIST=%artist%" -T "TITLE=%title%" -T "ALBUM=%albumtitle%" -T "DATE=%year%" -T "TRACKNUMBER=%tracknr%" -T "GENRE=%genre%" -T "COMMENT=%comment%" -T "BAND=%albuminterpret%" -T "COMPOSER=%composer%" %haslyrics%–tag-from-


TOC извлечённого CD

Трек | Старт | Длительность | Начальный сектор | Конечный сектор
––––––––––––––––––––––––––––––––––-
1 | 0:00.00 | 9:28.12 | 0 | 42611
2 | 9:28.12 | 16:26.21 | 42612 | 116582
3 | 25:54.33 | 53:09.00 | 116583 | 355757


Трек 1

Имя файла d:\analog overdose ''the ricochet dream edition''\2\01. liquid tape 4 (the liquid art).wav

Длина предзазора 0:00:02.00

Пиковый уровень 34.8 %
Скорость извлечения 5.2 X
Качество трека 100.0 %
CRC копии 1BEC5A0A
Точное извлечение (достоверность 4) [3B09DD39] (AR v1)
Копирование… OK

Трек 2

Имя файла d:\analog overdose ''the ricochet dream edition''\2\02. liquid tape 5.wav

Пиковый уровень 59.8 %
Скорость извлечения 7.0 X
Качество трека 100.0 %
CRC копии 19C97711
Точное извлечение (достоверность 4) [6A0B3925] (AR v1)
Копирование… OK

Трек 3

Имя файла d:\analog overdose ''the ricochet dream edition''\2\03. 10 p.m. at bad sulza.wav

Пиковый уровень 100.0 %
Скорость извлечения 9.4 X
Качество трека 100.0 %
CRC копии 5CA104DC
Точное извлечение (достоверность 4) [33FB0F77] (AR v1)
Копирование… OK


Все треки извлечены точно

Ошибок не произошло

Конец отчёта
[CUETools log; Date: 26.03.2021 0:24:09; Version: 2.1.4]
[CTDB TOCID: WOZ4ly4pZ6iarCrasZcp58Mu4Zc-] found.
Track | CTDB Status
1 | (11/11) Accurately ripped
2 | (11/11) Accurately ripped
3 | (10/11) Accurately ripped
[AccurateRip ID: 0007db89-001c59d6-1f128703] found.
Track [ CRC | V2 ] Status
01 [3b09dd39|64110db4] (04+06/10) Accurately ripped
02 [6a0b3925|05015380] (04+06/10) Accurately ripped
03 [33fb0f77|25f8bf44] (04+07/11) Accurately ripped

Track Peak [ CRC32 ] [W/O NULL] [ LOG ]
– 100,0 [3BCFC8D7] [7F75C15D]
01 34,8 [1BEC5A0A] [736EB142] CRC32
02 59,8 [19C97711] [23D3C39B] CRC32
03 100,0 [5CA104DC] [D52261D4] CRC32
Thanks to
HotarSee also:
Fanger & Siebert - Fanger & Siebert (1995)
Broekhuis, Keller & Schönw... Cowboys @ Jelenia Góra (2007)
Rainbow Serpent / Fanger & Schönwälder - Elektrik Cowboys (2009)
Fanger & Schönwälder feat. Cosmic Hoffmann - Earshot (2013)
Broekhuis, Keller & Schönwälder - Direction Green (2014)
Broekhuis, Keller & Schönwälder - Purple (2019)