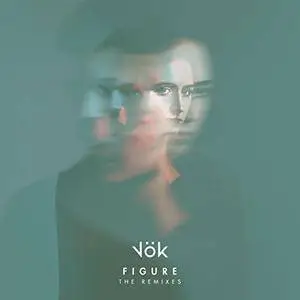 Vök - Figure (The Remixes) (2018)
Electronic | 29:59 min | WEB FLAC (tracks) | 186 MB
Label: Nettwerk Records
Formed in Reykjavik, Iceland in 2013 by Margrét Rán Magnúsdóttir and Andri Már Enoksson, the duo originally got together to enter the annual Músíktilraunir contest; after writing a handful of songs, the duo entered the competition and won. With Rán on lead vocals and synths and Már on saxophone and synths, the duo recorded their debut, Tension, with the EP's synth- and sax-laden dream pop drawing its inspirations from the likes of Air, Portishead, and Massive Attack, while also retaining their unique Icelandic sound. Adding Ólafur Alexander Ólafsson on guitar and bass shortly after its release, the group spent time recording their follow-up, 2015's Circles, while also starting to write what would become their debut album. With most of the album written in Rán's home studio – with its envious views across Reykjavik – the tracks were taken to fourth member and drummer, Einar Hrafn Stefánsson's studio in a quiet part of the city. Working with producer Brett Cox (Jack Garratt, Tusks), the studio's location and its surrounding areas helped mold the sound of the final release, with its icy, dream-like pop inspired as much by artists such as the Weeknd and the xx as Rihanna. The resulting debut album, Figure, was released in 2017. ~ Rich Wilson.
Tracklist:
01. Vök - Polar (Ripperton Remix)
02. Vök - Figure (Wax Wings Remix)
03. Vök - Breaking Bones (Rephlekt Remix)
04. Vök - Hiding (Demian Licht Remix)
05. Vök - Hiding (Marconi Union Remix)
fooCDtect - foobar2000 + auCDtect, baralgin.

auCDtect: CD records authenticity detector, version 0.8.2
Copyright © 2004 Oleg Berngardt. All rights reserved.
Copyright © 2004 Alexander Djourik. All rights reserved.

mode: 0

===========================================
Track: 02. Vök - Figure (Wax Wings Remix)

Processing file: [02. Vök - Figure (Wax Wings Remix).aucdtect]
Detected average hi-boundary frequency: 2.142492e+004 Hz
Detected average lo-boundary frequency: 1.923971e+004 Hz
Detected average hi-cut frequency: 2.171045e+004 Hz
Detected average lo-cut frequency: 1.905785e+004 Hz
Maximum probablis boundary frequency: 2.176700e+004 Hz
Coefficient of nonlinearity of a phase: 7.031636e-002
First order smothness: 7.553648e-001
Second order smothness: 5.430314e-001

––––––––––––––––––––––––––––––
This track looks like CDDA with probability 100%

===========================================
Track: 04. Vök - Hiding (Demian Licht Remix)

Processing file: [04. Vök - Hiding (Demian Licht Remix).aucdtect]
Detected average hi-boundary frequency: 2.107705e+004 Hz
Detected average lo-boundary frequency: 1.840117e+004 Hz
Detected average hi-cut frequency: 2.149674e+004 Hz
Detected average lo-cut frequency: 1.444741e+004 Hz
Maximum probablis boundary frequency: 2.162200e+004 Hz
Coefficient of nonlinearity of a phase: 8.218675e-002
First order smothness: 6.877040e-001
Second order smothness: 4.360718e-001

––––––––––––––––––––––––––––––
This track looks like CDDA with probability 100%

===========================================
Track: 03. Vök - Breaking Bones (Rephlekt Remix)

Processing file: [03. Vök - Breaking Bones (Rephlekt Remix).aucdtect]
Detected average hi-boundary frequency: 2.119583e+004 Hz
Detected average lo-boundary frequency: 1.819605e+004 Hz
Detected average hi-cut frequency: 2.161857e+004 Hz
Detected average lo-cut frequency: 1.948703e+004 Hz
Maximum probablis boundary frequency: 2.159000e+004 Hz
Coefficient of nonlinearity of a phase: 1.819703e-001
First order smothness: 7.599291e-001
Second order smothness: 5.485816e-001

––––––––––––––––––––––––––––––
This track looks like CDDA with probability 100%

===========================================
Track: 01. Vök - Polar (Ripperton Remix)

Processing file: [01. Vök - Polar (Ripperton Remix).aucdtect]
Detected average hi-boundary frequency: 2.026606e+004 Hz
Detected average lo-boundary frequency: 1.317709e+004 Hz
Detected average hi-cut frequency: 2.100036e+004 Hz
Detected average lo-cut frequency: 1.069174e+004 Hz
Maximum probablis boundary frequency: 2.189100e+004 Hz
Coefficient of nonlinearity of a phase: 2.342436e-001
First order smothness: 4.340019e-001
Second order smothness: 6.393505e-001

––––––––––––––––––––––––––––––
This track looks like CDDA with probability 100%

===========================================
Track: 05. Vök - Hiding (Marconi Union Remix)

Processing file: [05. Vök - Hiding (Marconi Union Remix).aucdtect]
Detected average hi-boundary frequency: 2.118086e+004 Hz
Detected average lo-boundary frequency: 1.834702e+004 Hz
Detected average hi-cut frequency: 2.158863e+004 Hz
Detected average lo-cut frequency: 1.891755e+004 Hz
Maximum probablis boundary frequency: 2.156300e+004 Hz
Coefficient of nonlinearity of a phase: 2.766387e-001
First order smothness: 6.345556e-001
Second order smothness: 6.709136e-001

––––––––––––––––––––––––––––––
This track looks like CDDA with probability 99%

===========================================